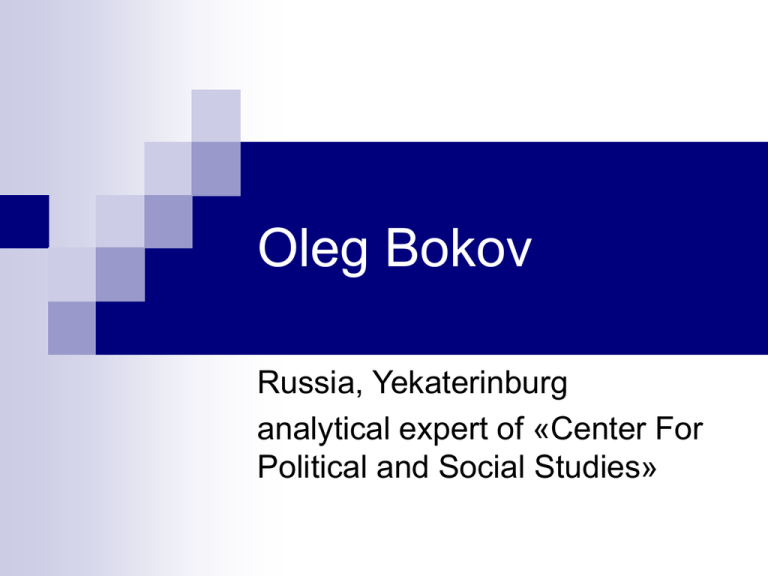 Oleg Bokov
Russia, Yekaterinburg
analytical expert of «Center For
Political and Social Studies»
The CPSS performs analytical reviews of:



Political and economic aspects at the level of
Sverdlovskaya region;
Possible ways of development of Russia's
business relations;
International relationship of former USSR
perimeter countries,
Sverdlovskaya region



Sverdlovskaya region is located in the middle
of Russia, is actually the industrial centre of
Ural.
Sverdlovskaya region has strong relationship
with different foreign countries both in the East
and West;
The market share of Black Sea region
countries in total is minimal in Sverdlovskaya
region, but the collaboration may be very
productive.
Black Sea region – the overview



The main problem or advantage of Black Sea
region is that all the countries are direct
neighbors;
The common economic interests of the Black
Sea region countries may lead to the deficit of
resources or may result in synergies for all the
participants;
The economic situation highly depend on the
political views and actions of leaders of each
country in the region.
The probable ways of international
relationship's development:




More effective usage of transport system – sea
transportation of cargos and passengers;
Development of tourism (all directions);
Improvement of existing trading relationship
and creation of new businesses (probably in
the form of joint ventures);
Creation of special economic zones in the
Black Sea region countries (lower taxation) in
order to attract foreign capital.
Energy resources and energy safety
The stable energy situation around the country
provides the economic safety of the country,
therefore Russia has the following interests in
the Black Sea region:
 The consumption of energy resources by the
Black sea region countries for their own
purposes;
 The transportation of energy resources through
the Black Sea region countries to further
customers;
 The development of new and implementation of
existing energy saving measures
Thank you!