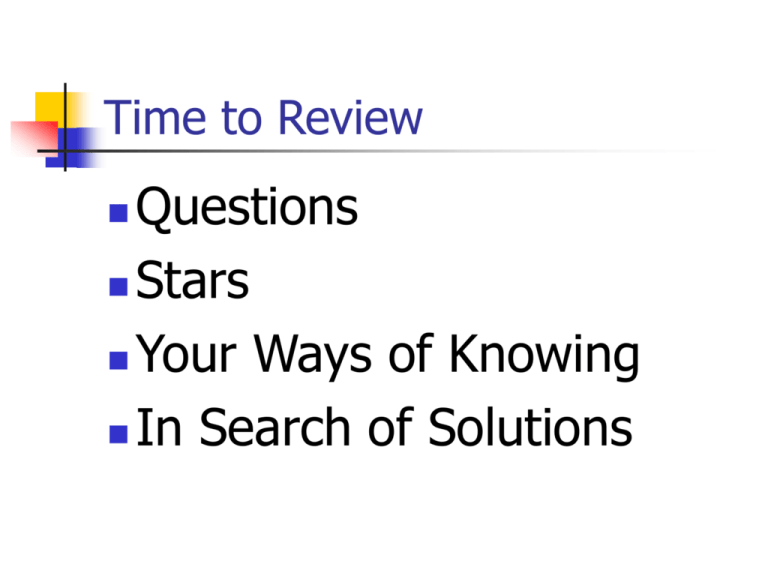 Time to Review
Questions
 Stars
 Your Ways of Knowing
 In Search of Solutions

Asking Philosophical Questions






What is real?
Who am I?
What can I know?
What should I do?
What is valuable?
Why should I care?
Socrates – Friend or Foe?

What is the good life?




Know thyself
The unexamined life is not worth living
Knowledge/Wisdom leads to "the good"
Your ideas
Let Me Count the Ways

Your ways of knowing (Interactive
Notebook entries):
Plato – The Philosopher King

What is the good society?



Allegory of the Cave
Myth of the Metals
Your Connections
Jonathan Kozol
The Math of the Metals?





What is the "good" public education?
How do we support it?
What does it matter?
What happens to a dream deferred?
Your reactions
Solutions


Kozol's proposal
Hirsch's proposal



Essentialism?
Perennialism?
Peterson's critique
What's Next?


Words and Meanings
NCATE Connections
Course/Standards Links

Principle #1 – making subject matter
meaningful for students


The "big picture" – your statements of
philosophy
Scenarios applied to your students
Course/Student Links

Principle #2 – support students'
intellectual, social, and personal
development


Recommendations from philosophers and
peers
Critical reflection and philosophical analysis
of learning opportunities in your interactive
notebooks and final essays
Course/Strategy Links

Principle #4 – use a variety of
instructional strategies to encourage
students' development of critical
thinking, problem solving, and
performance skills


Chapter scenarios
Your selected scenarios
Course/Communication Links

Principle #6 – knowledge of effective
verbal, nonverbal, and media
communication techniques to foster
active inquiry, collaboration, and
supportive interaction in the classroom


Team presentations
Class discussions
Course/Community Links

Principle #7 – planning based on
knowledge of the community



The "big picture" – ideas from community
oriented philosophers, e.g. Dewey, Freire
Your team links to community challenges,
resources, frameworks
Your interactive notebook and essay
connections to community
Course/Reflection Links

Principle #9 – reflective practitioner
evaluating effects of choices and
actions on others



Interactive Notebooks – responses and
reflections
Personal statement of philosophy
Final essay – choices, commitments and
the "sum of effects"
Another Pair of Eyes

Review of the Conceptual Framework
through your "philosopher's" eyes.


What would your philosopher emphasize,
add, and/or change?
Why?