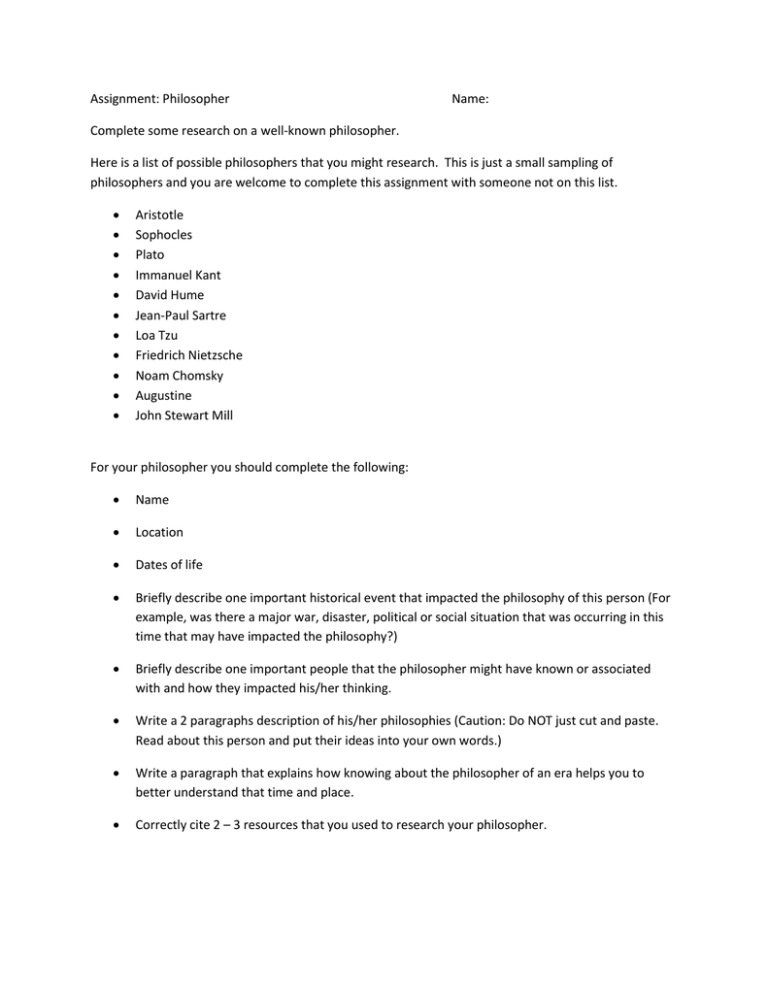 Assignment: Philosopher
Name:
Complete some research on a well-known philosopher.
Here is a list of possible philosophers that you might research. This is just a small sampling of
philosophers and you are welcome to complete this assignment with someone not on this list.











Aristotle
Sophocles
Plato
Immanuel Kant
David Hume
Jean-Paul Sartre
Loa Tzu
Friedrich Nietzsche
Noam Chomsky
Augustine
John Stewart Mill
For your philosopher you should complete the following:

Name

Location

Dates of life

Briefly describe one important historical event that impacted the philosophy of this person (For
example, was there a major war, disaster, political or social situation that was occurring in this
time that may have impacted the philosophy?)

Briefly describe one important people that the philosopher might have known or associated
with and how they impacted his/her thinking.

Write a 2 paragraphs description of his/her philosophies (Caution: Do NOT just cut and paste.
Read about this person and put their ideas into your own words.)

Write a paragraph that explains how knowing about the philosopher of an era helps you to
better understand that time and place.

Correctly cite 2 – 3 resources that you used to research your philosopher.