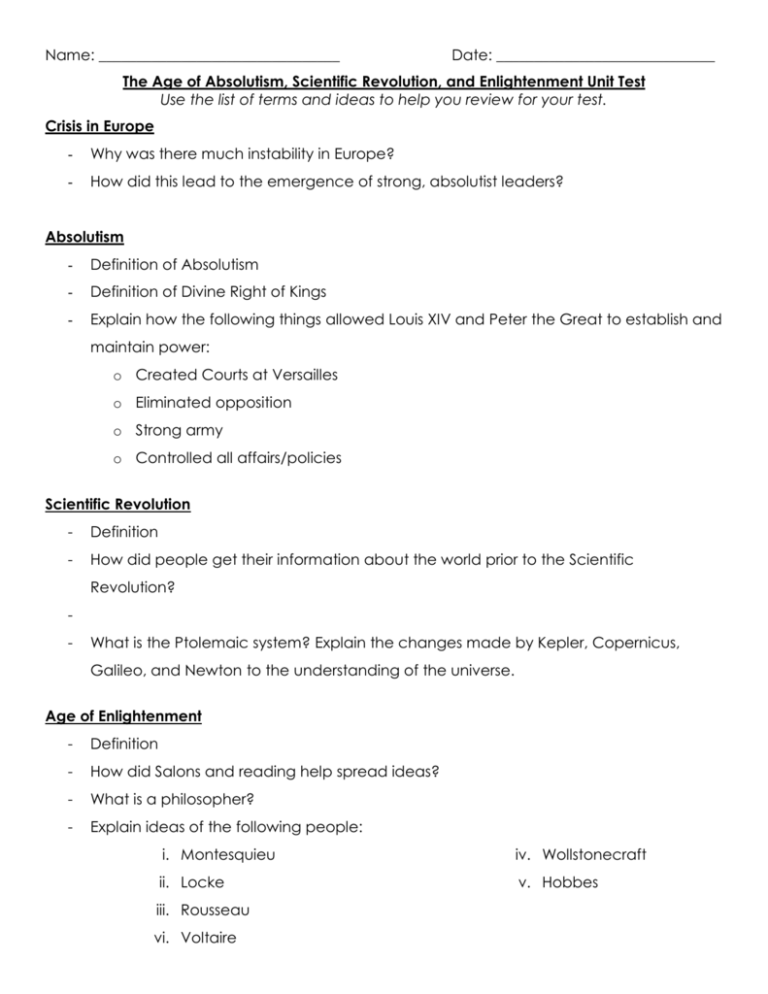 Name: ________________________________
Date: _____________________________
The Age of Absolutism, Scientific Revolution, and Enlightenment Unit Test
Use the list of terms and ideas to help you review for your test.
Crisis in Europe
-
Why was there much instability in Europe?
-
How did this lead to the emergence of strong, absolutist leaders?
Absolutism
-
Definition of Absolutism
-
Definition of Divine Right of Kings
-
Explain how the following things allowed Louis XIV and Peter the Great to establish and
maintain power:
o Created Courts at Versailles
o Eliminated opposition
o Strong army
o Controlled all affairs/policies
Scientific Revolution
-
Definition
-
How did people get their information about the world prior to the Scientific
Revolution?
-
What is the Ptolemaic system? Explain the changes made by Kepler, Copernicus,
Galileo, and Newton to the understanding of the universe.
Age of Enlightenment
-
Definition
-
How did Salons and reading help spread ideas?
-
What is a philosopher?
-
Explain ideas of the following people:
i. Montesquieu
iv. Wollstonecraft
ii. Locke
v. Hobbes
iii. Rousseau
vi. Voltaire
Enlightened Absolutism
-
Definition
-
Explain the policies of an enlightened ruler.
-
Why did enlightened absolutism often not work?