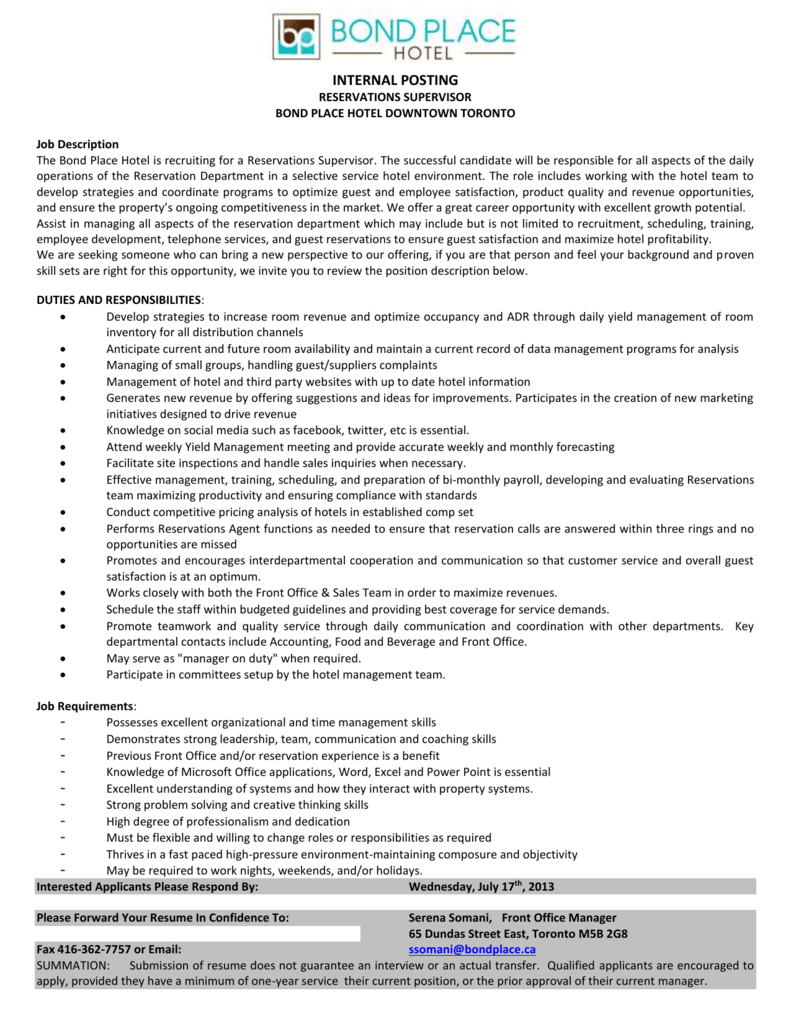 INTERNAL POSTING
RESERVATIONS SUPERVISOR
BOND PLACE HOTEL DOWNTOWN TORONTO
Job Description
The Bond Place Hotel is recruiting for a Reservations Supervisor. The successful candidate will be responsible for all aspects of the daily
operations of the Reservation Department in a selective service hotel environment. The role includes working with the hotel team to
develop strategies and coordinate programs to optimize guest and employee satisfaction, product quality and revenue opportunities,
and ensure the property's ongoing competitiveness in the market. We offer a great career opportunity with excellent growth potential.
Assist in managing all aspects of the reservation department which may include but is not limited to recruitment, scheduling, training,
employee development, telephone services, and guest reservations to ensure guest satisfaction and maximize hotel profitability.
We are seeking someone who can bring a new perspective to our offering, if you are that person and feel your background and proven
skill sets are right for this opportunity, we invite you to review the position description below.
DUTIES AND RESPONSIBILITIES:

Develop strategies to increase room revenue and optimize occupancy and ADR through daily yield management of room
inventory for all distribution channels

Anticipate current and future room availability and maintain a current record of data management programs for analysis

Managing of small groups, handling guest/suppliers complaints

Management of hotel and third party websites with up to date hotel information

Generates new revenue by offering suggestions and ideas for improvements. Participates in the creation of new marketing
initiatives designed to drive revenue

Knowledge on social media such as facebook, twitter, etc is essential.

Attend weekly Yield Management meeting and provide accurate weekly and monthly forecasting

Facilitate site inspections and handle sales inquiries when necessary.

Effective management, training, scheduling, and preparation of bi-monthly payroll, developing and evaluating Reservations
team maximizing productivity and ensuring compliance with standards

Conduct competitive pricing analysis of hotels in established comp set

Performs Reservations Agent functions as needed to ensure that reservation calls are answered within three rings and no
opportunities are missed

Promotes and encourages interdepartmental cooperation and communication so that customer service and overall guest
satisfaction is at an optimum.

Works closely with both the Front Office & Sales Team in order to maximize revenues.

Schedule the staff within budgeted guidelines and providing best coverage for service demands.

Promote teamwork and quality service through daily communication and coordination with other departments. Key
departmental contacts include Accounting, Food and Beverage and Front Office.

May serve as "manager on duty" when required.

Participate in committees setup by the hotel management team.
Job Requirements:
Possesses excellent organizational and time management skills
Demonstrates strong leadership, team, communication and coaching skills
Previous Front Office and/or reservation experience is a benefit
Knowledge of Microsoft Office applications, Word, Excel and Power Point is essential
Excellent understanding of systems and how they interact with property systems.
Strong problem solving and creative thinking skills
High degree of professionalism and dedication
Must be flexible and willing to change roles or responsibilities as required
Thrives in a fast paced high-pressure environment-maintaining composure and objectivity
May be required to work nights, weekends, and/or holidays.
Interested Applicants Please Respond By:
Wednesday, July 17th, 2013
Please Forward Your Resume In Confidence To:
Serena Somani, Front Office Manager
65 Dundas Street East, Toronto M5B 2G8
Fax 416-362-7757 or Email:
[email protected]
SUMMATION:
Submission of resume does not guarantee an interview or an actual transfer. Qualified applicants are encouraged to
apply, provided they have a minimum of one-year service their current position, or the prior approval of their current manager.