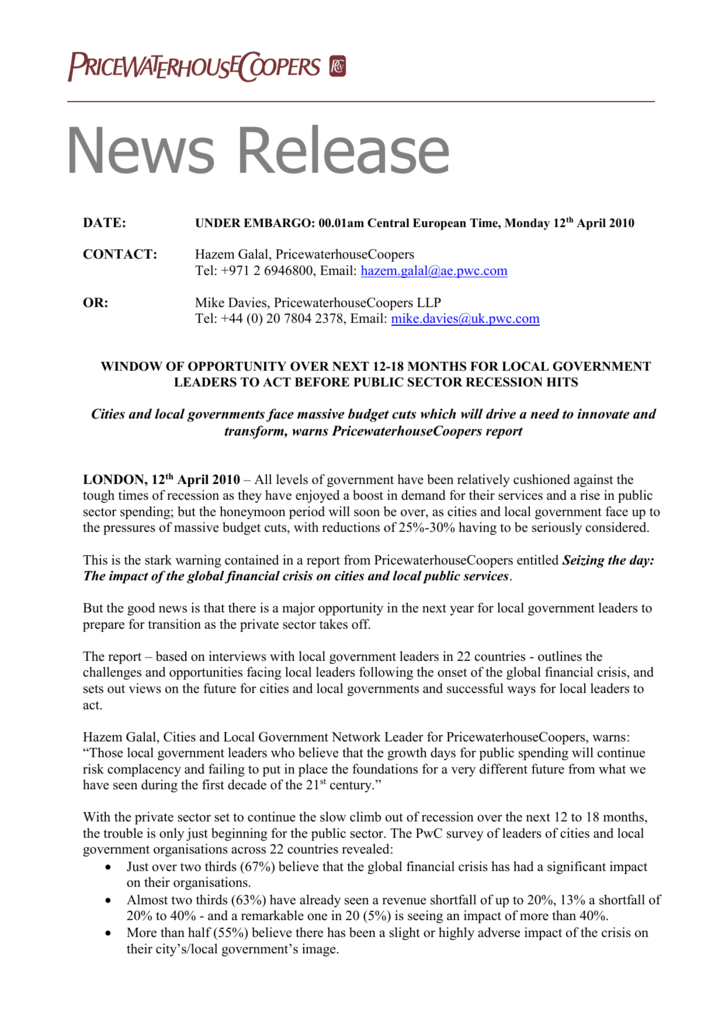 News Release
DATE:
UNDER EMBARGO: 00.01am Central European Time, Monday 12th April 2010
CONTACT:
Hazem Galal, PricewaterhouseCoopers
Tel: +971 2 6946800, Email: [email protected]
OR:
Mike Davies, PricewaterhouseCoopers LLP
Tel: +44 (0) 20 7804 2378, Email: [email protected]
WINDOW OF OPPORTUNITY OVER NEXT 12-18 MONTHS FOR LOCAL GOVERNMENT
LEADERS TO ACT BEFORE PUBLIC SECTOR RECESSION HITS
Cities and local governments face massive budget cuts which will drive a need to innovate and
transform, warns PricewaterhouseCoopers report
LONDON, 12th April 2010 – All levels of government have been relatively cushioned against the
tough times of recession as they have enjoyed a boost in demand for their services and a rise in public
sector spending; but the honeymoon period will soon be over, as cities and local government face up to
the pressures of massive budget cuts, with reductions of 25%-30% having to be seriously considered.
This is the stark warning contained in a report from PricewaterhouseCoopers entitled Seizing the day:
The impact of the global financial crisis on cities and local public services.
But the good news is that there is a major opportunity in the next year for local government leaders to
prepare for transition as the private sector takes off.
The report – based on interviews with local government leaders in 22 countries - outlines the
challenges and opportunities facing local leaders following the onset of the global financial crisis, and
sets out views on the future for cities and local governments and successful ways for local leaders to
act.
Hazem Galal, Cities and Local Government Network Leader for PricewaterhouseCoopers, warns:
"Those local government leaders who believe that the growth days for public spending will continue
risk complacency and failing to put in place the foundations for a very different future from what we
have seen during the first decade of the 21st century."
With the private sector set to continue the slow climb out of recession over the next 12 to 18 months,
the trouble is only just beginning for the public sector. The PwC survey of leaders of cities and local
government organisations across 22 countries revealed:
 Just over two thirds (67%) believe that the global financial crisis has had a significant impact
on their organisations.
 Almost two thirds (63%) have already seen a revenue shortfall of up to 20%, 13% a shortfall of
20% to 40% - and a remarkable one in 20 (5%) is seeing an impact of more than 40%.
 More than half (55%) believe there has been a slight or highly adverse impact of the crisis on
their city's/local government's image.
Public spending will have to be cut to turn the tide of debt in many – particularly developed –
economies, and capital and talent is likely to move from the formerly safe haven of the public sector to
the higher returns to be found in private enterprise as the latter recovers. Many of the developing
countries, however, which suffered less from the financial crisis, have an opportunity to switch to a
new operating model; one that gives more focus on strategic commissioning, public-private partnering,
and pan-public sector working.
Says Hazem Galal: "We believe there is a major opportunity in the next year for local government
leaders to prepare for transition as the private sector takes off. Cities and local governments need to
position themselves for resurgent growth, protect their city brands from a highly probable public sector
recession, innovate using new service delivery models, and transform their capabilities and the role
they play in society."
The report calls on local government leaders to:
1. Get back to basics, prioritising between core and optional services and asking whether services
and activities are needed to fulfil legal obligations, to meet local needs or simply because 'we've
always done it this way'
2. Focus on retaining talent, identifying the critical functions for local government and protecting the
talent critical to delivering these functions
3. Design and develop new service delivery models, which build in best practice in commissioning
and early intervention/prevention
4. Collaborate across agencies, private and voluntary sectors and also spatially, across geographies.
But there are signs that many local government leaders are underestimating the size of the challenge
and the actions needed to adapt to their new environment:
 Nearly three-quarters (72%) are confident or very confident they will be able to achieve their socioeconomic development targets in the next five years.
 More than half of the local leaders believe they have the tools to control spending, are empowered
to make decisions, and have control and flexibility over the management of local resources.
 Only a fifth (21%) put 'commissioning' in their top three important functions today, falling to 12%
in three years' time.
The PwC report highlights a lack of urgency in the face of the storm to come. "Now is the time to
contemplate deep cuts in budgets of up to 25%-30%," says PwC Cities and Local Government
Network UK partner Steve Beet. "With clear thinking and careful planning, these cuts need not
decimate services."
"Cities and local governments need to take advantage of the current crisis and innovate their service
delivery, re-shape and transform their roles and functions, and make sure they retain the talent attracted
over the last two years. For when the private sector returns to growth, it will be too late!"
ENDS
Notes to Editor:
1. The research/survey was undertaken by PricewaterhouseCoopers LLP covering cities in 22
countries in Europe, the Middle East, Asia, Australasia, Africa and South and North America. A
combination of paper-based and e-surveys was sent to leaders in cities and local governments. The
survey ran from September 2009 to the end of February 2010. The findings for the report were
drawn from 58 completed surveys, 33 from developed countries and 25 from developing countries.
A further 215 cities responded to the surveys in Brazil, Sweden and the Netherlands – included in
separate reports for these countries. A full copy of Seizing the day: The impact of the global
financial crisis on cities and local public services can be found at www.psrc-pwc.com
2. PricewaterhouseCoopers (www.pwc.com) provides industry-focused assurance, tax and advisory
services to build public trust and enhance value for our clients and their stakeholders. More than
163,000 people in 151 countries across our network share their thinking, experience and solutions
to develop fresh perspectives and practical advice.
3. PricewaterhouseCoopers' Global Government practice has been helping government and public
sector organisations locally, regionally, nationally and internationally for many years. We work
with organisations across sectors as diverse as health, education, transport, home affairs, criminal
justice, local government, housing, social welfare, defence and international development. Our
people combine deep specialist expertise with a genuine understanding of the public sector.