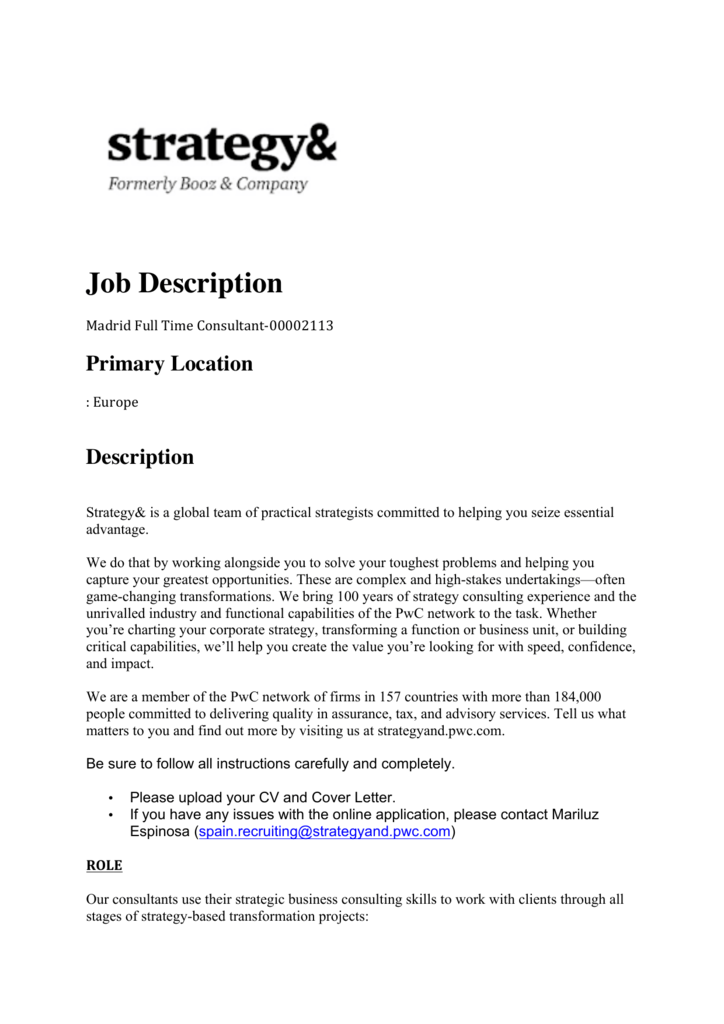 Job Description
Madrid Full Time Consultant-­‐00002113 Primary Location
: Europe Description
Strategy& is a global team of practical strategists committed to helping you seize essential
advantage.
We do that by working alongside you to solve your toughest problems and helping you
capture your greatest opportunities. These are complex and high-stakes undertakings—often
game-changing transformations. We bring 100 years of strategy consulting experience and the
unrivalled industry and functional capabilities of the PwC network to the task. Whether
you're charting your corporate strategy, transforming a function or business unit, or building
critical capabilities, we'll help you create the value you're looking for with speed, confidence,
and impact.
We are a member of the PwC network of firms in 157 countries with more than 184,000
people committed to delivering quality in assurance, tax, and advisory services. Tell us what
matters to you and find out more by visiting us at strategyand.pwc.com.
Be sure to follow all instructions carefully and completely.
•
•
Please upload your CV and Cover Letter.
If you have any issues with the online application, please contact Mariluz
Espinosa ([email protected])
ROLE
Our consultants use their strategic business consulting skills to work with clients through all
stages of strategy-based transformation projects: - provide support on client assignments that help to develop a strategy and then refocus an
organisation on making that strategy a reality - consult with clients to identify, clarify, and resolve complex issues critical to clients'
strategic and operating success by thoroughly preparing for and conducting interviews,
gathering required data, executing required analyses, identifying issues and problems, and
recommending approaches to address them, testing quality of data and reconciling data across
sources, presenting facts and evidence in meetings and serving as an effective support
resource to the team in client meetings. If you want to realise your potential whilst making a difference for clients, Strategy& is the
place for you. Qualifications
A blend of talents and skills is required of successful Consultants candidates, including intellectual ability and curiosity, strong analytic skills, imagination and creativity, strong speaking and writing skills, interpersonal skills, the ability to work in a team environment and high energy level. In addition, knowledge of other European languages, international experience (ERASMUS, experiencia abroad, etc.) and previous work experience. Legal work authorization, fluency in Spanish and very high level of English are required.