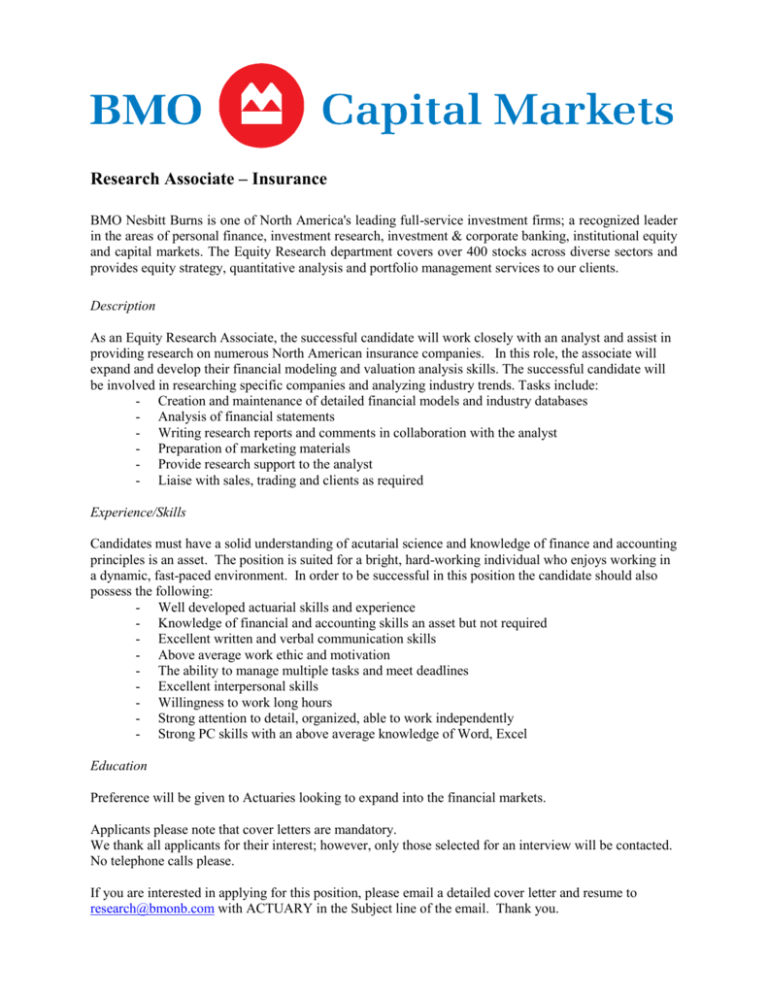 Research Associate – Insurance
BMO Nesbitt Burns is one of North America's leading full-service investment firms; a recognized leader
in the areas of personal finance, investment research, investment & corporate banking, institutional equity
and capital markets. The Equity Research department covers over 400 stocks across diverse sectors and
provides equity strategy, quantitative analysis and portfolio management services to our clients.
Description
As an Equity Research Associate, the successful candidate will work closely with an analyst and assist in
providing research on numerous North American insurance companies. In this role, the associate will
expand and develop their financial modeling and valuation analysis skills. The successful candidate will
be involved in researching specific companies and analyzing industry trends. Tasks include:
- Creation and maintenance of detailed financial models and industry databases
- Analysis of financial statements
- Writing research reports and comments in collaboration with the analyst
- Preparation of marketing materials
- Provide research support to the analyst
- Liaise with sales, trading and clients as required
Experience/Skills
Candidates must have a solid understanding of acutarial science and knowledge of finance and accounting
principles is an asset. The position is suited for a bright, hard-working individual who enjoys working in
a dynamic, fast-paced environment. In order to be successful in this position the candidate should also
possess the following:
- Well developed actuarial skills and experience
- Knowledge of financial and accounting skills an asset but not required
- Excellent written and verbal communication skills
- Above average work ethic and motivation
- The ability to manage multiple tasks and meet deadlines
- Excellent interpersonal skills
- Willingness to work long hours
- Strong attention to detail, organized, able to work independently
- Strong PC skills with an above average knowledge of Word, Excel
Education
Preference will be given to Actuaries looking to expand into the financial markets.
Applicants please note that cover letters are mandatory.
We thank all applicants for their interest; however, only those selected for an interview will be contacted.
No telephone calls please.
If you are interested in applying for this position, please email a detailed cover letter and resume to
research@bmonb.com with ACTUARY in the Subject line of the email. Thank you.