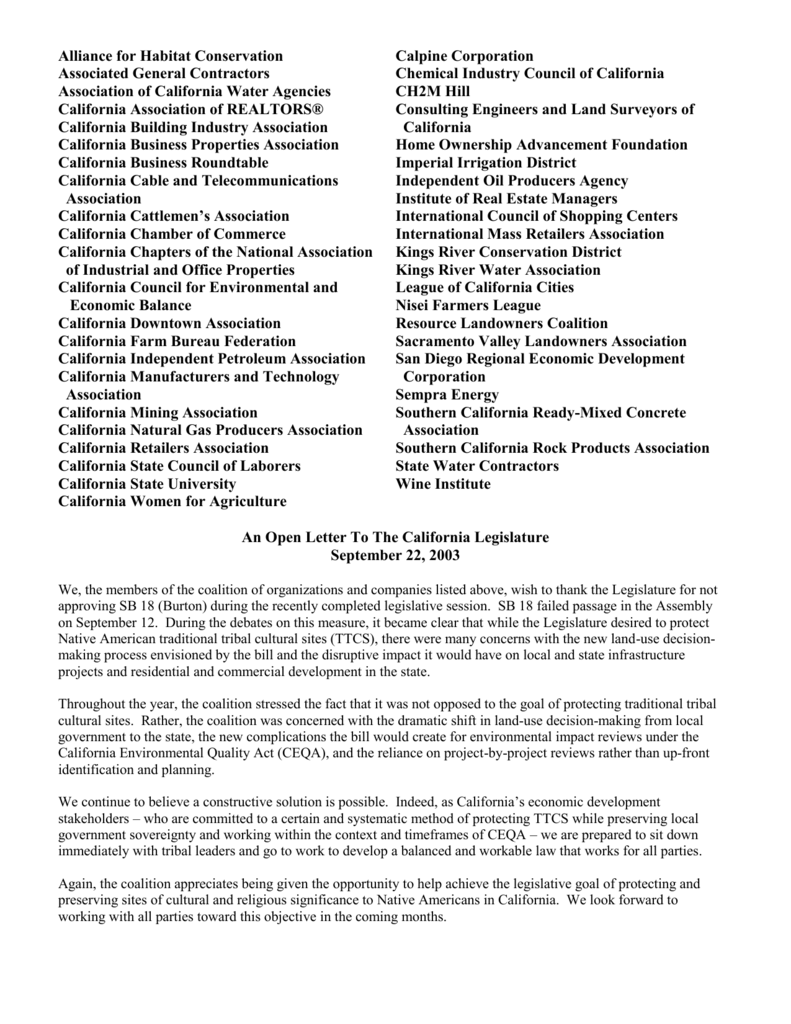 Alliance for Habitat Conservation
Associated General Contractors
Association of California Water Agencies
California Association of REALTORS®
California Building Industry Association
California Business Properties Association
California Business Roundtable
California Cable and Telecommunications
Association
California Cattlemen's Association
California Chamber of Commerce
California Chapters of the National Association
of Industrial and Office Properties
California Council for Environmental and
Economic Balance
California Downtown Association
California Farm Bureau Federation
California Independent Petroleum Association
California Manufacturers and Technology
Association
California Mining Association
California Natural Gas Producers Association
California Retailers Association
California State Council of Laborers
California State University
California Women for Agriculture
Calpine Corporation
Chemical Industry Council of California
CH2M Hill
Consulting Engineers and Land Surveyors of
California
Home Ownership Advancement Foundation
Imperial Irrigation District
Independent Oil Producers Agency
Institute of Real Estate Managers
International Council of Shopping Centers
International Mass Retailers Association
Kings River Conservation District
Kings River Water Association
League of California Cities
Nisei Farmers League
Resource Landowners Coalition
Sacramento Valley Landowners Association
San Diego Regional Economic Development
Corporation
Sempra Energy
Southern California Ready-Mixed Concrete
Association
Southern California Rock Products Association
State Water Contractors
Wine Institute
An Open Letter To The California Legislature
September 22, 2003
We, the members of the coalition of organizations and companies listed above, wish to thank the Legislature for not
approving SB 18 (Burton) during the recently completed legislative session. SB 18 failed passage in the Assembly
on September 12. During the debates on this measure, it became clear that while the Legislature desired to protect
Native American traditional tribal cultural sites (TTCS), there were many concerns with the new land-use decisionmaking process envisioned by the bill and the disruptive impact it would have on local and state infrastructure
projects and residential and commercial development in the state.
Throughout the year, the coalition stressed the fact that it was not opposed to the goal of protecting traditional tribal
cultural sites. Rather, the coalition was concerned with the dramatic shift in land-use decision-making from local
government to the state, the new complications the bill would create for environmental impact reviews under the
California Environmental Quality Act (CEQA), and the reliance on project-by-project reviews rather than up-front
identification and planning.
We continue to believe a constructive solution is possible. Indeed, as California's economic development
stakeholders – who are committed to a certain and systematic method of protecting TTCS while preserving local
government sovereignty and working within the context and timeframes of CEQA – we are prepared to sit down
immediately with tribal leaders and go to work to develop a balanced and workable law that works for all parties.
Again, the coalition appreciates being given the opportunity to help achieve the legislative goal of protecting and
preserving sites of cultural and religious significance to Native Americans in California. We look forward to
working with all parties toward this objective in the coming months.