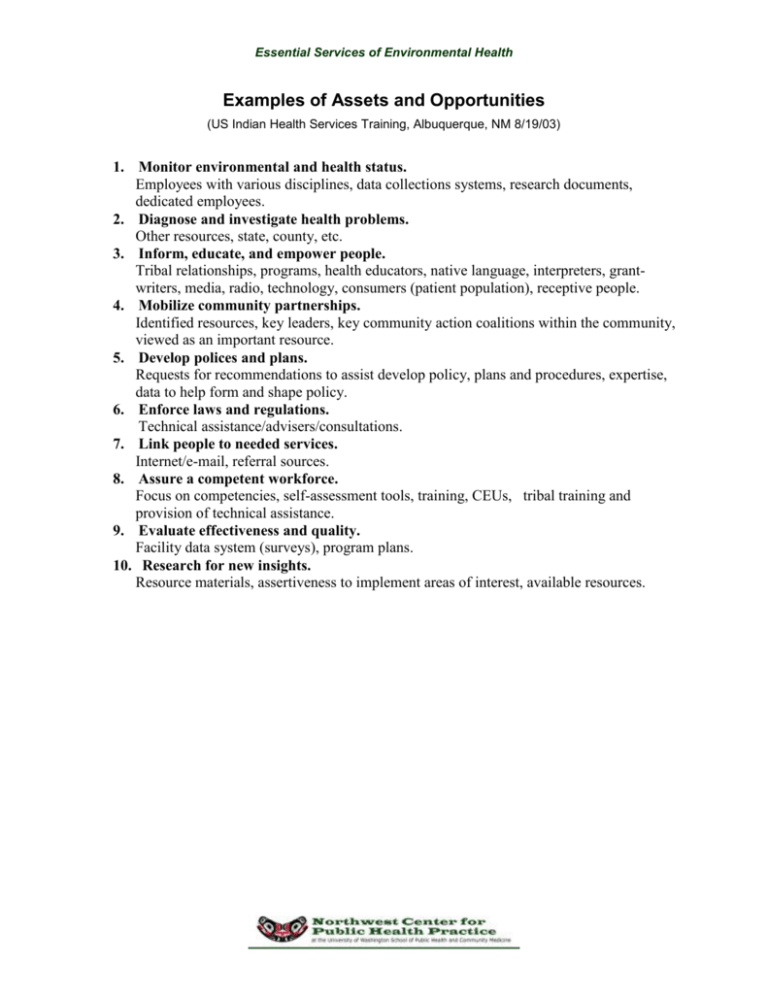 Essential Services of Environmental Health
Examples of Assets and Opportunities
(US Indian Health Services Training, Albuquerque, NM 8/19/03)
1. Monitor environmental and health status.
Employees with various disciplines, data collections systems, research documents,
dedicated employees.
2. Diagnose and investigate health problems.
Other resources, state, county, etc.
3. Inform, educate, and empower people.
Tribal relationships, programs, health educators, native language, interpreters, grantwriters, media, radio, technology, consumers (patient population), receptive people.
4. Mobilize community partnerships.
Identified resources, key leaders, key community action coalitions within the community,
viewed as an important resource.
5. Develop polices and plans.
Requests for recommendations to assist develop policy, plans and procedures, expertise,
data to help form and shape policy.
6. Enforce laws and regulations.
Technical assistance/advisers/consultations.
7. Link people to needed services.
Internet/e-mail, referral sources.
8. Assure a competent workforce.
Focus on competencies, self-assessment tools, training, CEUs, tribal training and
provision of technical assistance.
9. Evaluate effectiveness and quality.
Facility data system (surveys), program plans.
10. Research for new insights.
Resource materials, assertiveness to implement areas of interest, available resources.