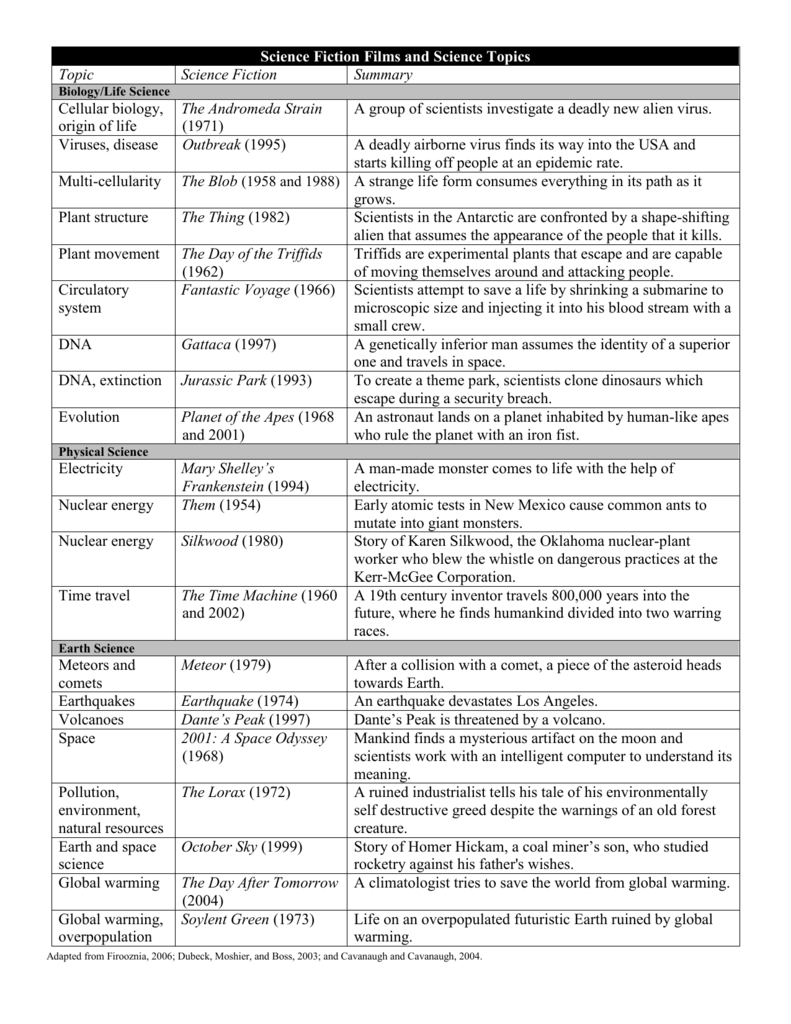 Topic
Science Fiction Films and Science Topics
Science Fiction
Summary
Biology/Life Science
Cellular biology,
origin of life
Viruses, disease
The Andromeda Strain
(1971)
Outbreak (1995)
A group of scientists investigate a deadly new alien virus.
Nuclear energy
Mary Shelley's
Frankenstein (1994)
Them (1954)
Nuclear energy
Silkwood (1980)
Time travel
The Time Machine (1960
and 2002)
A man-made monster comes to life with the help of
electricity.
Early atomic tests in New Mexico cause common ants to
mutate into giant monsters.
Story of Karen Silkwood, the Oklahoma nuclear-plant
worker who blew the whistle on dangerous practices at the
Kerr-McGee Corporation.
A 19th century inventor travels 800,000 years into the
future, where he finds humankind divided into two warring
races.
Multi-cellularity
Plant structure
Plant movement
Circulatory
system
DNA
DNA, extinction
Evolution
A deadly airborne virus finds its way into the USA and
starts killing off people at an epidemic rate.
The Blob (1958 and 1988) A strange life form consumes everything in its path as it
grows.
The Thing (1982)
Scientists in the Antarctic are confronted by a shape-shifting
alien that assumes the appearance of the people that it kills.
The Day of the Triffids
Triffids are experimental plants that escape and are capable
(1962)
of moving themselves around and attacking people.
Fantastic Voyage (1966) Scientists attempt to save a life by shrinking a submarine to
microscopic size and injecting it into his blood stream with a
small crew.
Gattaca (1997)
A genetically inferior man assumes the identity of a superior
one and travels in space.
Jurassic Park (1993)
To create a theme park, scientists clone dinosaurs which
escape during a security breach.
Planet of the Apes (1968 An astronaut lands on a planet inhabited by human-like apes
and 2001)
who rule the planet with an iron fist.
Physical Science
Electricity
Earth Science
Meteors and
comets
Earthquakes
Volcanoes
Space
Meteor (1979)
Pollution,
environment,
natural resources
Earth and space
science
Global warming
The Lorax (1972)
Global warming,
overpopulation
Earthquake (1974)
Dante's Peak (1997)
2001: A Space Odyssey
(1968)
October Sky (1999)
The Day After Tomorrow
(2004)
Soylent Green (1973)
After a collision with a comet, a piece of the asteroid heads
towards Earth.
An earthquake devastates Los Angeles.
Dante's Peak is threatened by a volcano.
Mankind finds a mysterious artifact on the moon and
scientists work with an intelligent computer to understand its
meaning.
A ruined industrialist tells his tale of his environmentally
self destructive greed despite the warnings of an old forest
creature.
Story of Homer Hickam, a coal miner's son, who studied
rocketry against his father's wishes.
A climatologist tries to save the world from global warming.
Life on an overpopulated futuristic Earth ruined by global
warming.
Adapted from Firooznia, 2006; Dubeck, Moshier, and Boss, 2003; and Cavanaugh and Cavanaugh, 2004.
Adapted from Firooznia, 2006; Dubeck, Moshier, and Boss, 2003; and Cavanaugh and Cavanaugh, 2004.