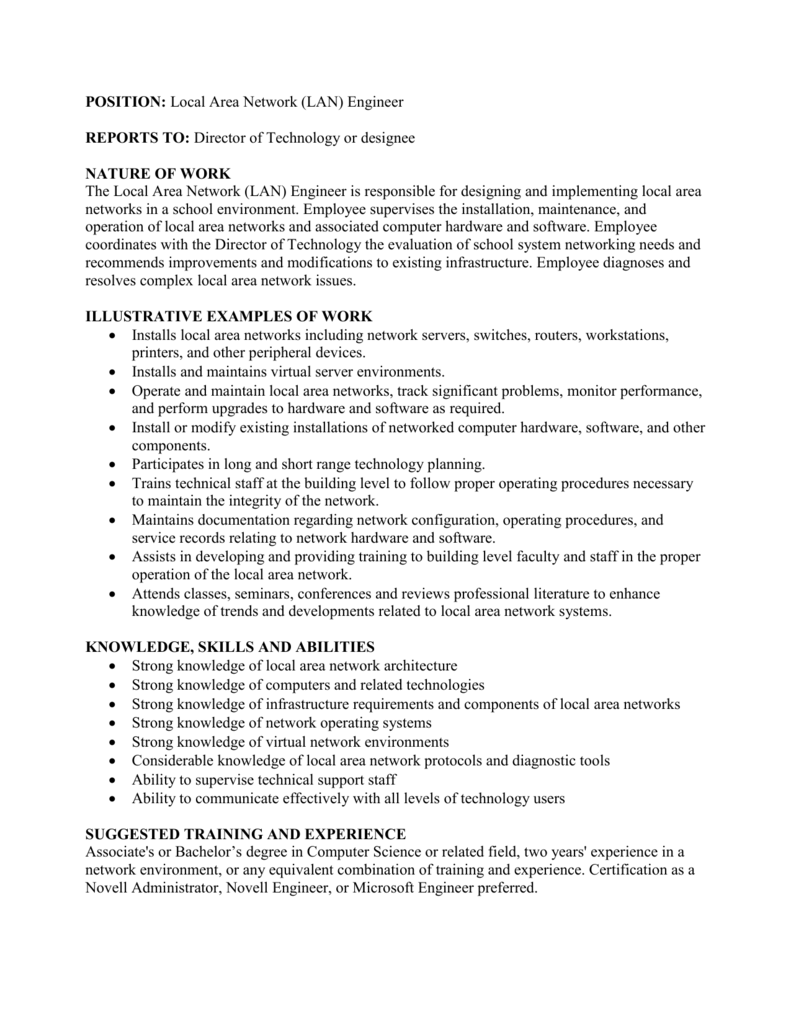 POSITION: Local Area Network (LAN) Engineer
REPORTS TO: Director of Technology or designee
NATURE OF WORK
The Local Area Network (LAN) Engineer is responsible for designing and implementing local area
networks in a school environment. Employee supervises the installation, maintenance, and
operation of local area networks and associated computer hardware and software. Employee
coordinates with the Director of Technology the evaluation of school system networking needs and
recommends improvements and modifications to existing infrastructure. Employee diagnoses and
resolves complex local area network issues.
ILLUSTRATIVE EXAMPLES OF WORK
 Installs local area networks including network servers, switches, routers, workstations,
printers, and other peripheral devices.
 Installs and maintains virtual server environments.
 Operate and maintain local area networks, track significant problems, monitor performance,
and perform upgrades to hardware and software as required.
 Install or modify existing installations of networked computer hardware, software, and other
components.
 Participates in long and short range technology planning.
 Trains technical staff at the building level to follow proper operating procedures necessary
to maintain the integrity of the network.
 Maintains documentation regarding network configuration, operating procedures, and
service records relating to network hardware and software.
 Assists in developing and providing training to building level faculty and staff in the proper
operation of the local area network.
 Attends classes, seminars, conferences and reviews professional literature to enhance
knowledge of trends and developments related to local area network systems.
KNOWLEDGE, SKILLS AND ABILITIES
 Strong knowledge of local area network architecture
 Strong knowledge of computers and related technologies
 Strong knowledge of infrastructure requirements and components of local area networks
 Strong knowledge of network operating systems
 Strong knowledge of virtual network environments
 Considerable knowledge of local area network protocols and diagnostic tools
 Ability to supervise technical support staff
 Ability to communicate effectively with all levels of technology users
SUGGESTED TRAINING AND EXPERIENCE
Associate's or Bachelor's degree in Computer Science or related field, two years' experience in a
network environment, or any equivalent combination of training and experience. Certification as a
Novell Administrator, Novell Engineer, or Microsoft Engineer preferred.