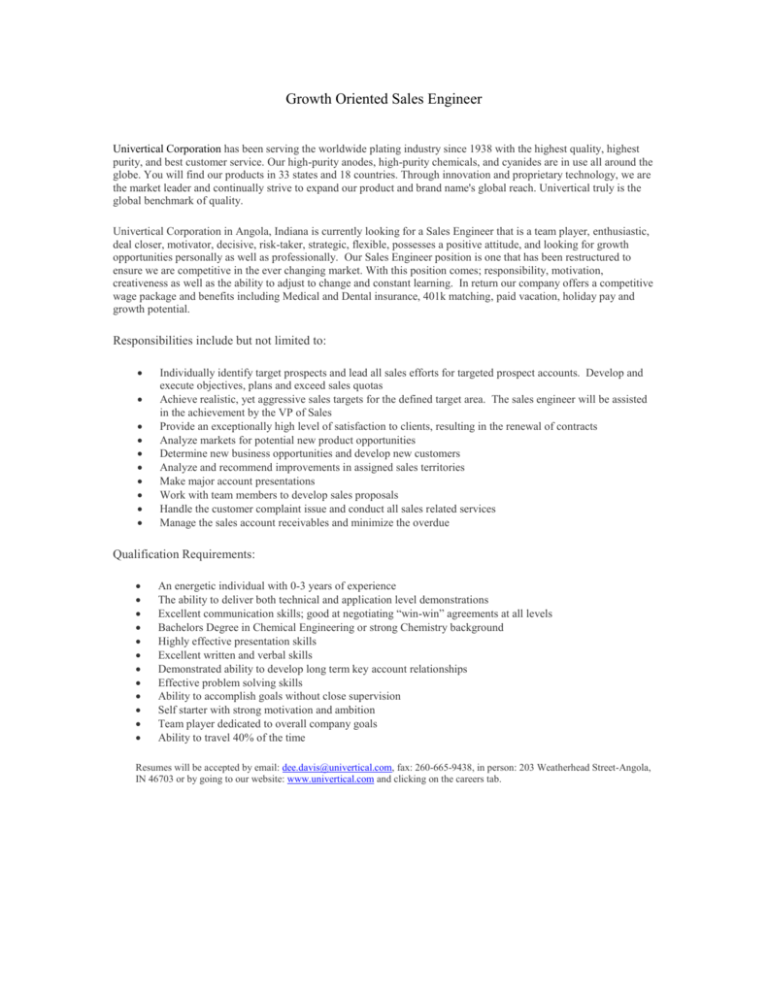 Growth Oriented Sales Engineer
Univertical Corporation has been serving the worldwide plating industry since 1938 with the highest quality, highest
purity, and best customer service. Our high-purity anodes, high-purity chemicals, and cyanides are in use all around the
globe. You will find our products in 33 states and 18 countries. Through innovation and proprietary technology, we are
the market leader and continually strive to expand our product and brand name's global reach. Univertical truly is the
global benchmark of quality.
Univertical Corporation in Angola, Indiana is currently looking for a Sales Engineer that is a team player, enthusiastic,
deal closer, motivator, decisive, risk-taker, strategic, flexible, possesses a positive attitude, and looking for growth
opportunities personally as well as professionally. Our Sales Engineer position is one that has been restructured to
ensure we are competitive in the ever changing market. With this position comes; responsibility, motivation,
creativeness as well as the ability to adjust to change and constant learning. In return our company offers a competitive
wage package and benefits including Medical and Dental insurance, 401k matching, paid vacation, holiday pay and
growth potential.
Responsibilities include but not limited to:










Individually identify target prospects and lead all sales efforts for targeted prospect accounts. Develop and
execute objectives, plans and exceed sales quotas
Achieve realistic, yet aggressive sales targets for the defined target area. The sales engineer will be assisted
in the achievement by the VP of Sales
Provide an exceptionally high level of satisfaction to clients, resulting in the renewal of contracts
Analyze markets for potential new product opportunities
Determine new business opportunities and develop new customers
Analyze and recommend improvements in assigned sales territories
Make major account presentations
Work with team members to develop sales proposals
Handle the customer complaint issue and conduct all sales related services
Manage the sales account receivables and minimize the overdue
Qualification Requirements:












An energetic individual with 0-3 years of experience
The ability to deliver both technical and application level demonstrations
Excellent communication skills; good at negotiating "win-win" agreements at all levels
Bachelors Degree in Chemical Engineering or strong Chemistry background
Highly effective presentation skills
Excellent written and verbal skills
Demonstrated ability to develop long term key account relationships
Effective problem solving skills
Ability to accomplish goals without close supervision
Self starter with strong motivation and ambition
Team player dedicated to overall company goals
Ability to travel 40% of the time
Resumes will be accepted by email: dee.davis@univertical.com, fax: 260-665-9438, in person: 203 Weatherhead Street-Angola,
IN 46703 or by going to our website: www.univertical.com and clicking on the careers tab.