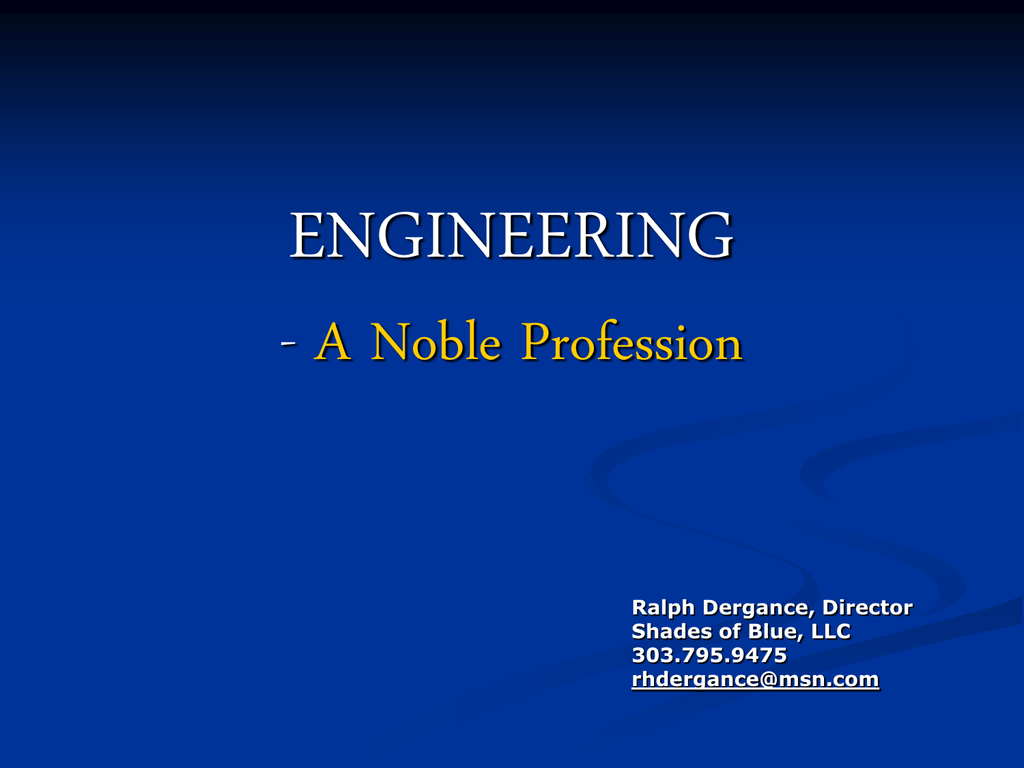 ENGINEERING
- A Noble Profession
Ralph Dergance, Director
Shades of Blue, LLC
303.795.9475
[email protected]
Who Am I?



Education: Aeronautical Engineering and Business Management
degrees from CU Boulder - 1964
Retired from Lockheed Martin in 1999 after over 36 year career
Career Highlights:










Launch Vehicle and Spacecraft Propulsion Engineer – analysis, design,
test, hardware development
Vehicle Systems Engineer
Chief Systems Engineer on Robotic Program
Chief Engineer on SICBM Post Boost Vehicle
Principal Investigator on many IR&D projects
Program Manager
New Business Development
Competitive proposal creation and management
Personnel Management
Subcontract Management and Procurement
Definition

THE DISCIPLINE, ART, AND PROFESSION OF ACQUIRING
AND APPLYING SCIENTIFIC, MATHEMATICAL, ECONOMIC,
SOCIAL, AND PRACTICAL KNOWLEDGE TO DESIGN AND
BUILT EVERYTHING
And/Or

THE CREATIVE APPLICATION OF SCIENTIFIC PRINCIPLES
AND MATHEMATICS TO DESIGN OR DEVELOP STRUCTURES,
MACHINES, APPARATUS, OR MANUFACTURING PROCESSES,
OR WORKS UTILIZING THEM SINGLY OR IN COMBINATION;
OR TO CONSTRUCT OR OPERATE THE SAME WITH FULL
CONGNIZANCE OF THEIR DESIGN; OR TO FORECAST THEIR
BEHAVIOR UNDERS SPECIFIC OPERATING CONDITIONS;
ALL AS RESPECTS AN INTENDED FUNCTION, ECONOMICS
OF OPERATION AND SAFETY TO LIFE AND PROPERTY.
American Engineers' Council for Professional Development
ENGINEERING Recipe
 S - Scientist
 T - Technician
 E - Eager/Energetic
 M - Mathematician
Necessary ATTRIBUTES
To Be An ENGINEER








CURIOSIOUS – how do things work?
CALCULATING – must like math, numbers
CAREFUL – don't make mistakes
CONSERVATIVE – calculated risks
CHALLENGED – want to improve
CONSCIENTIOUS – really care
COLLABORATIVE - communicate
COMMITTED – stay the course & make it happen
Educational Requirements






Science and Mathematics throughout primary and secondary schools
Sample available courses in different engineering fields
 Architecture
 Aeronautics/Aerospace
 Chemical
 Civil
 Computer Sciences/Software
 Electrical/Electronics
 Mechanical
 Systems Engineering
Attend special classes and camps that are available (e.g. Shades of
Blue)
Take advantage of available internships – we can help you
Use the internet – it is all there
 http://en.wikipedia.org/wiki/Engineering is a good start
Attend a college/university with excellent Engineering credentials
Career Avenues







Analysis
Design
Development
Test
Operations
Research
All of the above
The Bottom Line






Everything needs to be "Engineered"
Start now
Focus
Learn all you can
Make the world a better place
http://www.youtube.com/watch?v=KEBJm
ZL8G1E
Above all, have fun!!