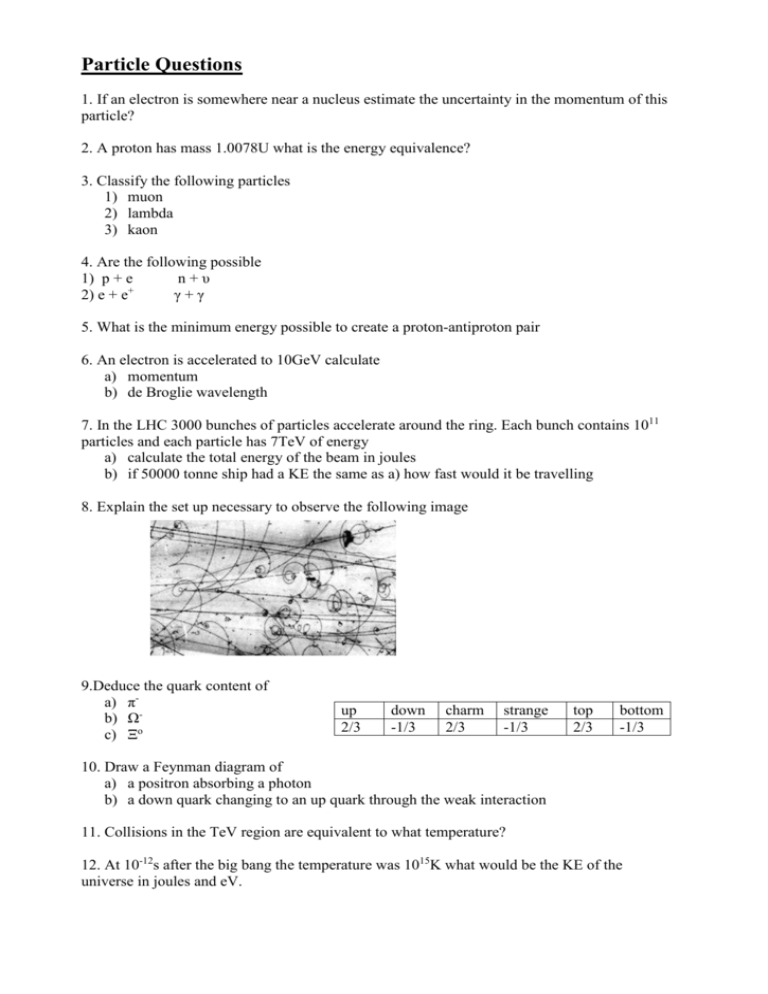 Particle Questions
1. If an electron is somewhere near a nucleus estimate the uncertainty in the momentum of this
particle?
2. A proton has mass 1.0078U what is the energy equivalence?
3. Classify the following particles
1) muon
2) lambda
3) kaon
4. Are the following possible
1) p + e
n+υ
+
2) e + e
γ+γ
5. What is the minimum energy possible to create a proton-antiproton pair
6. An electron is accelerated to 10GeV calculate
a) momentum
b) de Broglie wavelength
7. In the LHC 3000 bunches of particles accelerate around the ring. Each bunch contains 1011
particles and each particle has 7TeV of energy
a) calculate the total energy of the beam in joules
b) if 50000 tonne ship had a KE the same as a) how fast would it be travelling
8. Explain the set up necessary to observe the following image
9.Deduce the quark content of
a) πb) Ωc) Ξo
up
2/3
down
-1/3
charm
2/3
strange
-1/3
top
2/3
bottom
-1/3
10. Draw a Feynman diagram of
a) a positron absorbing a photon
b) a down quark changing to an up quark through the weak interaction
11. Collisions in the TeV region are equivalent to what temperature?
12. At 10-12s after the big bang the temperature was 1015K what would be the KE of the
universe in joules and eV.