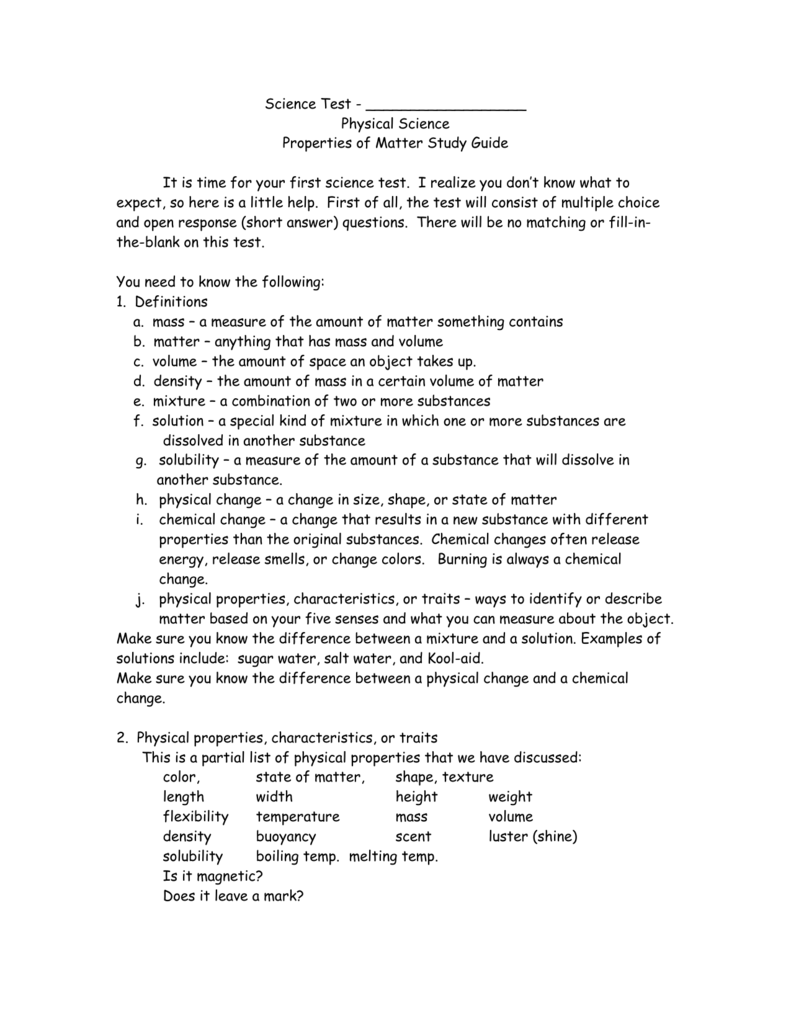 Science Test - __________________
Physical Science
Properties of Matter Study Guide
It is time for your first science test. I realize you don't know what to
expect, so here is a little help. First of all, the test will consist of multiple choice
and open response (short answer) questions. There will be no matching or fill-inthe-blank on this test.
You need to know the following:
1. Definitions
a. mass – a measure of the amount of matter something contains
b. matter – anything that has mass and volume
c. volume – the amount of space an object takes up.
d. density – the amount of mass in a certain volume of matter
e. mixture – a combination of two or more substances
f. solution – a special kind of mixture in which one or more substances are
dissolved in another substance
g. solubility – a measure of the amount of a substance that will dissolve in
another substance.
h. physical change – a change in size, shape, or state of matter
i. chemical change – a change that results in a new substance with different
properties than the original substances. Chemical changes often release
energy, release smells, or change colors. Burning is always a chemical
change.
j. physical properties, characteristics, or traits – ways to identify or describe
matter based on your five senses and what you can measure about the object.
Make sure you know the difference between a mixture and a solution. Examples of
solutions include: sugar water, salt water, and Kool-aid.
Make sure you know the difference between a physical change and a chemical
change.
2. Physical properties, characteristics, or traits
This is a partial list of physical properties that we have discussed:
color,
state of matter,
shape, texture
length
width
height
weight
flexibility
temperature
mass
volume
density
buoyancy
scent
luster (shine)
solubility
boiling temp. melting temp.
Is it magnetic?
Does it leave a mark?
3. Tools and units
a. A balance scale is used to measure mass in units called grams.
b. A graduate (or graduated cylinder) is used to measure liquid volume in
milliliters or liters. A graduate can also be used to find the volume of an
irregular solid, like a rock or marble, but the units must be changed from mL to
cubic centimeters (cm3). You must know how to find the volume of an irregular
solid.
c. A ruler is used to find the volume of a regular solid in units called cubic
centimeters (cm3). Volume = length x width x height.
A ruler is also used to measure one-dimensional distances like height in
centimeters.
4. Know the characteristics of the three states of matter.
Solid
Liquid
Gas
Does it have its
Yes
No
No
own shape?
Does it have a
Yes
Yes (Even if it
No, it fills the
definite volume?
changes shape, it is available space
still the same
amount)
How are the
Packed tightly
Close, but they can Far apart
particles
move around each
arranged?
other
How do they move? Vibrate
Medium
Fast
If heat energy is
It melts into a
It evaporates into
It stays a gas.
added….
liquid.
a gas. (The boiling
point of water is
100 C or 212 F.)
If heat is energy is It stays a cold
It freezes into a
It condenses into a
removed…..
solid.
solid. (The
liquid.
freezing point for
water is 0 C or 32
F.)
The motion and arrangement of particles determines whether matter exists in a
solid, a liquid, or a gaseous state.
5. Know why certain objects float and others sink.
Density determines whether an object sinks or floats. An object less dense
than the liquid it is in (for example, water) floats; an object more dense sinks.