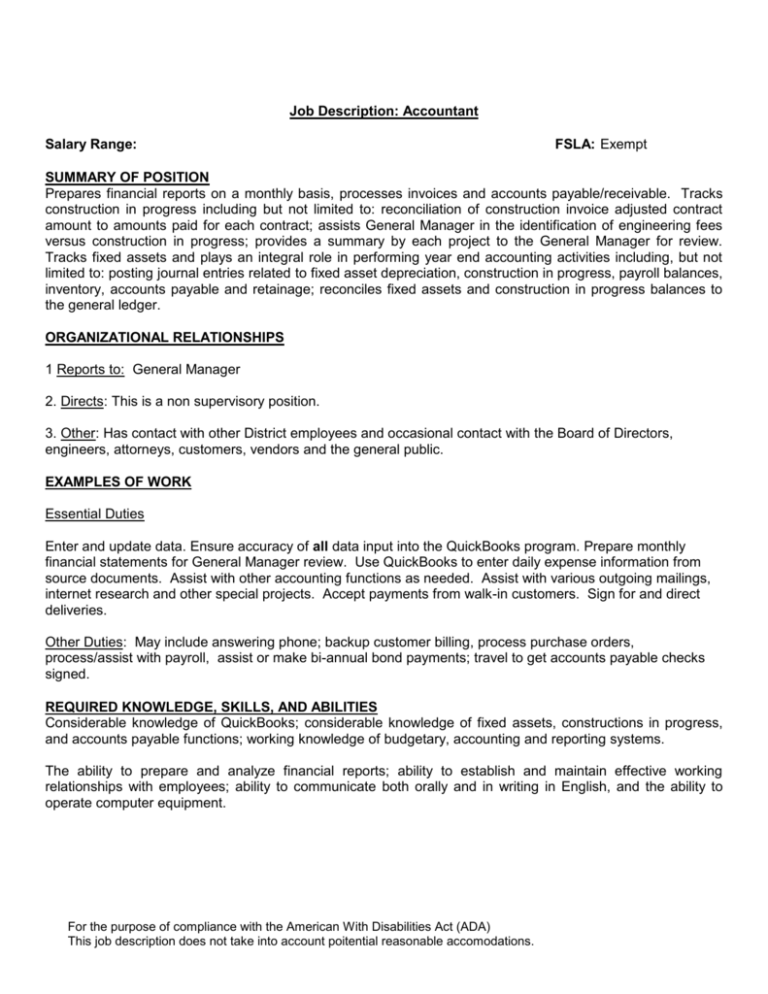 Job Description: Accountant
Salary Range:
FSLA: Exempt
SUMMARY OF POSITION
Prepares financial reports on a monthly basis, processes invoices and accounts payable/receivable. Tracks
construction in progress including but not limited to: reconciliation of construction invoice adjusted contract
amount to amounts paid for each contract; assists General Manager in the identification of engineering fees
versus construction in progress; provides a summary by each project to the General Manager for review.
Tracks fixed assets and plays an integral role in performing year end accounting activities including, but not
limited to: posting journal entries related to fixed asset depreciation, construction in progress, payroll balances,
inventory, accounts payable and retainage; reconciles fixed assets and construction in progress balances to
the general ledger.
ORGANIZATIONAL RELATIONSHIPS
1 Reports to: General Manager
2. Directs: This is a non supervisory position.
3. Other: Has contact with other District employees and occasional contact with the Board of Directors,
engineers, attorneys, customers, vendors and the general public.
EXAMPLES OF WORK
Essential Duties
Enter and update data. Ensure accuracy of all data input into the QuickBooks program. Prepare monthly
financial statements for General Manager review. Use QuickBooks to enter daily expense information from
source documents. Assist with other accounting functions as needed. Assist with various outgoing mailings,
internet research and other special projects. Accept payments from walk-in customers. Sign for and direct
deliveries.
Other Duties: May include answering phone; backup customer billing, process purchase orders,
process/assist with payroll, assist or make bi-annual bond payments; travel to get accounts payable checks
signed.
REQUIRED KNOWLEDGE, SKILLS, AND ABILITIES
Considerable knowledge of QuickBooks; considerable knowledge of fixed assets, constructions in progress,
and accounts payable functions; working knowledge of budgetary, accounting and reporting systems.
The ability to prepare and analyze financial reports; ability to establish and maintain effective working
relationships with employees; ability to communicate both orally and in writing in English, and the ability to
operate computer equipment.
For the purpose of compliance with the American With Disabilities Act (ADA)
This job description does not take into account poitential reasonable accomodations.
ACCEPTABLE EXPERIENCE AND TRAINING
Graduation from an accredited four-year-college or university with a degree in accounting, finance, business or
public administration, or closely related field; and, two (2) years of progressively responsible experience in
accounting and finance work. Must obtain at least 120 continuing hours every three years; earning a minimum
of 20 hours each year.
CERTIFICATES AND LICENSES REQUIRED
Certified Public Accountant (CPA) license, Bachelor's degree, and a Texas driver's license.
________________________________
Applicant Signature
Date
_______________________
Supervisor Signature
For the purpose of compliance with the American With Disabilities Act (ADA)
This job description does not take into account poitential reasonable accomodations.