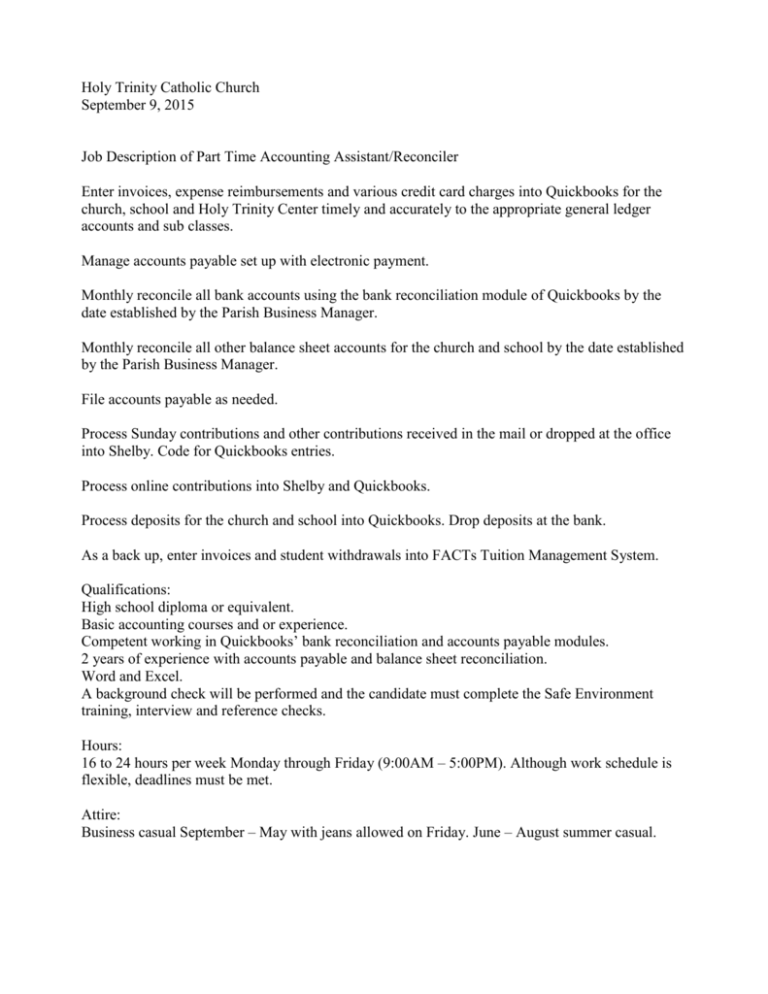 Holy Trinity Catholic Church
September 9, 2015
Job Description of Part Time Accounting Assistant/Reconciler
Enter invoices, expense reimbursements and various credit card charges into Quickbooks for the
church, school and Holy Trinity Center timely and accurately to the appropriate general ledger
accounts and sub classes.
Manage accounts payable set up with electronic payment.
Monthly reconcile all bank accounts using the bank reconciliation module of Quickbooks by the
date established by the Parish Business Manager.
Monthly reconcile all other balance sheet accounts for the church and school by the date established
by the Parish Business Manager.
File accounts payable as needed.
Process Sunday contributions and other contributions received in the mail or dropped at the office
into Shelby. Code for Quickbooks entries.
Process online contributions into Shelby and Quickbooks.
Process deposits for the church and school into Quickbooks. Drop deposits at the bank.
As a back up, enter invoices and student withdrawals into FACTs Tuition Management System.
Qualifications:
High school diploma or equivalent.
Basic accounting courses and or experience.
Competent working in Quickbooks' bank reconciliation and accounts payable modules.
2 years of experience with accounts payable and balance sheet reconciliation.
Word and Excel.
A background check will be performed and the candidate must complete the Safe Environment
training, interview and reference checks.
Hours:
16 to 24 hours per week Monday through Friday (9:00AM – 5:00PM). Although work schedule is
flexible, deadlines must be met.
Attire:
Business casual September – May with jeans allowed on Friday. June – August summer casual.