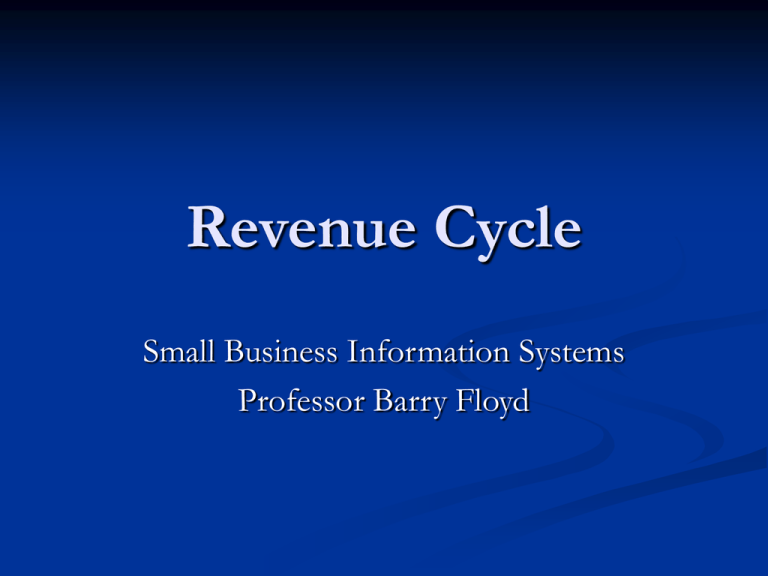 Revenue Cycle
Small Business Information Systems
Professor Barry Floyd
Objectives







Understand the notion of a 'business process'
Identify activities and documents in the standard 'revenue' /
'money in' business process
Have a general understanding the Data Flow Diagram technique
of representing an information system process
Discuss how the appropriate design of revenue cycle tasks can
provide value
Identify key reports to assess process and organizational
performance in the revenue cycle
Identify potential business risks (we'll discuss how to handle
them later in the quarter)
See (and know) how to use QB in handle the revenue cycle
References





http://en.wikipedia.org/wiki/Enterprise_resource_pla
nning
http://www.quickbooks.com
http://en.wikipedia.org/wiki/Microsoft_Dynamics
http://www.microsoft.com/dynamics/default.mspx
http://highered.mcgrawhill.com/sites/0072404299/student_view0/chapter8/
Agenda


Understand notion of activity and process
Overview of Revenue Cycle
Business Activities
Our goal is to identify the various activities which
take place in our business and to assign
a person to be responsible for assuring that
activity is accomplished effectively.

A business activity ...




produces some clearly identifiable result (product, idea,
decision, and so on).
An activity has clear boundaries--there is a beginning and
an ending. Activities don't overlap.
An activity is carried out as a unit, by a single person or a
team.
Once initiated, an activity proceeds largely independently
of other activities.
Example Business Activities

Add a customer to our customer list
Send a bill to a customer
Throw out broken lamp from inventory
Select a new vendor to purchase from
Update the credit amount for a customer

and more!




Grouping Business Activities




Business activities are typically grouped into what are called business
processes (and subprocesses) and can also be referred to as a cycle
Historically business processes are typically grouped into what are
called business functions.
For example...
We could have a group of activities such as



evaluate vendors
select vendor
generate purchase order
grouped into the business process PURCHASING
where Purchasing was one process in the function MATERIALS
MANAGEMENT
The issue now, is that we have business processes that span business
functions … for example marketing should talk more with production
to both build and sell products.
So What?



Your goal in your business is to determine where
information technology can be effective. Given
that the business is new, you need to `create it'. To
create it, I ask that you describe the main activities
of your business and assign them to someone in
your organization.
You can do this at the level that makes sense to you
-- activities, processes or functions.
Later, you will evaluate which activities
QuickBooks and Great Plains supports.
QuickBooks Money In
Key activities/processes in the
revenue cycle
The primary objective of the revenue cycle is to provide
the right product in the right place at the right time for
the right price
 Accounting oriented tasks include:





Sales Order Entry
Shipping
Billing and accounts receivable
Cash collections
What marketing / analysis tasks exist? We'll talk about
this a bit later …
Data Flow Diagram
of Revenue Cycle


Overview Diagram
What is a dataflow diagram?

Level 0 Diagram
Level 1 Diagram – Order
 Level 1 Diagram – Pick
 Level 1 Diagram – Billing

Data Flow Diagrams

A diagramming to show how a system 'works' by showing four
different part of the system:

Processes


Data stores


Files, databases, file folders … anything that holds data
Data flows


activities like entering a sales order
Movement of data from one activity to another
External entities

People, departments, companies … who receive data from us or send data to
us and we are not concerned about what they do to give us the data or what
they do when they get our data
Different 'levels' of DFDs
The process B is broken into
three smaller substeps …
This 'leveling' is done to reduce
the complexity of a diagram on
a page.
A
D
z
x
B
C
y
x
B.2
z
B.1
B.3
y
Key Documents









Estimate – offer of goods/services at a price for a specific
period of time
Invoice – request to pay
Credit Memo – supports adjustments to customer accounts
Bill of Lading – legal doc to transfer ownership to shipping
company
Packing slip – states what is send
Order – customer request for goods / services
Backorder – out of stock … buy more
Remittance advice – receive cash
Sales Return Authorization – Approval document that return is
allowable
Technology

Take a few minutes and discuss with those at
your table, places in this business process where
you think technology can play a role to …
Reduce costs.
 Add additional value to the customer.
 Provide better information to management.

QuickBooks' Response
Let's see how
QuickBooks
supports the
Revenue
Process.
QuickBooks Tasks








Add a new product
Add an income account for this product
Create an estimate for a customer
Change the status of the estimate
Do the work
Invoice the customer
Receive payment
Deposit the $$$ into our bank account
Some Key Decisions
How could you improve customer service? What
information does Marketing need to perform its
tasks better?
 How could you identify your most profitable
customers and markets?
 How can you improve your monitoring of credit
accounts? How would any changes in credit policy
affect both sales and uncollectible accounts?
 How could you improve its cash collection
procedures?

Reports




What would you want to know about this
process to see if it is performing 'well'?
What metrics are important to you? Why?
Which ones are most important to your
business? Why?
What reports does QuickBooks provide? Are
they adequate?
Summary


The revenue cycle is an important cycle to
understand. Failure to manage your business'
cash flow leads to failure.
Understanding the use of technology is
important for both reducing costs and for
improving customer service and differentiating
your business from your competitors.