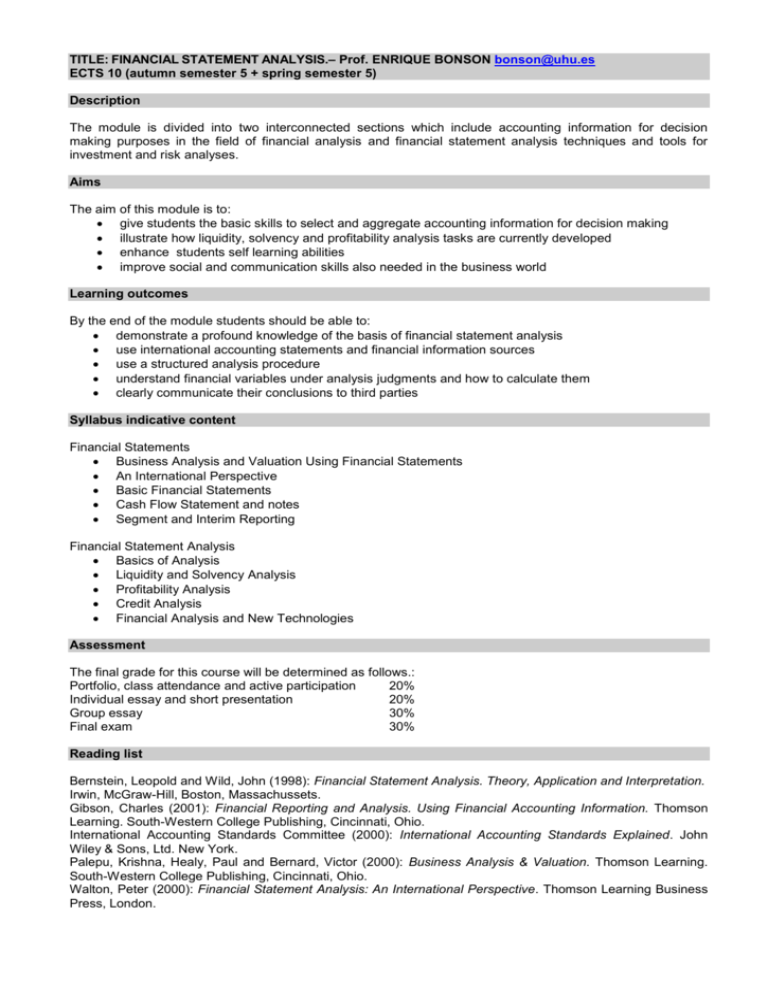 TITLE: FINANCIAL STATEMENT ANALYSIS.– Prof. ENRIQUE BONSON bonson@uhu.es
ECTS 10 (autumn semester 5 + spring semester 5)
Description
The module is divided into two interconnected sections which include accounting information for decision
making purposes in the field of financial analysis and financial statement analysis techniques and tools for
investment and risk analyses.
Aims
The aim of this module is to:
 give students the basic skills to select and aggregate accounting information for decision making
 illustrate how liquidity, solvency and profitability analysis tasks are currently developed
 enhance students self learning abilities
 improve social and communication skills also needed in the business world
Learning outcomes
By the end of the module students should be able to:
 demonstrate a profound knowledge of the basis of financial statement analysis
 use international accounting statements and financial information sources
 use a structured analysis procedure
 understand financial variables under analysis judgments and how to calculate them
 clearly communicate their conclusions to third parties
Syllabus indicative content
Financial Statements
 Business Analysis and Valuation Using Financial Statements
 An International Perspective
 Basic Financial Statements
 Cash Flow Statement and notes
 Segment and Interim Reporting
Financial Statement Analysis
 Basics of Analysis
 Liquidity and Solvency Analysis
 Profitability Analysis
 Credit Analysis
 Financial Analysis and New Technologies
Assessment
The final grade for this course will be determined as follows.:
Portfolio, class attendance and active participation
20%
Individual essay and short presentation
20%
Group essay
30%
Final exam
30%
Reading list
Bernstein, Leopold and Wild, John (1998): Financial Statement Analysis. Theory, Application and Interpretation.
Irwin, McGraw-Hill, Boston, Massachussets.
Gibson, Charles (2001): Financial Reporting and Analysis. Using Financial Accounting Information. Thomson
Learning. South-Western College Publishing, Cincinnati, Ohio.
International Accounting Standards Committee (2000): International Accounting Standards Explained. John
Wiley & Sons, Ltd. New York.
Palepu, Krishna, Healy, Paul and Bernard, Victor (2000): Business Analysis & Valuation. Thomson Learning.
South-Western College Publishing, Cincinnati, Ohio.
Walton, Peter (2000): Financial Statement Analysis: An International Perspective. Thomson Learning Business
Press, London.