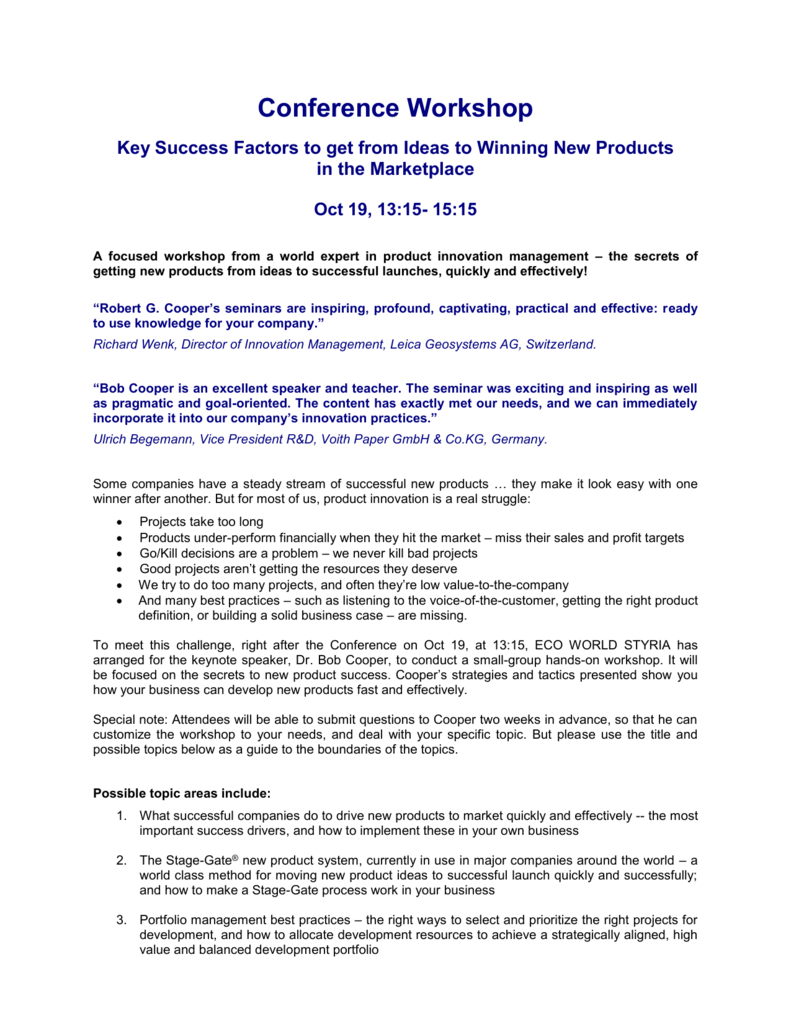 Conference Workshop
Key Success Factors to get from Ideas to Winning New Products
in the Marketplace
Oct 19, 13:15- 15:15
A focused workshop from a world expert in product innovation management – the secrets of
getting new products from ideas to successful launches, quickly and effectively!
"Robert G. Cooper's seminars are inspiring, profound, captivating, practical and effective: ready
to use knowledge for your company."
Richard Wenk, Director of Innovation Management, Leica Geosystems AG, Switzerland.
"Bob Cooper is an excellent speaker and teacher. The seminar was exciting and inspiring as well
as pragmatic and goal-oriented. The content has exactly met our needs, and we can immediately
incorporate it into our company's innovation practices."
Ulrich Begemann, Vice President R&D, Voith Paper GmbH & Co.KG, Germany.
Some companies have a steady stream of successful new products … they make it look easy with one
winner after another. But for most of us, product innovation is a real struggle:






Projects take too long
Products under-perform financially when they hit the market – miss their sales and profit targets
Go/Kill decisions are a problem – we never kill bad projects
Good projects aren't getting the resources they deserve
We try to do too many projects, and often they're low value-to-the-company
And many best practices – such as listening to the voice-of-the-customer, getting the right product
definition, or building a solid business case – are missing.
To meet this challenge, right after the Conference on Oct 19, at 13:15, ECO WORLD STYRIA has
arranged for the keynote speaker, Dr. Bob Cooper, to conduct a small-group hands-on workshop. It will
be focused on the secrets to new product success. Cooper's strategies and tactics presented show you
how your business can develop new products fast and effectively.
Special note: Attendees will be able to submit questions to Cooper two weeks in advance, so that he can
customize the workshop to your needs, and deal with your specific topic. But please use the title and
possible topics below as a guide to the boundaries of the topics.
Possible topic areas include:
1. What successful companies do to drive new products to market quickly and effectively -- the most
important success drivers, and how to implement these in your own business
2. The Stage-Gate® new product system, currently in use in major companies around the world – a
world class method for moving new product ideas to successful launch quickly and successfully;
and how to make a Stage-Gate process work in your business
3. Portfolio management best practices – the right ways to select and prioritize the right projects for
development, and how to allocate development resources to achieve a strategically aligned, high
value and balanced development portfolio
The Workshop Leader
Dr. Robert G. Cooper is a world expert in the field of new product management. Bob is the creator of the
Stage-Gate® process, now widely used by leading firms around the world to drive new products to market.
He has also helped dozens of leading corporations design and implement his Stage-Gate new products
process. Dr. Cooper is a thought-leader in the field of product innovation management. He was chosen
the "top scholar" by the prestigious US Journal of Product Innovation Management, and is a Crawford
Fellow of the Product Development & Management Association. Cooper is President of the Product
Development Institute Inc., Professor of Marketing, McMaster University, Canada, and also ISBM
Distinguished Research Fellow at Penn State University's Smeal College of Business Administration,
USA. He has published more than 100 articles in leading journals on new product management, has also
written six books on new product management, including the popular, "Winning at New Products:
Accelerating the Process from Idea to Launch", which has become the bible for companies wanting to
overhaul the way they go about conceiving, developing and launching new products.
If you are attending, please submit your specific visions and topics to Sabine Marx [email protected]
by Friday Oct 5, 2008, 12:00 noon in English. We cannot guarantee that every question will be
answered but we will try to design the program to accommodate your questions. Use the topics &
issues above as a guide to the general theme.