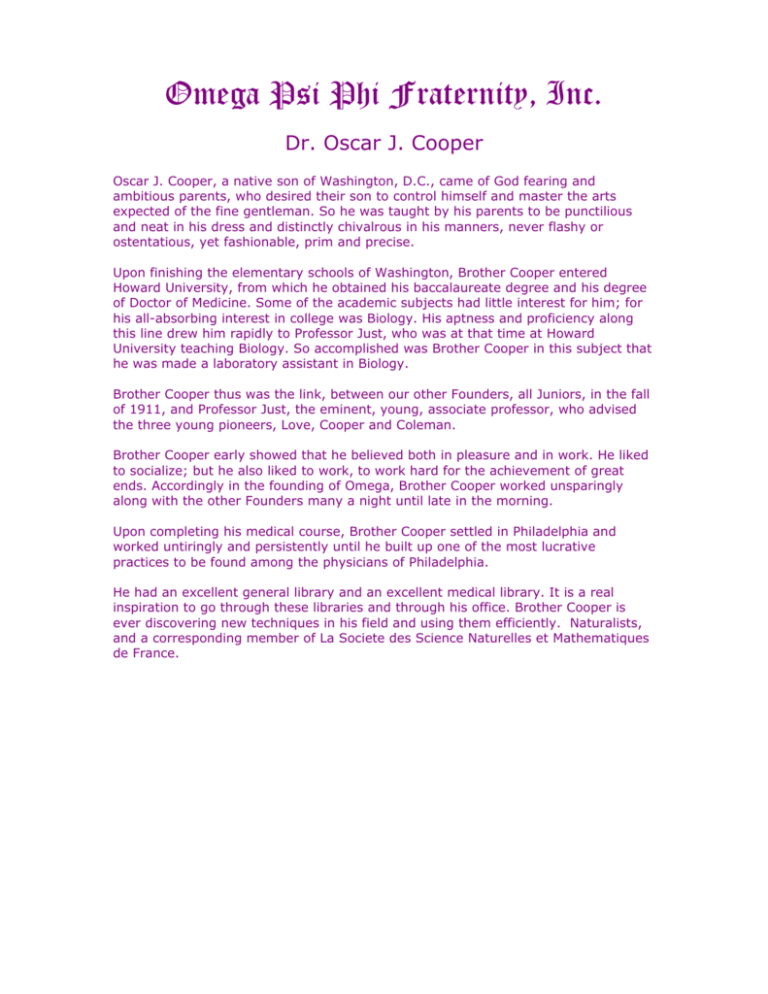 Omega Psi Phi Fraternity, Inc.
Dr. Oscar J. Cooper
Oscar J. Cooper, a native son of Washington, D.C., came of God fearing and
ambitious parents, who desired their son to control himself and master the arts
expected of the fine gentleman. So he was taught by his parents to be punctilious
and neat in his dress and distinctly chivalrous in his manners, never flashy or
ostentatious, yet fashionable, prim and precise.
Upon finishing the elementary schools of Washington, Brother Cooper entered
Howard University, from which he obtained his baccalaureate degree and his degree
of Doctor of Medicine. Some of the academic subjects had little interest for him; for
his all-absorbing interest in college was Biology. His aptness and proficiency along
this line drew him rapidly to Professor Just, who was at that time at Howard
University teaching Biology. So accomplished was Brother Cooper in this subject that
he was made a laboratory assistant in Biology.
Brother Cooper thus was the link, between our other Founders, all Juniors, in the fall
of 1911, and Professor Just, the eminent, young, associate professor, who advised
the three young pioneers, Love, Cooper and Coleman.
Brother Cooper early showed that he believed both in pleasure and in work. He liked
to socialize; but he also liked to work, to work hard for the achievement of great
ends. Accordingly in the founding of Omega, Brother Cooper worked unsparingly
along with the other Founders many a night until late in the morning.
Upon completing his medical course, Brother Cooper settled in Philadelphia and
worked untiringly and persistently until he built up one of the most lucrative
practices to be found among the physicians of Philadelphia.
He had an excellent general library and an excellent medical library. It is a real
inspiration to go through these libraries and through his office. Brother Cooper is
ever discovering new techniques in his field and using them efficiently. Naturalists,
and a corresponding member of La Societe des Science Naturelles et Mathematiques
de France.