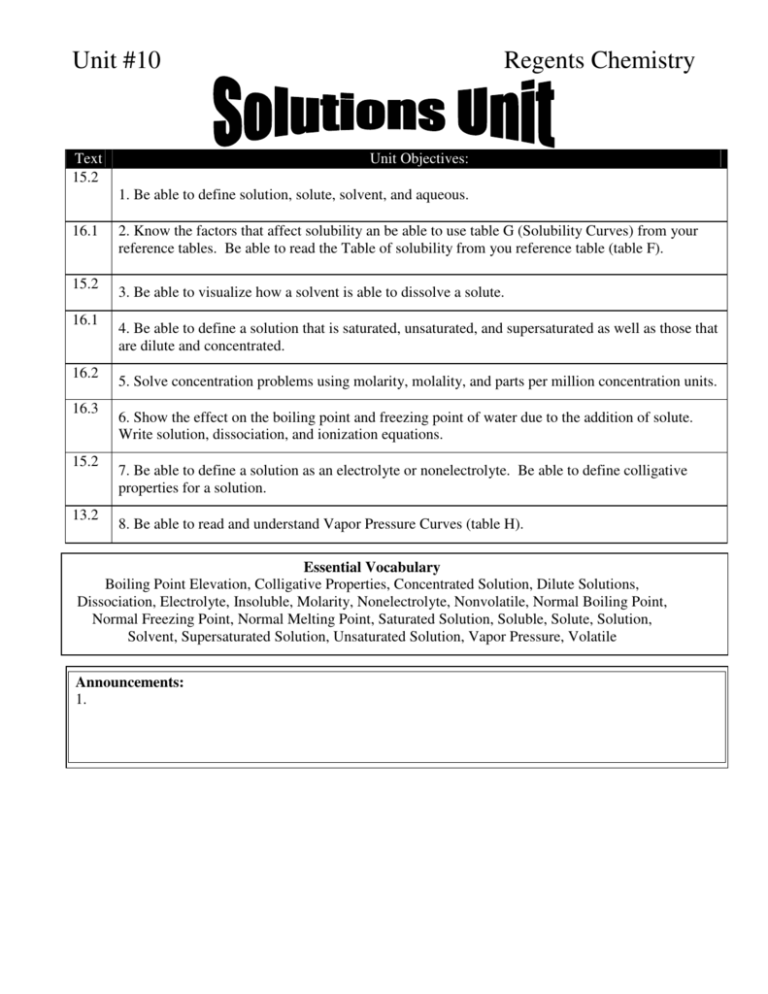 Unit #10
Text
15.2
Regents Chemistry
Unit Objectives:
1. Be able to define solution, solute, solvent, and aqueous.
16.1
15.2
16.1
16.2
16.3
15.2
13.2
2. Know the factors that affect solubility an be able to use table G (Solubility Curves) from your
reference tables. Be able to read the Table of solubility from you reference table (table F).
3. Be able to visualize how a solvent is able to dissolve a solute.
4. Be able to define a solution that is saturated, unsaturated, and supersaturated as well as those that
are dilute and concentrated.
5. Solve concentration problems using molarity, molality, and parts per million concentration units.
6. Show the effect on the boiling point and freezing point of water due to the addition of solute.
Write solution, dissociation, and ionization equations.
7. Be able to define a solution as an electrolyte or nonelectrolyte. Be able to define colligative
properties for a solution.
8. Be able to read and understand Vapor Pressure Curves (table H).
Essential Vocabulary
Boiling Point Elevation, Colligative Properties, Concentrated Solution, Dilute Solutions,
Dissociation, Electrolyte, Insoluble, Molarity, Nonelectrolyte, Nonvolatile, Normal Boiling Point,
Normal Freezing Point, Normal Melting Point, Saturated Solution, Soluble, Solute, Solution,
Solvent, Supersaturated Solution, Unsaturated Solution, Vapor Pressure, Volatile
Announcements:
1.