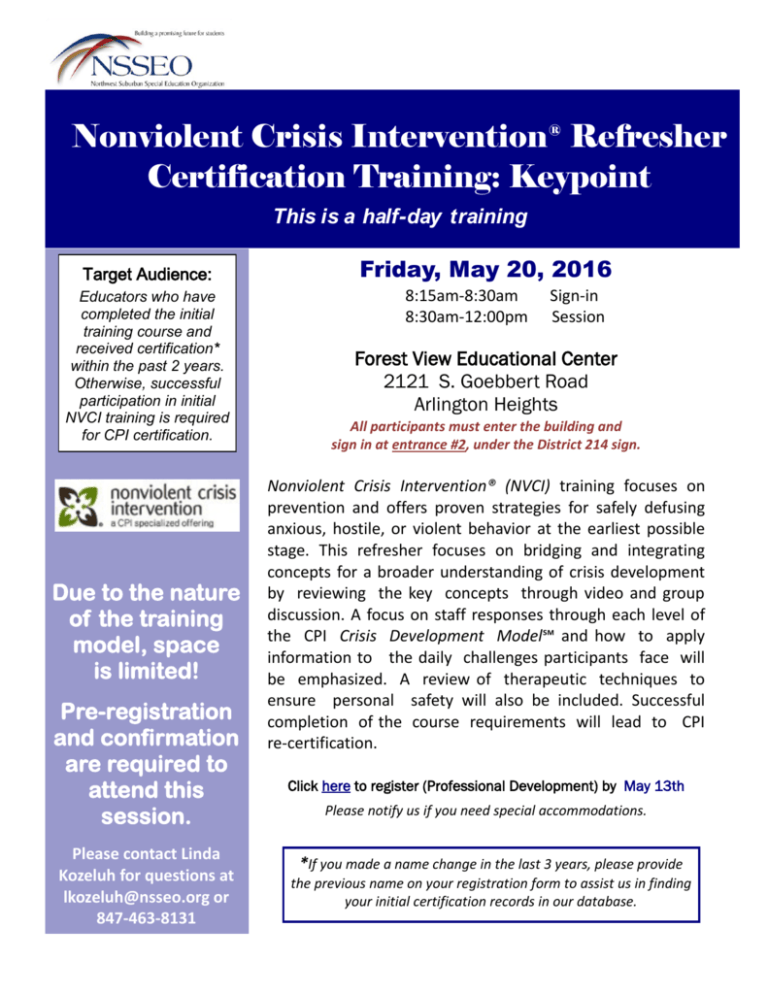 Nonviolent Crisis Intervention® Refresher
Certification Training: Keypoint
This is a half-day training
Target Audience:
Educators who have
completed the initial
training course and
received certification*
within the past 2 years.
Otherwise, successful
participation in initial
NVCI training is required
for CPI certification.
Due to the nature
of the training
model, space
is limited!
Pre-registration
and confirmation
are required to
attend this
session.
Please contact Linda
Kozeluh for questions at
lkozeluh@nsseo.org or
847-463-8131
Friday, May 20, 2016
8:15am-8:30am
8:30am-12:00pm
Sign-in
Session
Forest View Educational Center
2121 S. Goebbert Road
Arlington Heights
All participants must enter the building and
sign in at entrance #2, under the District 214 sign.
Nonviolent Crisis Intervention® (NVCI) training focuses on
prevention and offers proven strategies for safely defusing
anxious, hostile, or violent behavior at the earliest possible
stage. This refresher focuses on bridging and integrating
concepts for a broader understanding of crisis development
by reviewing the key concepts through video and group
discussion. A focus on staff responses through each level of
the CPI Crisis Development Model℠ and how to apply
information to the daily challenges participants face will
be emphasized. A review of therapeutic techniques to
ensure personal safety will also be included. Successful
completion of the course requirements will lead to CPI
re-certification.
Click here to register (Professional Development) by May 13th
Please notify us if you need special accommodations.
*If you made a name change in the last 3 years, please provide
the previous name on your registration form to assist us in finding
your initial certification records in our database.