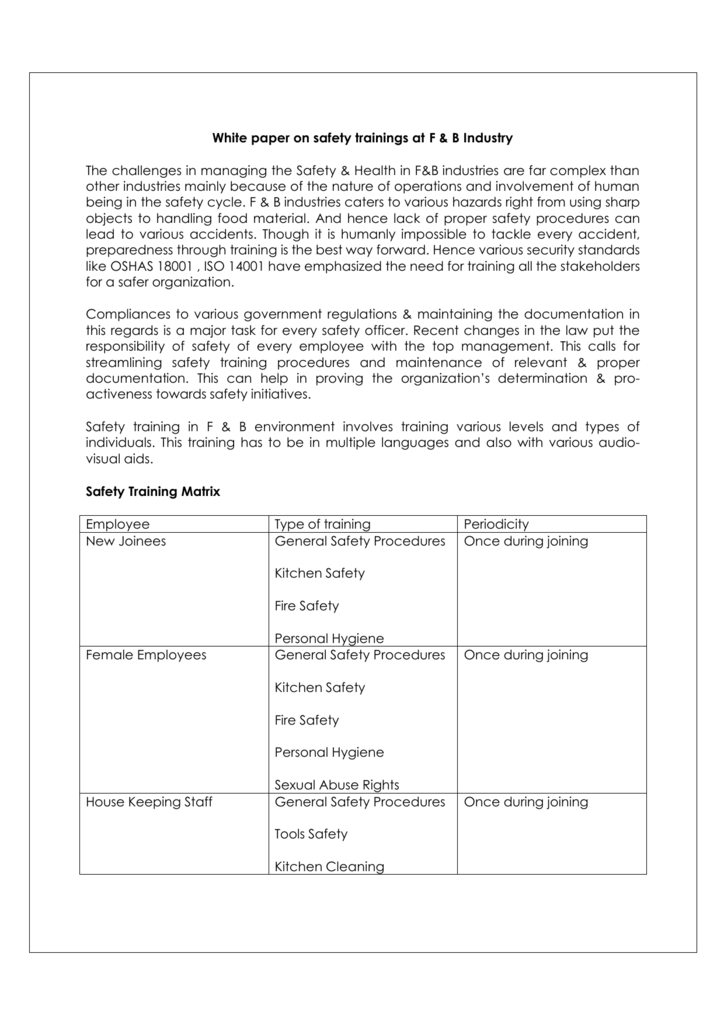 White paper on safety trainings at F & B Industry
The challenges in managing the Safety & Health in F&B industries are far complex than
other industries mainly because of the nature of operations and involvement of human
being in the safety cycle. F & B industries caters to various hazards right from using sharp
objects to handling food material. And hence lack of proper safety procedures can
lead to various accidents. Though it is humanly impossible to tackle every accident,
preparedness through training is the best way forward. Hence various security standards
like OSHAS 18001 , ISO 14001 have emphasized the need for training all the stakeholders
for a safer organization.
Compliances to various government regulations & maintaining the documentation in
this regards is a major task for every safety officer. Recent changes in the law put the
responsibility of safety of every employee with the top management. This calls for
streamlining safety training procedures and maintenance of relevant & proper
documentation. This can help in proving the organization's determination & proactiveness towards safety initiatives.
Safety training in F & B environment involves training various levels and types of
individuals. This training has to be in multiple languages and also with various audiovisual aids.
Safety Training Matrix
Employee
New Joinees
Type of training
General Safety Procedures
Periodicity
Once during joining
Kitchen Safety
Fire Safety
Female Employees
Personal Hygiene
General Safety Procedures
Once during joining
Kitchen Safety
Fire Safety
Personal Hygiene
House Keeping Staff
Sexual Abuse Rights
General Safety Procedures
Tools Safety
Kitchen Cleaning
Once during joining
Security Staff
General Safety Procedures
Once during joining
Access Control
Patrolling the Facility
Kitchen Staff
Incidence Reporting
General Safety Procedures
Once during joining
Kitchen Safety
Fire Safety
Personal Hygiene
Food Safety
Documentation in safety training :
Documentation is an important step in the safety training process.
Evaluation of safety training : Evaluation of safety training can be done by providing a
quiz which will cover various aspects of the safety training. A Completion certificate
can be issued only after scoring a minimum score. The certification of evaluation should
have an expiry . Continual training is an important aspect of safety training. The
certificate can also be created in the format of a Safety Passport with details like the
Photograph & Expiry date.
Training Reports : Various reports should be maintained with details about the
individuals who has undergone the training , score etc.
Safety Cycle :
Procedures can be established under which only individuals having a valid passport
shall be allowed inside the premise. This ensures a major requirement of many safety
standards that every individual in the organization has undergone a safety training.
Notice : This is a confidential document prepared based on the needs of the customer. Only
the authorized persons from the customers organization are allowed to use this document. In
case you are not authorized to access this information pl. close the document immediately.
The customer is expected to take care in maintaining the confidentiality of this document .
The information in this document should not be shared or used with any third party in any
format , full or partial without a written consent from Scrum System.