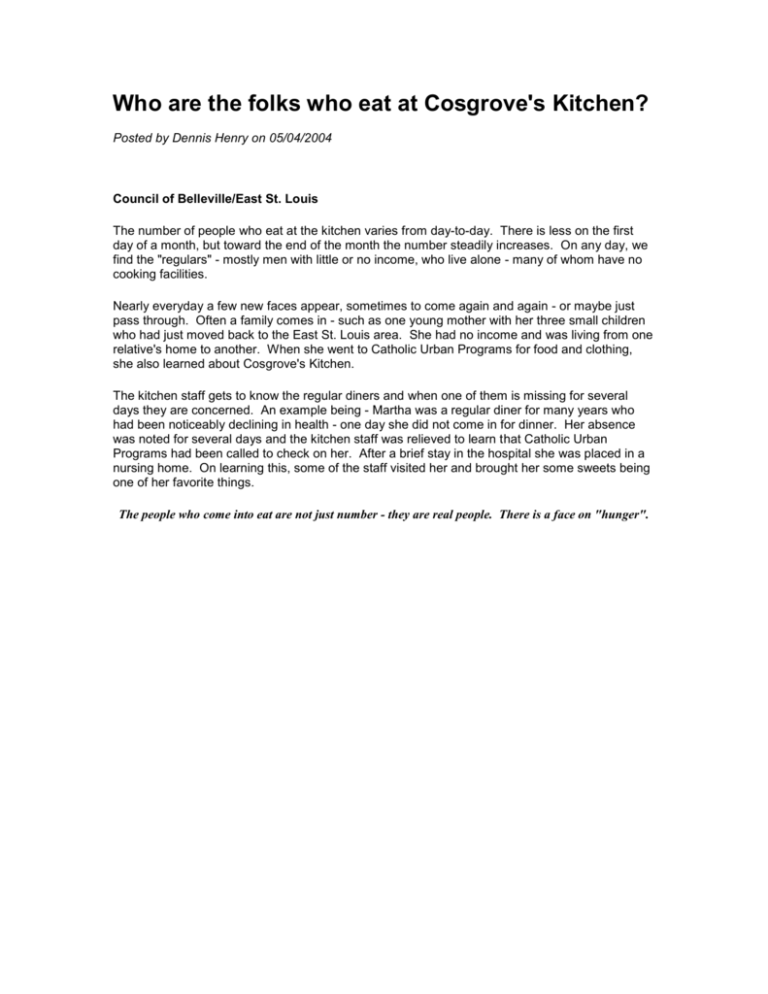 Who are the folks who eat at Cosgrove's Kitchen?
Posted by Dennis Henry on 05/04/2004
Council of Belleville/East St. Louis
The number of people who eat at the kitchen varies from day-to-day. There is less on the first
day of a month, but toward the end of the month the number steadily increases. On any day, we
find the "regulars" - mostly men with little or no income, who live alone - many of whom have no
cooking facilities.
Nearly everyday a few new faces appear, sometimes to come again and again - or maybe just
pass through. Often a family comes in - such as one young mother with her three small children
who had just moved back to the East St. Louis area. She had no income and was living from one
relative's home to another. When she went to Catholic Urban Programs for food and clothing,
she also learned about Cosgrove's Kitchen.
The kitchen staff gets to know the regular diners and when one of them is missing for several
days they are concerned. An example being - Martha was a regular diner for many years who
had been noticeably declining in health - one day she did not come in for dinner. Her absence
was noted for several days and the kitchen staff was relieved to learn that Catholic Urban
Programs had been called to check on her. After a brief stay in the hospital she was placed in a
nursing home. On learning this, some of the staff visited her and brought her some sweets being
one of her favorite things.
The people who come into eat are not just number - they are real people. There is a face on "hunger".