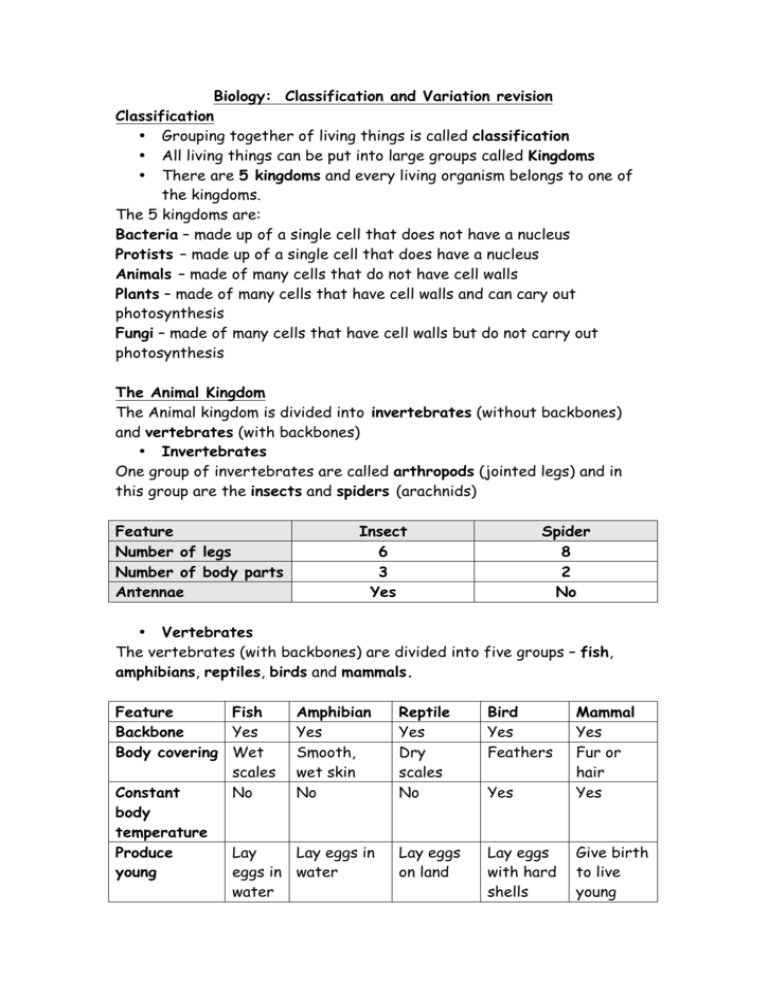 Biology: Classification and Variation revision
Classification
• Grouping together of living things is called classification
• All living things can be put into large groups called Kingdoms
• There are 5 kingdoms and every living organism belongs to one of
the kingdoms.
The 5 kingdoms are:
Bacteria – made up of a single cell that does not have a nucleus
Protists – made up of a single cell that does have a nucleus
Animals – made of many cells that do not have cell walls
Plants – made of many cells that have cell walls and can cary out
photosynthesis
Fungi – made of many cells that have cell walls but do not carry out
photosynthesis
The Animal Kingdom
The Animal kingdom is divided into invertebrates (without backbones)
and vertebrates (with backbones)
• Invertebrates
One group of invertebrates are called arthropods (jointed legs) and in
this group are the insects and spiders (arachnids)
Feature
Number of legs
Number of body parts
Antennae
Insect
6
3
Yes
Spider
8
2
No
• Vertebrates
The vertebrates (with backbones) are divided into five groups – fish,
amphibians, reptiles, birds and mammals.
Feature
Fish
Backbone
Yes
Body covering Wet
scales
Constant
No
body
temperature
Produce
Lay
young
eggs in
water
Amphibian
Yes
Smooth,
wet skin
No
Reptile
Yes
Dry
scales
No
Bird
Yes
Feathers
Yes
Mammal
Yes
Fur or
hair
Yes
Lay eggs in
water
Lay eggs
on land
Lay eggs
with hard
shells
Give birth
to live
young
Variation
Variations (characteristics) are differences between living organisms
• These variations (characteristics) are caused by:
• Information inherited from parents (genes); e.g. eye colour
• The environment you live in (e.g. exercise, accent)
Different kinds of variation
There are two kinds of variation:
• Discontinuous variation can be easily put into different groups. For
example, male or female, blood groups.
•
Continuous variations fall into many groups. These groups almost
run into one another. For example, height (you do not just have tall
or short).
Genes and Characteristics
•
•
•
A gene is a code that carries information for a characteristic (e.g.
eye colour).
A chromosome carries many genes (instructions).
A nucleus contains many chromosomes – 46 (23 pairs) in human
body cells.