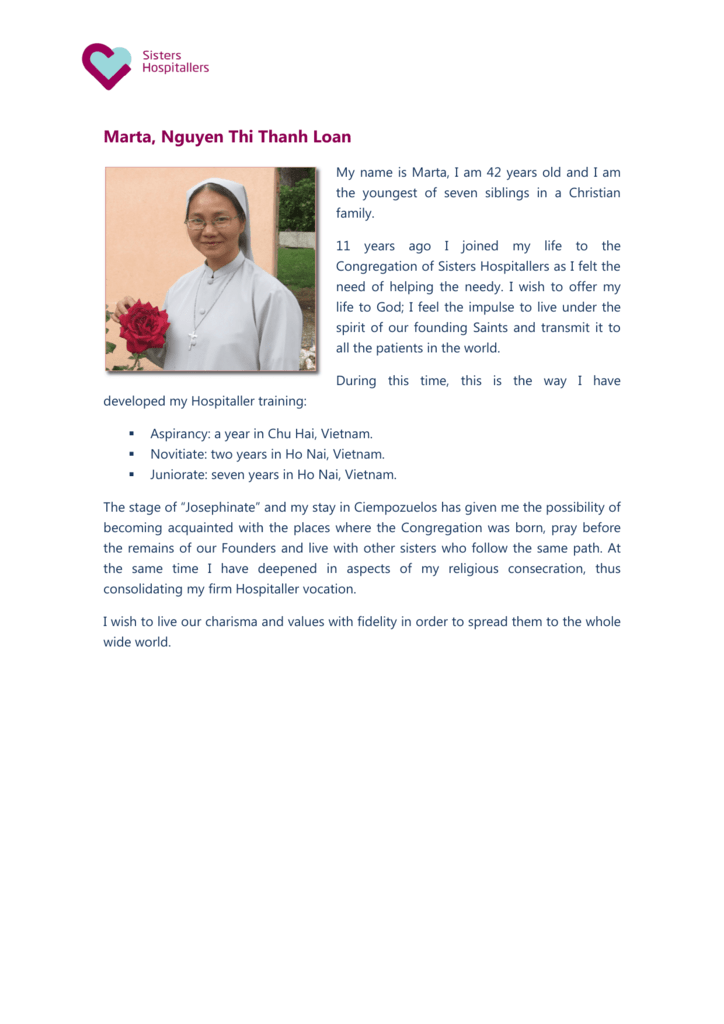 Marta, Nguyen Thi Thanh Loan
My name is Marta, I am 42 years old and I am
the youngest of seven siblings in a Christian
family.
11
years
ago
I
joined
my
life
to
the
Congregation of Sisters Hospitallers as I felt the
need of helping the needy. I wish to offer my
life to God; I feel the impulse to live under the
spirit of our founding Saints and transmit it to
all the patients in the world.
During this time, this is the way I have
developed my Hospitaller training:
Aspirancy: a year in Chu Hai, Vietnam.
Vietnam
Novitiate: two years in Ho Nai, Vietnam.
Vietnam
Juniorate: seven years in Ho Nai, Vietnam.
Vietnam
The stage of "Josephinate" and my stay in Ciempozuelos has given me the possibility of
becoming acquainted with the places where the Congregation was born, pray before
the remains of our Founders and live with other sisters who follow the same path. At
the same time I have deepened in aspects of my religious consecration, thus
consolidating my firm Hospitaller vocation.
I wish to live our charisma and values with fidelity in order to spread them to the whole
wide world.