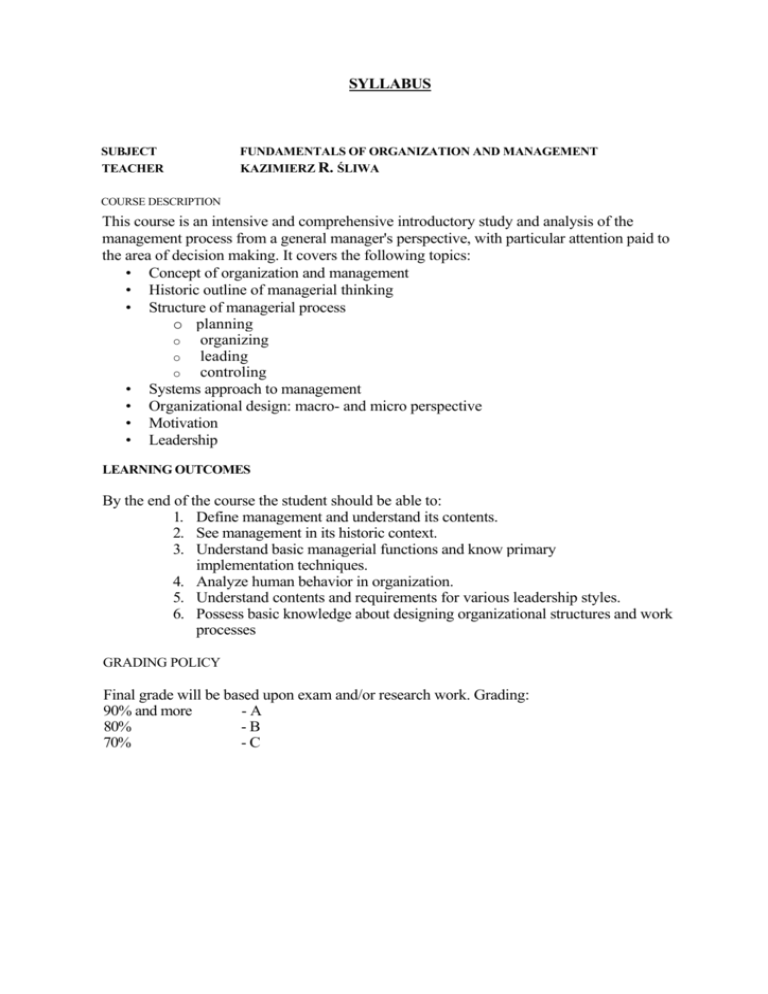 SYLLABUS
SUBJECT
TEACHER
FUNDAMENTALS OF ORGANIZATION AND MANAGEMENT
KAZIMIERZ R. ŚLIWA
COURSE DESCRIPTION
This course is an intensive and comprehensive introductory study and analysis of the
management process from a general manager's perspective, with particular attention paid to
the area of decision making. It covers the following topics:
• Concept of organization and management
• Historic outline of managerial thinking
• Structure of managerial process
o planning
o
organizing
o
leading
o
controling
• Systems approach to management
• Organizational design: macro- and micro perspective
• Motivation
• Leadership
LEARNING OUTCOMES
By the end of the course the student should be able to:
1. Define management and understand its contents.
2. See management in its historic context.
3. Understand basic managerial functions and know primary
implementation techniques.
4. Analyze human behavior in organization.
5. Understand contents and requirements for various leadership styles.
6. Possess basic knowledge about designing organizational structures and work
processes
GRADING POLICY
Final grade will be based upon exam and/or research work. Grading:
90% and more
-A
80%
-B
70%
-C
2
60%
-D
TlMETABLE
In accordance with students' time availability (their schedule)
TEXTBOOK AND REQUIRED MATERIALS
Gareth R. Jones and Jennifer M. George. Essentials of Contemporary Management. Third
Edition. McGraw-Hill Irwin, Boston 2009, 539 pages, ISBN-10: 0-07-353024-7.
PREREQUISITES:
In accordance with students' study work.