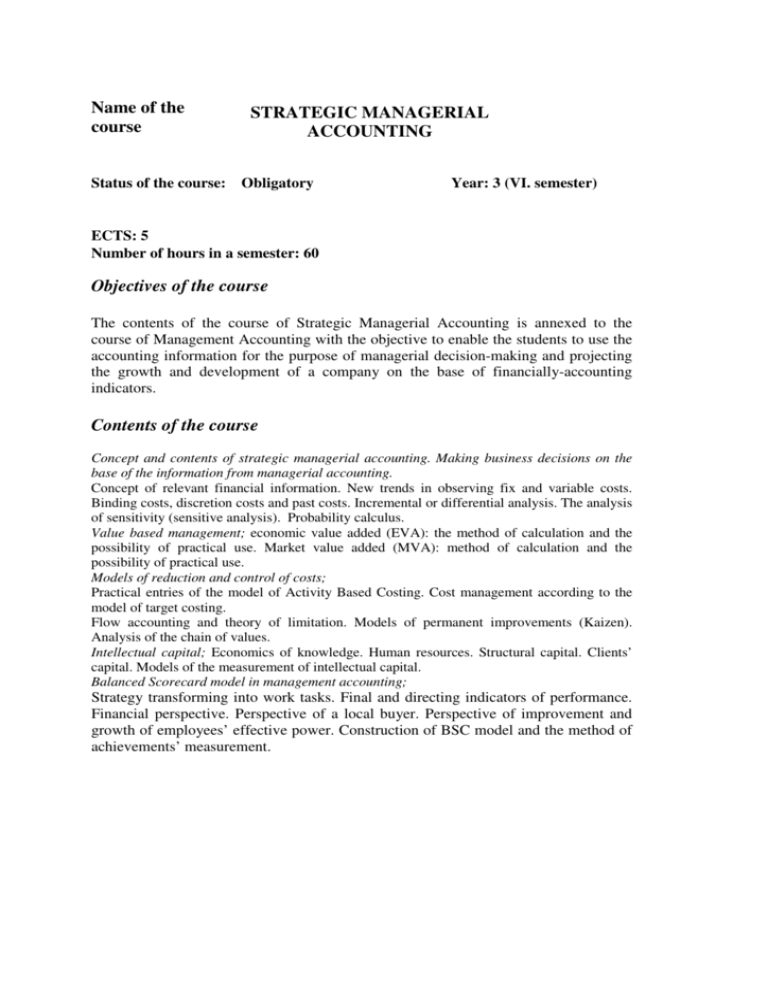 Name of the
course
Status of the course:
STRATEGIC MANAGERIAL
ACCOUNTING
Obligatory
Year: 3 (VI. semester)
ECTS: 5
Number of hours in a semester: 60
Objectives of the course
The contents of the course of Strategic Managerial Accounting is annexed to the
course of Management Accounting with the objective to enable the students to use the
accounting information for the purpose of managerial decision-making and projecting
the growth and development of a company on the base of financially-accounting
indicators.
Contents of the course
Concept and contents of strategic managerial accounting. Making business decisions on the
base of the information from managerial accounting.
Concept of relevant financial information. New trends in observing fix and variable costs.
Binding costs, discretion costs and past costs. Incremental or differential analysis. The analysis
of sensitivity (sensitive analysis). Probability calculus.
Value based management; economic value added (EVA): the method of calculation and the
possibility of practical use. Market value added (MVA): method of calculation and the
possibility of practical use.
Models of reduction and control of costs;
Practical entries of the model of Activity Based Costing. Cost management according to the
model of target costing.
Flow accounting and theory of limitation. Models of permanent improvements (Kaizen).
Analysis of the chain of values.
Intellectual capital; Economics of knowledge. Human resources. Structural capital. Clients'
capital. Models of the measurement of intellectual capital.
Balanced Scorecard model in management accounting;
Strategy transforming into work tasks. Final and directing indicators of performance.
Financial perspective. Perspective of a local buyer. Perspective of improvement and
growth of employees' effective power. Construction of BSC model and the method of
achievements' measurement.