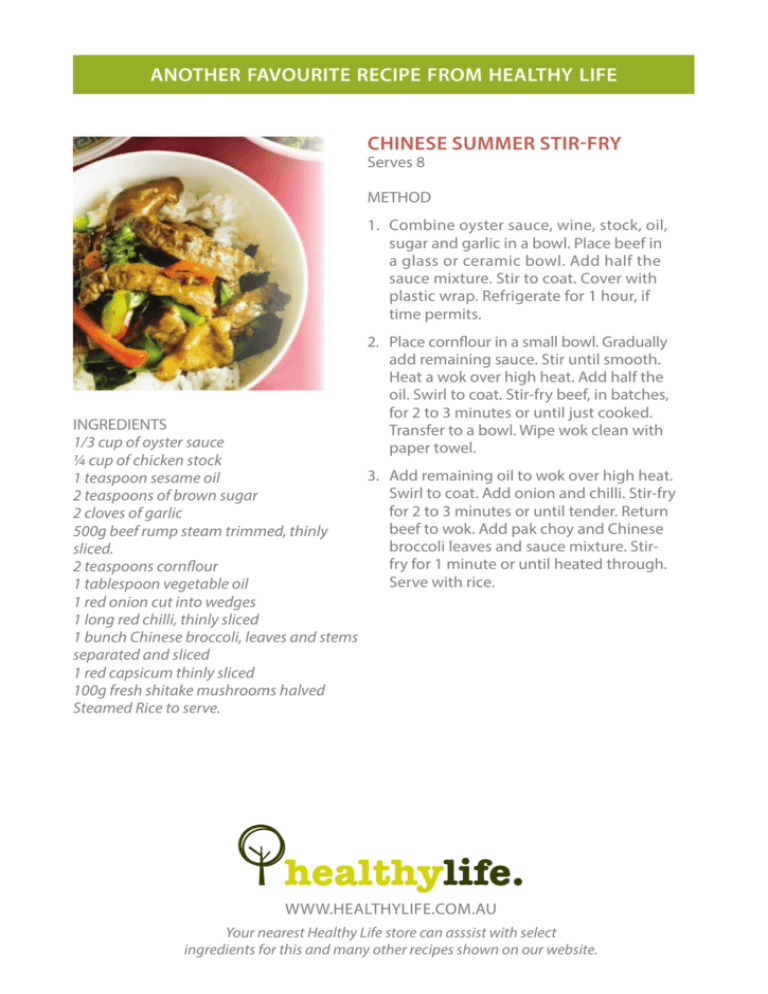 ANOTHER FAVOURITE RECIPE FROM HEALTHY LIFE
CHINESE SUMMER STIR-FRY
Serves 8
METHOD
1. Combine oyster sauce, wine, stock, oil,
sugar and garlic in a bowl. Place beef in
a glass or ceramic bowl. Add half the
sauce mixture. Stir to coat. Cover with
plastic wrap. Refrigerate for 1 hour, if
time permits.
2. Place cornflour in a small bowl. Gradually
add remaining sauce. Stir until smooth.
Heat a wok over high heat. Add half the
oil. Swirl to coat. Stir-fry beef, in batches,
for 2 to 3 minutes or until just cooked.
Transfer to a bowl. Wipe wok clean with
paper towel.
INGREDIENTS
1/3 cup of oyster sauce
¼ cup of chicken stock
3. Add remaining oil to wok over high heat.
1 teaspoon sesame oil
Swirl to coat. Add onion and chilli. Stir-fry
2 teaspoons of brown sugar
for 2 to 3 minutes or until tender. Return
2 cloves of garlic
beef to wok. Add pak choy and Chinese
500g beef rump steam trimmed, thinly
broccoli leaves and sauce mixture. Stirsliced.
fry for 1 minute or until heated through.
2 teaspoons cornflour
Serve with rice.
1 tablespoon vegetable oil
1 red onion cut into wedges
1 long red chilli, thinly sliced
1 bunch Chinese broccoli, leaves and stems
separated and sliced
1 red capsicum thinly sliced
100g fresh shitake mushrooms halved
Steamed Rice to serve.
WWW.HEALTHYLIFE.COM.AU
Your nearest Healthy Life store can asssist with select
ingredients for this and many other recipes shown on our website.