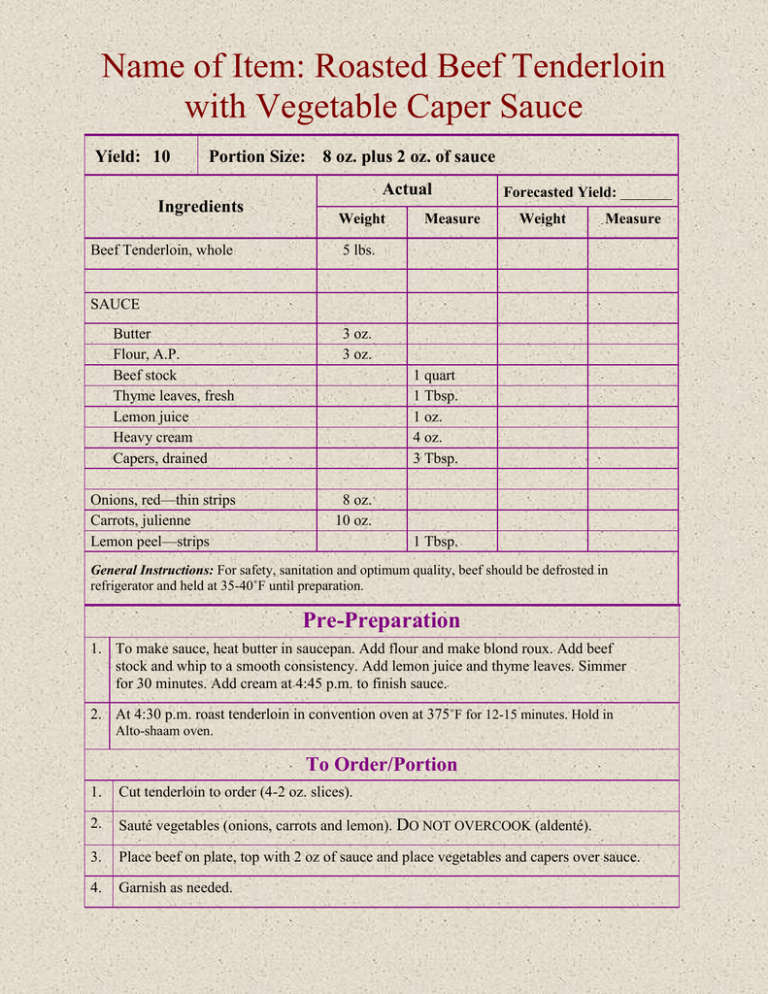 Name of Item: Roasted Beef Tenderloin
with Vegetable Caper Sauce
Yield: 10
Portion Size: 8 oz. plus 2 oz. of sauce
Actual
Ingredients
Beef Tenderloin, whole
Weight
Measure
Forecasted Yield:
Weight
Measure
5 lbs.
SAUCE
Butter
Flour, A.P.
Beef stock
Thyme leaves, fresh
Lemon juice
Heavy cream
Capers, drained
3 oz.
3 oz.
Onions, red—thin strips
Carrots, julienne
Lemon peel—strips
8 oz.
10 oz.
1 quart
1 Tbsp.
1 oz.
4 oz.
3 Tbsp.
1 Tbsp.
General Instructions: For safety, sanitation and optimum quality, beef should be defrosted in
refrigerator and held at 35-40˚F until preparation.
Pre-Preparation
1. To make sauce, heat butter in saucepan. Add flour and make blond roux. Add beef
stock and whip to a smooth consistency. Add lemon juice and thyme leaves. Simmer
for 30 minutes. Add cream at 4:45 p.m. to finish sauce.
2. At 4:30 p.m. roast tenderloin in convention oven at 375˚F for 12-15 minutes. Hold in
Alto-shaam oven.
To Order/Portion
1.
Cut tenderloin to order (4-2 oz. slices).
2.
Sauté vegetables (onions, carrots and lemon). DO NOT OVERCOOK (aldenté).
3.
Place beef on plate, top with 2 oz of sauce and place vegetables and capers over sauce.
4.
Garnish as needed.