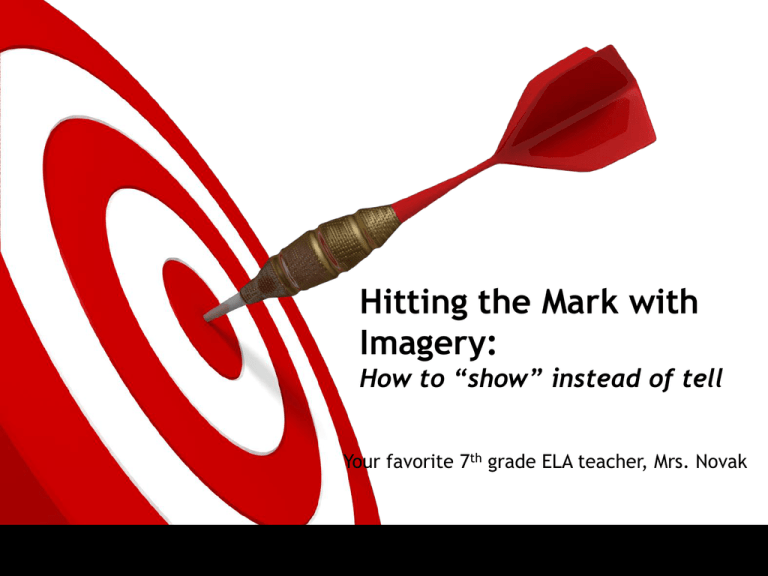 Hitting the Mark with
Imagery:
How to "show" instead of tell
Your favorite 7th grade ELA teacher, Mrs. Novak
Do-Now
Read the following menu items.
1. Identify which item you would choose.
2. Justify your reasons for choosing that item.
3. Draw the item, using colored pencils.
Item #1: A delicious pasta dish with the best sauce in the world. The pasta is so
soft. It is like biting into heaven. The sauce is steaming and filled with amazing
spices.
Item #2: The meat literally falls off the bone in this dish. The side items with it are
cooked perfectly and the sauce is to die for. It is so creamy and fantastic.
Item #3: This seafood dish is as fresh as it gets. It is grilled perfectly
and served with the best sauce in the world. The potatoes
melt in your mouth.
Item #1 :
Ziti with anchovy paste, mixed olives, and capers
Item #2:
Pig knuckles with parsnips, carrots and celery
Item #3:
Grilled eel with polenta, currants, and field greens
Descriptive detail, huh?
An effective written
description is one that
presents a clear picture to
your reader – an image. When
you use these images, you are
creating imagery. Imagery is
achieved by using sensory
details and figurative language.
Review: What is figurative
language?
Sensory details helps you
picture how something:
* looks
* sounds
* smells
* tastes
* feels
So you know EXACTLY what
the writer is writing about…
Telling vs. Showing
Telling
It was cold. It was so cold
we were freezing. I never
thought I would be warm
because the wind was
blowing very hard. I have
never been so cold in my
life.
Showing
Anybody could see how cold
it got. The blue wind had
glass edges to it, stiffening
muscles and practically
cutting through the stitches
of our bright orange ski
parkas. While the wind
howled like a dog, its
pointed fingers stabbed our
teeth like icicles, and our
voices jiggled every time we
talked.