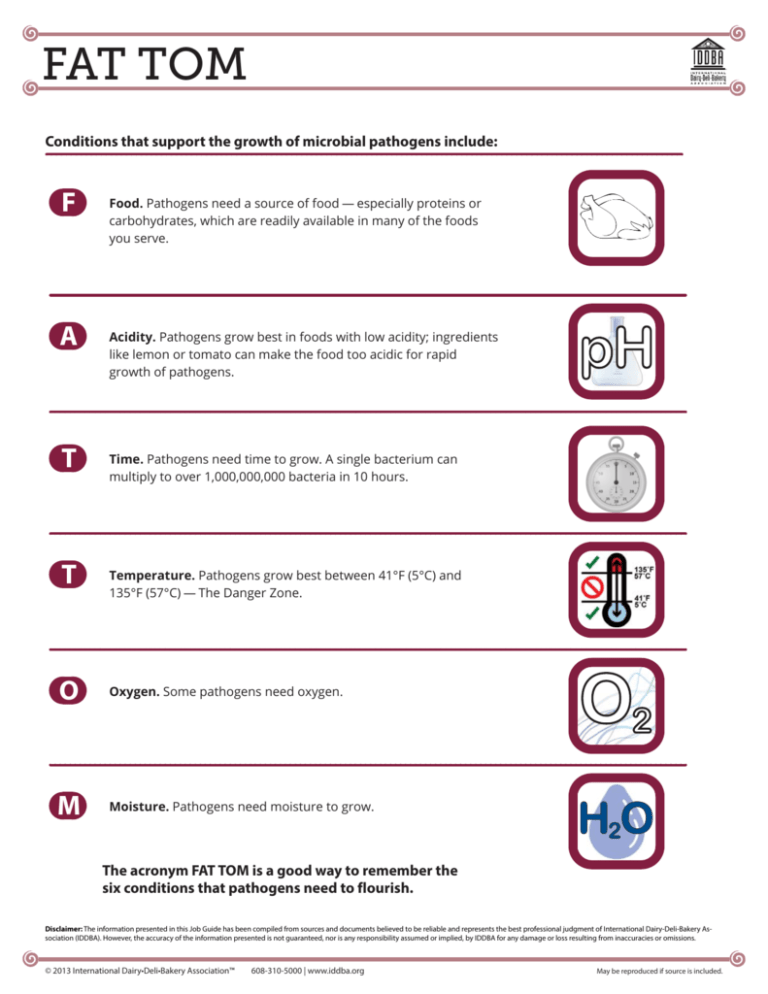 FAT TOM
Conditions that support the growth of microbial pathogens include:
F
Food. Pathogens need a source of food — especially proteins or
carbohydrates, which are readily available in many of the foods
you serve.
A
Acidity. Pathogens grow best in foods with low acidity; ingredients
like lemon or tomato can make the food too acidic for rapid
growth of pathogens.
T
Time. Pathogens need time to grow. A single bacterium can
multiply to over 1,000,000,000 bacteria in 10 hours.
T
Temperature. Pathogens grow best between 41°F (5°C) and
135°F (57°C) — The Danger Zone.
O
Oxygen. Some pathogens need oxygen.
M
Moisture. Pathogens need moisture to grow.
O2
H2O
The acronym FAT TOM is a good way to remember the
six conditions that pathogens need to flourish.
Disclaimer: The information presented in this Job Guide has been compiled from sources and documents believed to be reliable and represents the best professional judgment of International Dairy-Deli-Bakery Association (IDDBA). However, the accuracy of the information presented is not guaranteed, nor is any responsibility assumed or implied, by IDDBA for any damage or loss resulting from inaccuracies or omissions.
© 2013 International Dairy•Deli•Bakery Association™
608-310-5000 | www.iddba.org
May be reproduced if source is included.