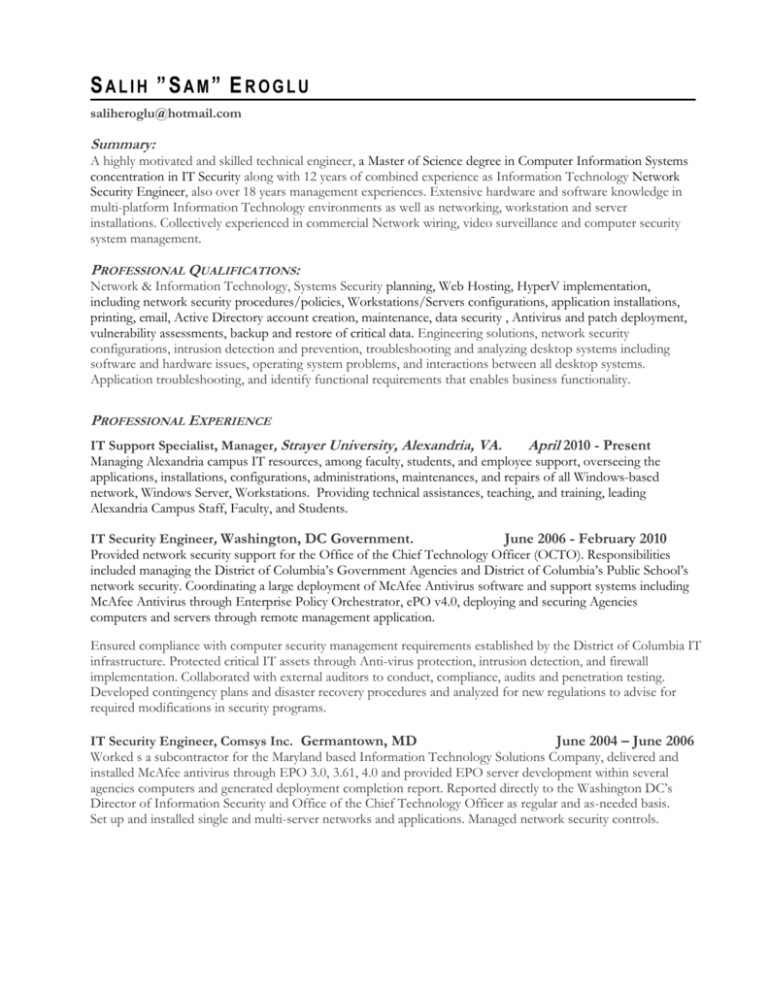 SALIH "SAM" EROGLU
[email protected]
Summary:
A highly motivated and skilled technical engineer, a Master of Science degree in Computer Information Systems
concentration in IT Security along with 12 years of combined experience as Information Technology Network
Security Engineer, also over 18 years management experiences. Extensive hardware and software knowledge in
multi-platform Information Technology environments as well as networking, workstation and server
installations. Collectively experienced in commercial Network wiring, video surveillance and computer security
system management.
PROFESSIONAL QUALIFICATIONS:
Network & Information Technology, Systems Security planning, Web Hosting, HyperV implementation,
including network security procedures/policies, Workstations/Servers configurations, application installations,
printing, email, Active Directory account creation, maintenance, data security , Antivirus and patch deployment,
vulnerability assessments, backup and restore of critical data. Engineering solutions, network security
configurations, intrusion detection and prevention, troubleshooting and analyzing desktop systems including
software and hardware issues, operating system problems, and interactions between all desktop systems.
Application troubleshooting, and identify functional requirements that enables business functionality.
PROFESSIONAL EXPERIENCE
IT Support Specialist, Manager, Strayer University, Alexandria, VA.
April 2010 - Present
Managing Alexandria campus IT resources, among faculty, students, and employee support, overseeing the
applications, installations, configurations, administrations, maintenances, and repairs of all Windows-based
network, Windows Server, Workstations. Providing technical assistances, teaching, and training, leading
Alexandria Campus Staff, Faculty, and Students.
IT Security Engineer, Washington, DC Government.
June 2006 - February 2010
Provided network security support for the Office of the Chief Technology Officer (OCTO). Responsibilities
included managing the District of Columbia's Government Agencies and District of Columbia's Public School's
network security. Coordinating a large deployment of McAfee Antivirus software and support systems including
McAfee Antivirus through Enterprise Policy Orchestrator, ePO v4.0, deploying and securing Agencies
computers and servers through remote management application.
Ensured compliance with computer security management requirements established by the District of Columbia IT
infrastructure. Protected critical IT assets through Anti-virus protection, intrusion detection, and firewall
implementation. Collaborated with external auditors to conduct, compliance, audits and penetration testing.
Developed contingency plans and disaster recovery procedures and analyzed for new regulations to advise for
required modifications in security programs.
IT Security Engineer, Comsys Inc. Germantown, MD
June 2004 – June 2006
Worked s a subcontractor for the Maryland based Information Technology Solutions Company, delivered and
installed McAfee antivirus through EPO 3.0, 3.61, 4.0 and provided EPO server development within several
agencies computers and generated deployment completion report. Reported directly to the Washington DC's
Director of Information Security and Office of the Chief Technology Officer as regular and as-needed basis.
Set up and installed single and multi-server networks and applications. Managed network security controls.
2
Sam Salih Eroglu
Provisioning Assistant & Network Controller, Lightwave Comm. Laurel, MD Feb 2001 – May 2004
Provided a technical support to individual and business clients. Duties included the provisioning, engineering and
testing of high-speed Fiber Optic connection circuits, monitored fiber-based SONET Network, CISCO
switches, Frame Relay connections, Testing and monitoring Lightwave Communication's circuits including
CISCO CTM and OC-3 to OC48 on SONET link through telecommunications carriers (Verizon, MCI, AT&T,
L3, British Telecom, Nextel, Global Crossing,) utilizing Cisco Transport Management System (CTMS).
Coordinated the testing for Off-Net circuits.
Network Administrator, REL-TEK System & Design, Inc. Rockville, MD
Dec 1999 – Feb 2001
Responsible for the installation, configuration, administration maintenance, and repair of all Windows-based
Server Workstation in Reltek networks. Responsible for installing, configuring and maintaining CheckPoint
Firewall-1. Installed and maintained Trend ScanMail, eTrust, McAfee, EPO Ver 1.0, Norton Anti-Virus software
VPN, authentication and content security, remote management, system logs/audits. Provided technical
assistance for personal digital assistants (PDA's). Installed and administered various software applications
including IIS 4, 5.0 Web server and FTP server, Web Publishing, Maintained DNS and DHCP servers on
TCP/IP network. Installed and monitored Internet Manager and E-Safe, Oracle 6i, 7.3, 8i Database servers.
Manager, NewCall, Arlington, VA
Apr 1996 – Dec 1999
Provided technical support to individual and small business clients'. Provided hardware and software
recommendations to improve client's technological capabilities.
Implemented on–site, remote Server and workstation installation. Managed web hosting, administration and
provided Public domain name DNS registration services for all clients. Installed, configured, and maintained
Microsoft NT4 and IIS 4 web servers. Provided installed and serviced for Windows 95/98/2000, Win NT 4.0
Technical Assistant Engineer, Searle Consultant Alexandria, VA
Oct 1993 – Feb 1996
Consultant support for the company, specializing in gathering technical information for the client companies.
Designed, organized and implemented off-the-shelf configurations.
Field Engineer, J.R. Harris Inc. Alexandria, VA
Nov 1989 – Oct 1993
Assisted in installation and repair of all types of commercial electrical wiring, security systems, heating/cooling
systems in commercial facilities located throughout the VA, MD, and Washington DC Metropolitan area.
Installed and configured while Resolving problems with minimal down time.
Hardware Experiences:
All network installation and configurations. Advanced Industry Experience, Technical Knowledge of IBM, Dell,
Compaq, HP Servers, Workstations, Laptops, Printers, Scanners, problem resolution with minimal down time,
installed, configured, Rebuild/Repair and maintained most popular Servers and Workstations. Development and
Maintenance of VOIP Telephone systems.
Software, Operating Systems and Languages:
Windows 2008 R2 Server 2012 R2 Data Center Server, HyperV, Win7, 8.1, Windows 10, Advanced Microsoft
Office 2010, 2013 Pro, LINUX, ORACLE 5,6 administration, CHECKPOINT 2000 Firewall, VPN, ESAFE,
INTERNET MANAGER, IIS 6, 7, 8. HTML Webpage Design, Website Hosting, DNS, Front Page, Exchange
Server 2007, Backup Exec, McAfee ePolicy Orchestrator EPO v4.0, Host Intrusion Prevention, Anti Spyware,
Virus Scan, Intrushield, Snort, Nessus, Incident Handling and Forensic Analysis and many other software test
and deployment .
Tools:
McAfee ePolicy Orchestrator, ePO v4.0, McAfee Vulnerability Manager, Norton Virus Protection Utilities,
Trend Micro, Norton Firewall and Ghost, Acronis, LAN Manager, ISS RealSecure, Checkpoint Firewall, HP
OpenView, Remote Desktop, Remote access, Core Impact, Metasploit, Nmap, STAT Scanner, Retina Security
Scanner, GFI LAN guard, Snort, Real Secure ISS,
Sam Salih Eroglu
3
Skills:
Technical Engineer, MS, Master of Science in Computer Information Systems, Network & Information
Technology Systems Security, Antivirus development and patch deployment, HyperV, Web Hosting, Computer
hardware and software, commercial networking, electrical wiring, video surveillance, Reviews the IT Support
Team Service Advisories and proposed Service Desk communications, IT security system management.
Performs other duties as assigned.
Education:
M.S. in Computer Information Systems, IT Security: June 2009 Strayer University, Virginia.
B.S. in Mechanical Engineering, June 1983 University of Erciyes, Turkey.
Certifications:
Enterprise Wireless Security, 2007
Cisco 15454/DWDM Training, 2001
Cisco CTM Training, 2000
MCSE, A+ course completion, 1999
Electronic Circuitry Design, 1984
Status: US Citizen
References: Will provide upon request.