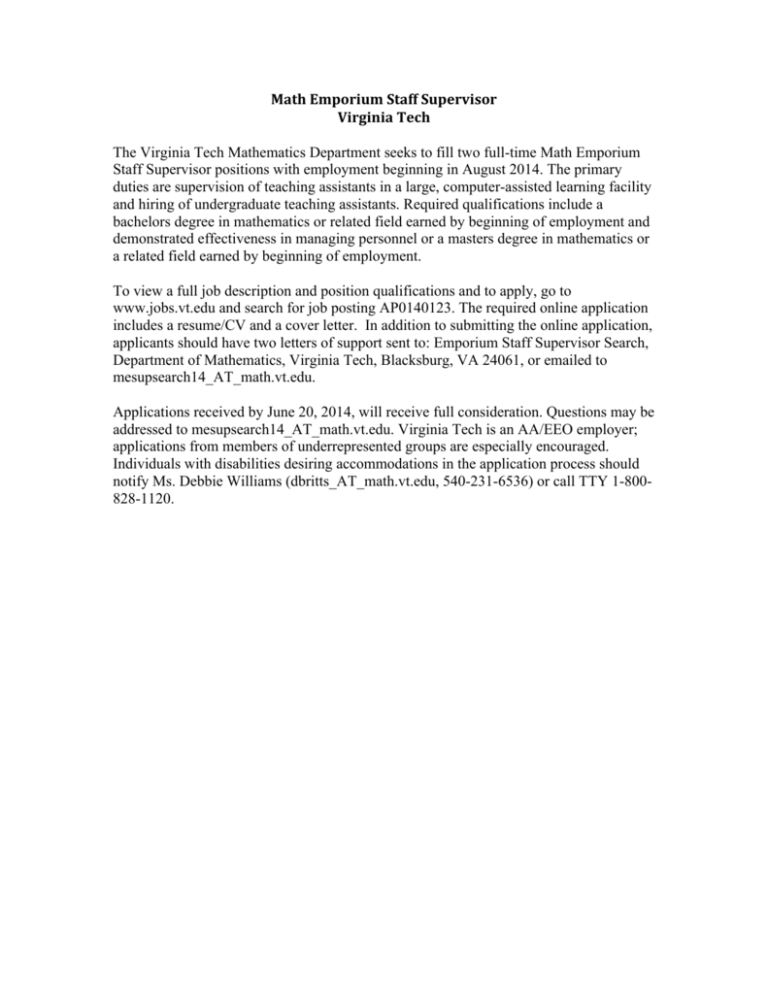 Math Emporium Staff Supervisor Virginia Tech The Virginia Tech Mathematics Department seeks to fill two full-time Math Emporium
Staff Supervisor positions with employment beginning in August 2014. The primary
duties are supervision of teaching assistants in a large, computer-assisted learning facility
and hiring of undergraduate teaching assistants. Required qualifications include a
bachelors degree in mathematics or related field earned by beginning of employment and
demonstrated effectiveness in managing personnel or a masters degree in mathematics or
a related field earned by beginning of employment.
To view a full job description and position qualifications and to apply, go to
www.jobs.vt.edu and search for job posting AP0140123. The required online application
includes a resume/CV and a cover letter. In addition to submitting the online application,
applicants should have two letters of support sent to: Emporium Staff Supervisor Search,
Department of Mathematics, Virginia Tech, Blacksburg, VA 24061, or emailed to
mesupsearch14_AT_math.vt.edu.
Applications received by June 20, 2014, will receive full consideration. Questions may be
addressed to mesupsearch14_AT_math.vt.edu. Virginia Tech is an AA/EEO employer;
applications from members of underrepresented groups are especially encouraged.
Individuals with disabilities desiring accommodations in the application process should
notify Ms. Debbie Williams (dbritts_AT_math.vt.edu, 540-231-6536) or call TTY 1-800828-1120.