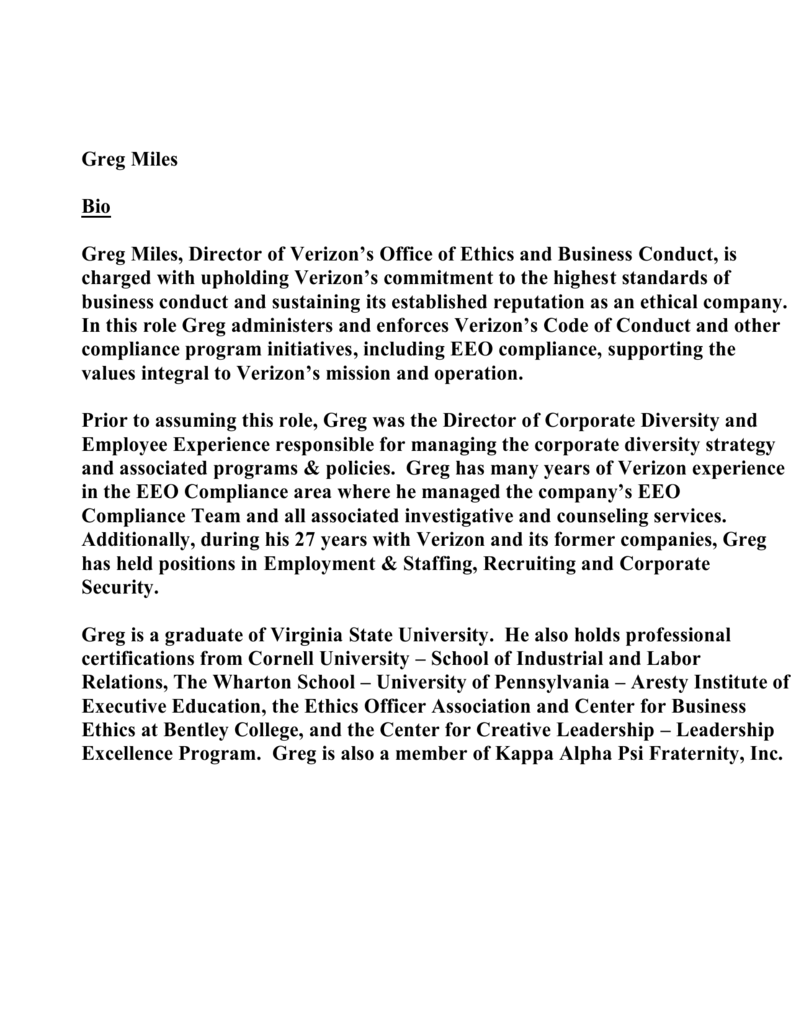 Greg Miles
Bio
Greg Miles, Director of Verizon's Office of Ethics and Business Conduct, is
charged with upholding Verizon's commitment to the highest standards of
business conduct and sustaining its established reputation as an ethical company.
In this role Greg administers and enforces Verizon's Code of Conduct and other
compliance program initiatives, including EEO compliance, supporting the
values integral to Verizon's mission and operation.
Prior to assuming this role, Greg was the Director of Corporate Diversity and
Employee Experience responsible for managing the corporate diversity strategy
and associated programs & policies. Greg has many years of Verizon experience
in the EEO Compliance area where he managed the company's EEO
Compliance Team and all associated investigative and counseling services.
Additionally, during his 27 years with Verizon and its former companies, Greg
has held positions in Employment & Staffing, Recruiting and Corporate
Security.
Greg is a graduate of Virginia State University. He also holds professional
certifications from Cornell University – School of Industrial and Labor
Relations, The Wharton School – University of Pennsylvania – Aresty Institute of
Executive Education, the Ethics Officer Association and Center for Business
Ethics at Bentley College, and the Center for Creative Leadership – Leadership
Excellence Program. Greg is also a member of Kappa Alpha Psi Fraternity, Inc.