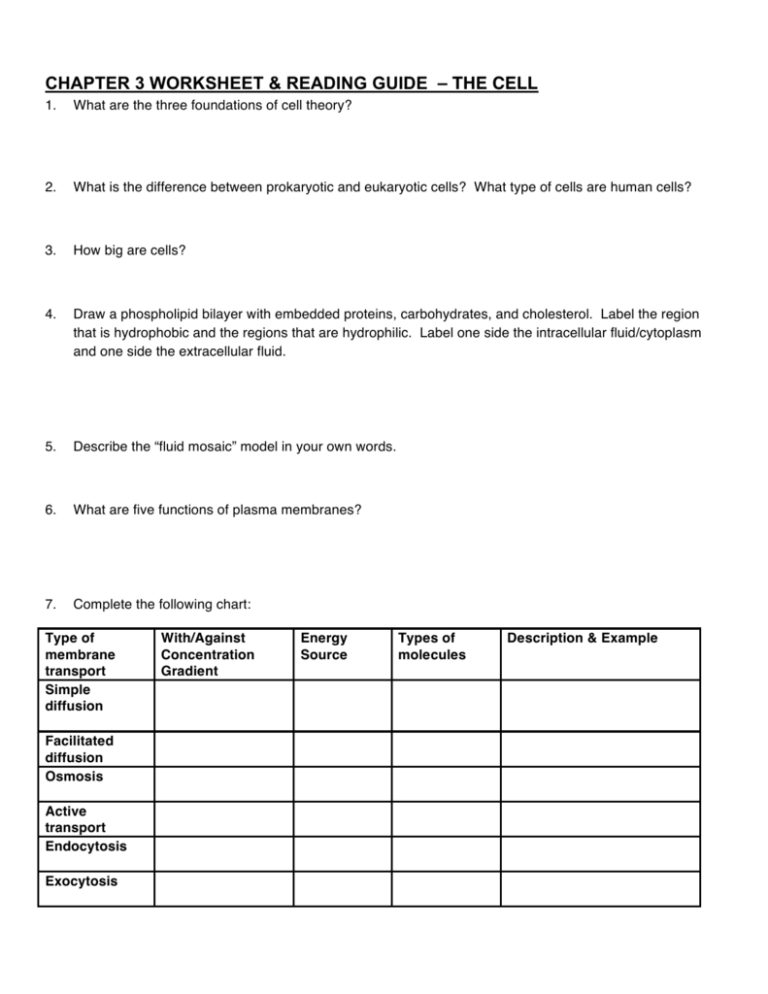 CHAPTER 3 WORKSHEET & READING GUIDE – THE CELL
1.
What are the three foundations of cell theory?
2.
What is the difference between prokaryotic and eukaryotic cells? What type of cells are human cells?
3.
How big are cells?
4.
Draw a phospholipid bilayer with embedded proteins, carbohydrates, and cholesterol. Label the region
that is hydrophobic and the regions that are hydrophilic. Label one side the intracellular fluid/cytoplasm
and one side the extracellular fluid.
5.
Describe the "fluid mosaic" model in your own words.
6.
What are five functions of plasma membranes?
7.
Complete the following chart:
Type of
membrane
transport
Simple
diffusion
Facilitated
diffusion
Osmosis
Active
transport
Endocytosis
Exocytosis
With/Against
Concentration
Gradient
Energy
Source
Types of
molecules
Description & Example
8.
What would happen if you placed a cell in a high salt solution? What would happen if you placed a cell in
a low salt/pure water solution?
9. Define compartmentalization.
10. Define organelle. Which is LARGER, an organelle or a cell?
11. Identify the following cell parts:
____________________a. External boundary of cell; regulates flow of materials into and out of the cell; site of
cell signaling
____________________b. Contains digestive enzymes of many varieties, "suicide sac" of the cell, breaks
down proteins
____________________c. Scattered throughout the cell; major site of ATP or energy synthesis
____________________d. Membranous system consisting of flattened sacs and vesicles; modify and
packages proteins for export (exocytosis)
____________________e. Control center of the cell; necessary for cell division and life, contains DNA
____________________f. Dense, darkly stained region within the nucleus; packaging site for ribosomes
____________________g. Site of protein synthesis
____________________h. 46 threadlike structures in the nucleus; contain genetic material
____________________i. Found in cilia and flagella
____________________j. Extensive network of channels connecting all parts of the cell. Often appear rough
due to the presence of ribosomes.
12. Describe cellular respiration –the starting materials, the major events, and final purpose.
13. Describe lactic acid fermentation - the starting materials, the major events, and final purpose.