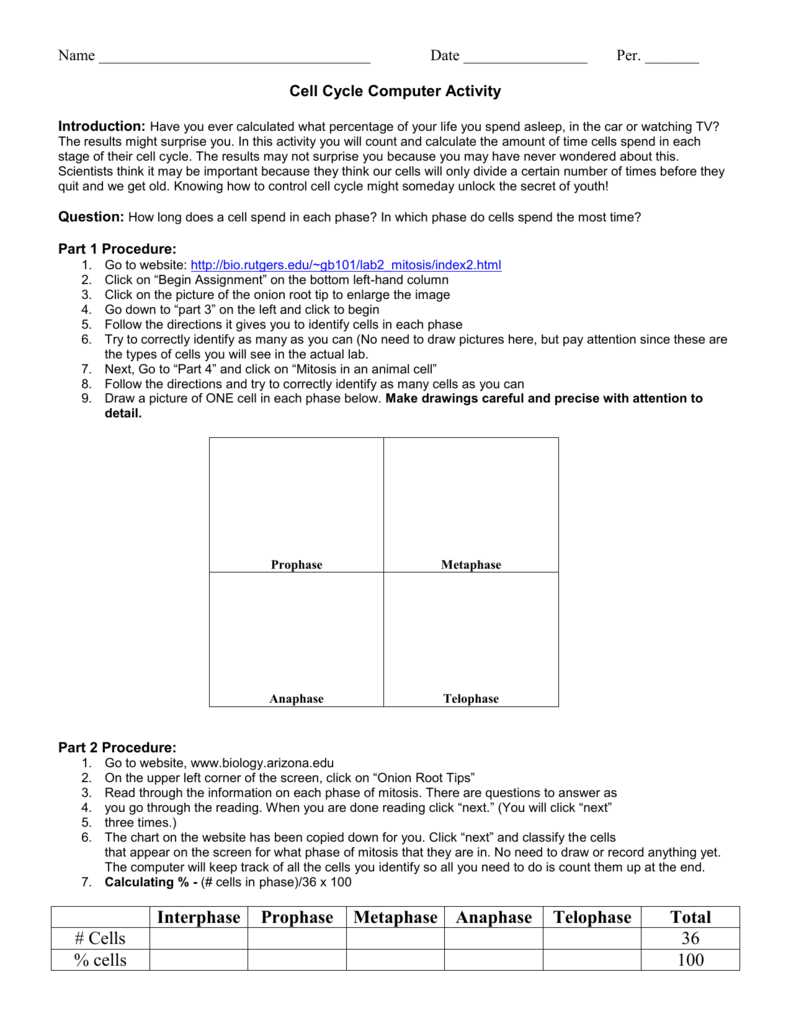 Name ___________________________________
Date ________________
Per. _______
Cell Cycle Computer Activity
Introduction: Have you ever calculated what percentage of your life you spend asleep, in the car or watching TV?
The results might surprise you. In this activity you will count and calculate the amount of time cells spend in each
stage of their cell cycle. The results may not surprise you because you may have never wondered about this.
Scientists think it may be important because they think our cells will only divide a certain number of times before they
quit and we get old. Knowing how to control cell cycle might someday unlock the secret of youth!
Question: How long does a cell spend in each phase? In which phase do cells spend the most time?
Part 1 Procedure:
1.
2.
3.
4.
5.
6.
Go to website: http://bio.rutgers.edu/~gb101/lab2_mitosis/index2.html
Click on "Begin Assignment" on the bottom left-hand column
Click on the picture of the onion root tip to enlarge the image
Go down to "part 3" on the left and click to begin
Follow the directions it gives you to identify cells in each phase
Try to correctly identify as many as you can (No need to draw pictures here, but pay attention since these are
the types of cells you will see in the actual lab.
7. Next, Go to "Part 4" and click on "Mitosis in an animal cell"
8. Follow the directions and try to correctly identify as many cells as you can
9. Draw a picture of ONE cell in each phase below. Make drawings careful and precise with attention to
detail.
Prophase
Metaphase
Anaphase
Telophase
Part 2 Procedure:
1.
2.
3.
4.
5.
6.
Go to website, www.biology.arizona.edu
On the upper left corner of the screen, click on "Onion Root Tips"
Read through the information on each phase of mitosis. There are questions to answer as
you go through the reading. When you are done reading click "next." (You will click "next"
three times.)
The chart on the website has been copied down for you. Click "next" and classify the cells
that appear on the screen for what phase of mitosis that they are in. No need to draw or record anything yet.
The computer will keep track of all the cells you identify so all you need to do is count them up at the end.
7. Calculating % - (# cells in phase)/36 x 100
Interphase
# Cells
% cells
Prophase
Metaphase Anaphase
Telophase
Total
36
100
8. The percentage of cells found in each phase is a measure of how long each phase lasts. Mitosis in onion cells
takes about 80 minutes. Calculate (show work) the time for each phase using this formula:
Time (in minutes) = percentage x 80 minutes
100
9. Record in data table
Data
Phase
Prophase
Metaphase
Anaphase
Telophase
Interphase
Time (in min)
900
Pie Chart
Now go to excel and create a pie chart of the cell's lifecycle.
1.
2.
3.
4.
5.
6.
7.
Open Excel
In column A of the worksheet, enter the names of the phases – Interphase, Prophase, Metaphase, Telophase
In Column B of the worksheet, enter the times spent in each phase (in minutes)
Highlight all of the boxes that you filled in
Go to the insert tab at the top and click on the "pie" icon and excel will then create the chart for you
Pick the type of pie chart you want (make sure it is one with a title), using the "chart layouts" in the top center
You can then double click on the chart itself to edit the title or make any changes you like. Please title your
chart – "The Cell Cycle"
8. When the chart looks the way you want it, click on the "move chart" icon at the top right and select "new
sheet"
9. Your chart will be moved to a new page
10. Print this page and staple it to your paper.
*Note – you can also make your chart in google sheets following a very similar procedure. If you choose to use google
sheets, please print out your chart instead of sharing it.