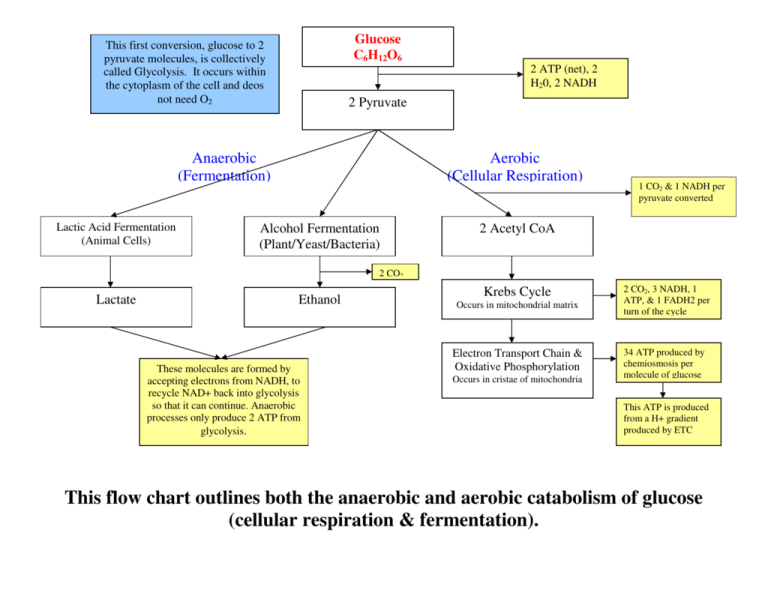 Glucose
C6H12O6
This first conversion, glucose to 2
pyruvate molecules, is collectively
called Glycolysis. It occurs within
the cytoplasm of the cell and deos
not need O2
2 ATP (net), 2
H20, 2 NADH
2 Pyruvate
Anaerobic
(Fermentation)
Lactic Acid Fermentation
(Animal Cells)
Aerobic
(Cellular Respiration)
Alcohol Fermentation
(Plant/Yeast/Bacteria)
1 CO2 & 1 NADH per
pyruvate converted
2 Acetyl CoA
2 CO2
Lactate
Ethanol
These molecules are formed by
accepting electrons from NADH, to
recycle NAD+ back into glycolysis
so that it can continue. Anaerobic
processes only produce 2 ATP from
glycolysis.
Occurs in mitochondrial matrix
2 CO2, 3 NADH, 1
ATP, & 1 FADH2 per
turn of the cycle
Electron Transport Chain &
Oxidative Phosphorylation
34 ATP produced by
chemiosmosis per
molecule of glucose
Krebs Cycle
Occurs in cristae of mitochondria
This ATP is produced
from a H+ gradient
produced by ETC
This flow chart outlines both the anaerobic and aerobic catabolism of glucose
(cellular respiration & fermentation).