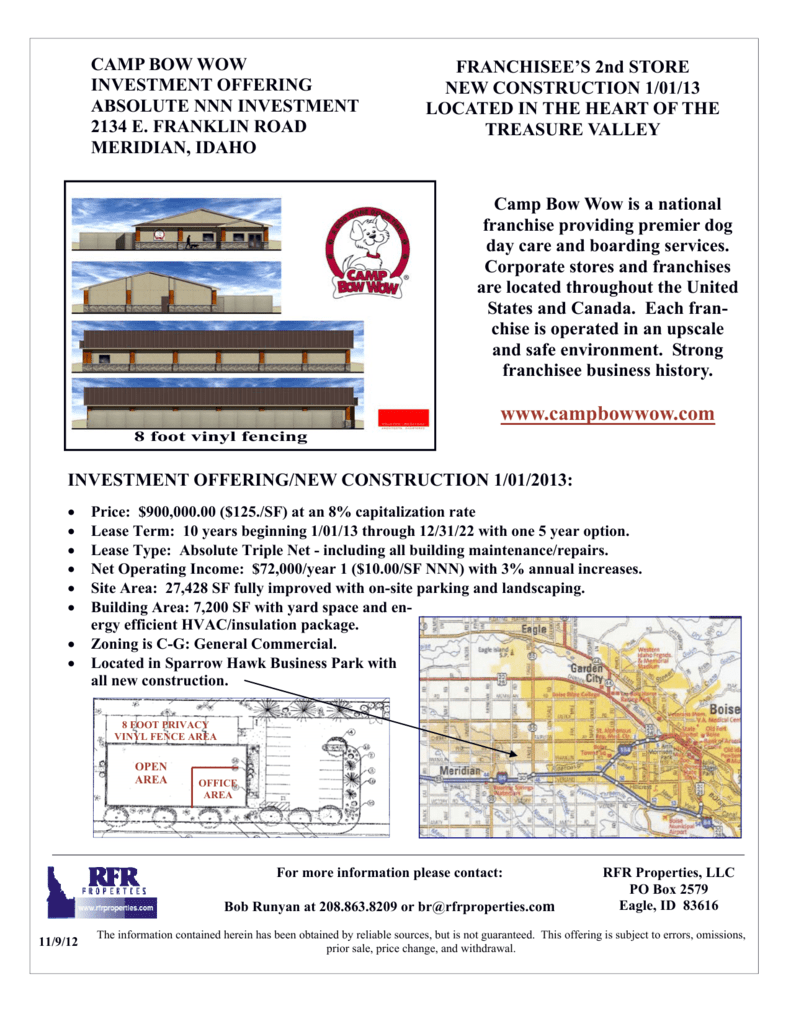 CAMP BOW WOW
INVESTMENT OFFERING
ABSOLUTE NNN INVESTMENT
2134 E. FRANKLIN ROAD
MERIDIAN, IDAHO
FRANCHISEE'S 2nd STORE
NEW CONSTRUCTION 1/01/13
LOCATED IN THE HEART OF THE
TREASURE VALLEY
Camp Bow Wow is a national
franchise providing premier dog
day care and boarding services.
Corporate stores and franchises
are located throughout the United
States and Canada. Each franchise is operated in an upscale
and safe environment. Strong
franchisee business history.
www.campbowwow.com
8 foot vinyl fencing
INVESTMENT OFFERING/NEW CONSTRUCTION 1/01/2013:
•
•
•
•
•
•
•
•
Price: $900,000.00 ($125./SF) at an 8% capitalization rate
Lease Term: 10 years beginning 1/01/13 through 12/31/22 with one 5 year option.
Lease Type: Absolute Triple Net - including all building maintenance/repairs.
Net Operating Income: $72,000/year 1 ($10.00/SF NNN) with 3% annual increases.
Site Area: 27,428 SF fully improved with on-site parking and landscaping.
Building Area: 7,200 SF with yard space and energy efficient HVAC/insulation package.
Zoning is C-G: General Commercial.
Located in Sparrow Hawk Business Park with
all new construction.
8 FOOT PRIVACY
VINYL FENCE AREA
OPEN
AREA
OFFICE
AREA
For more information please contact:
Bob Runyan at 208.863.8209 or [email protected]
11/9/12
RFR Properties, LLC
PO Box 2579
Eagle, ID 83616
The information contained herein has been obtained by reliable sources, but is not guaranteed. This offering is subject to errors, omissions,
prior sale, price change, and withdrawal.