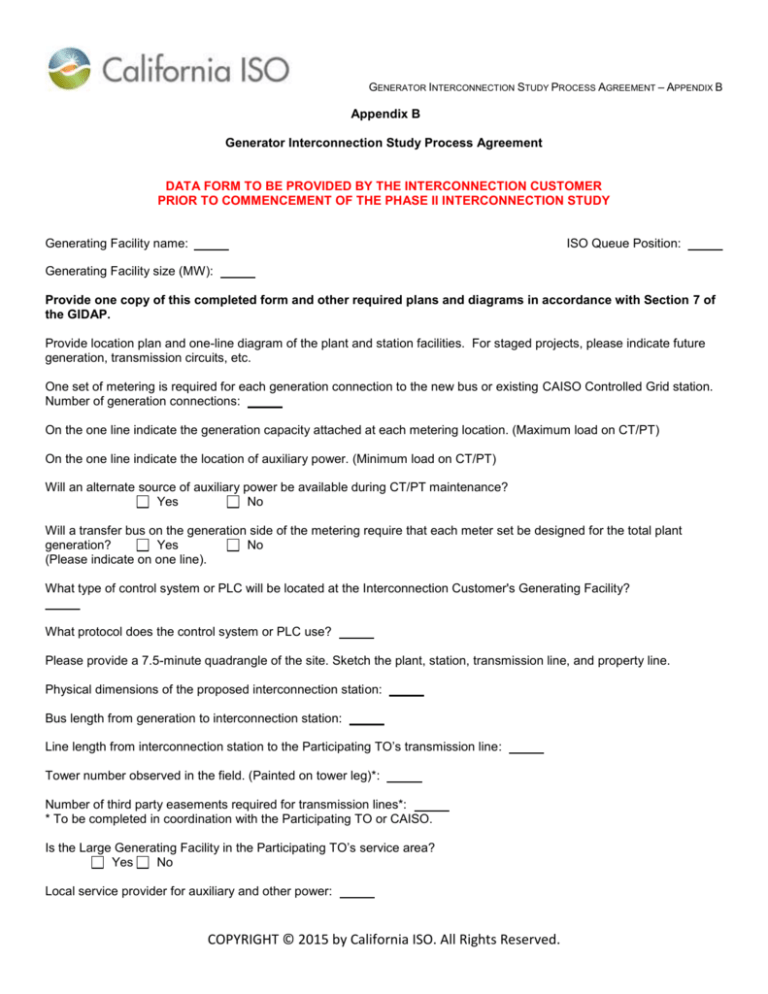 GENERATOR INTERCONNECTION STUDY PROCESS AGREEMENT – APPENDIX B
Appendix B
Generator Interconnection Study Process Agreement
DATA FORM TO BE PROVIDED BY THE INTERCONNECTION CUSTOMER
PRIOR TO COMMENCEMENT OF THE PHASE II INTERCONNECTION STUDY
Generating Facility name:
ISO Queue Position:
Generating Facility size (MW):
Provide one copy of this completed form and other required plans and diagrams in accordance with Section 7 of
the GIDAP.
Provide location plan and one-line diagram of the plant and station facilities. For staged projects, please indicate future
generation, transmission circuits, etc.
One set of metering is required for each generation connection to the new bus or existing CAISO Controlled Grid station.
Number of generation connections:
On the one line indicate the generation capacity attached at each metering location. (Maximum load on CT/PT)
On the one line indicate the location of auxiliary power. (Minimum load on CT/PT)
Will an alternate source of auxiliary power be available during CT/PT maintenance?
Yes
No
Will a transfer bus on the generation side of the metering require that each meter set be designed for the total plant
generation?
Yes
No
(Please indicate on one line).
What type of control system or PLC will be located at the Interconnection Customer's Generating Facility?
What protocol does the control system or PLC use?
Please provide a 7.5-minute quadrangle of the site. Sketch the plant, station, transmission line, and property line.
Physical dimensions of the proposed interconnection station:
Bus length from generation to interconnection station:
Line length from interconnection station to the Participating TO's transmission line:
Tower number observed in the field. (Painted on tower leg)*:
Number of third party easements required for transmission lines*:
* To be completed in coordination with the Participating TO or CAISO.
Is the Large Generating Facility in the Participating TO's service area?
Yes
No
Local service provider for auxiliary and other power:
COPYRIGHT © 2015 by California ISO. All Rights Reserved.
GENERATOR INTERCONNECTION STUDY PROCESS AGREEMENT – APPENDIX B
Please provide proposed schedule dates (format MM/DD/YYYY):
Environmental survey start:
Environmental impact report submittal:
Procurement of project equipment:
Begin Construction Date:
In-Service Date:
Trial Operation Date:
Commercial Operation Date:
Level of Deliverability: Choose one of the following:
Energy Only
Full Capacity
Partial Deliverability for
% of electrical output
Comments:
TP Deliverability (not applicable for Energy Only Deliverability Status): Choose one of the following:
Option (A), which means that the Generating Facility requires TP Deliverability to be able to continue to
commercial operation.
Option (B), which means that the Interconnection Customer will continue to commercial operation without an
allocation of TP Deliverability.
Comments:
COPYRIGHT © 2015 by California ISO. All Rights Reserved.