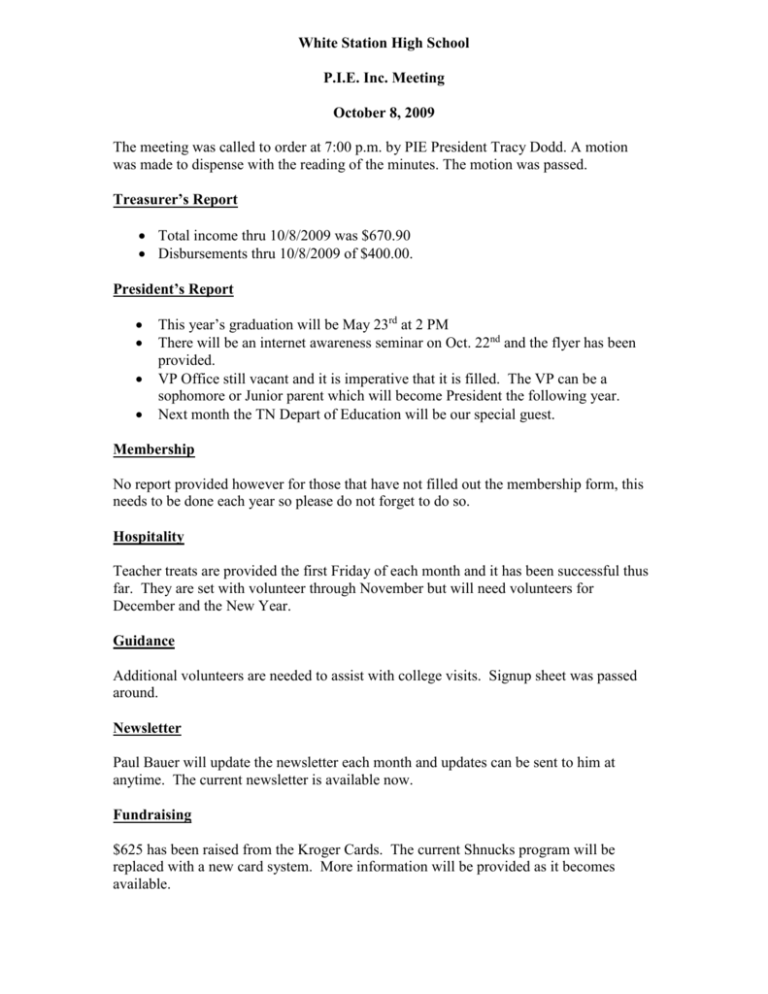 White Station High School
P.I.E. Inc. Meeting
October 8, 2009
The meeting was called to order at 7:00 p.m. by PIE President Tracy Dodd. A motion
was made to dispense with the reading of the minutes. The motion was passed.
Treasurer's Report
 Total income thru 10/8/2009 was $670.90
 Disbursements thru 10/8/2009 of $400.00.
President's Report




This year's graduation will be May 23rd at 2 PM
There will be an internet awareness seminar on Oct. 22nd and the flyer has been
provided.
VP Office still vacant and it is imperative that it is filled. The VP can be a
sophomore or Junior parent which will become President the following year.
Next month the TN Depart of Education will be our special guest.
Membership
No report provided however for those that have not filled out the membership form, this
needs to be done each year so please do not forget to do so.
Hospitality
Teacher treats are provided the first Friday of each month and it has been successful thus
far. They are set with volunteer through November but will need volunteers for
December and the New Year.
Guidance
Additional volunteers are needed to assist with college visits. Signup sheet was passed
around.
Newsletter
Paul Bauer will update the newsletter each month and updates can be sent to him at
anytime. The current newsletter is available now.
Fundraising
$625 has been raised from the Kroger Cards. The current Shnucks program will be
replaced with a new card system. More information will be provided as it becomes
available.
Education Fund
No report was provided.
Spartan Arts Festival
No report at this time.
Project Graduation



First meeting was held and still need senior parent volunteers.
The cost will be $15 per ticket
Monetary donations are needed from companies and individuals as well as door
prizes.
Facilities Improvement
The front grounds of our school have been greatly improved thanks to Macon Ivy and
volunteers. They had to end up hiring someone to complete the work but Home Depot
and Trips provided in-kind donations that made these efforts possible.
Class Representatives


9th grade representatives are now in the process of coordinating the holidays and
may need some help from our budget.
10th – 12th grads did not have reports at this time
Principal's Report
Mr. Mansfield reported:





A recap on the new Capstone Project guidelines. The Portfolio should document
the research paper and contain references. The project and presentation will be
judged. This project is not optional. If you were not able to attend the
explanation of the program, please review the booklet that was sent home with
your students.
The 9 week grades will be available durning the week of October 19th. The
quarter grade is the actual grade for that quarter.
Parent Portal will be ready by parent-teacher conferences.
He will be clarifying whether there will be a semester exam or if the quarter exam
will contain material for the entire semester.
They school is adding 3 new teachers and classes and thus many students will
experience a change in their schedules. There is nothing that can be done to
prevent this so please assist your child in adjusting to the changes. These changes
will be effective by October 15, 2009.
Next meeting Thursday, November 12, 2009 at 7 pm.
Meeting was adjourned at 8:04 p.m.