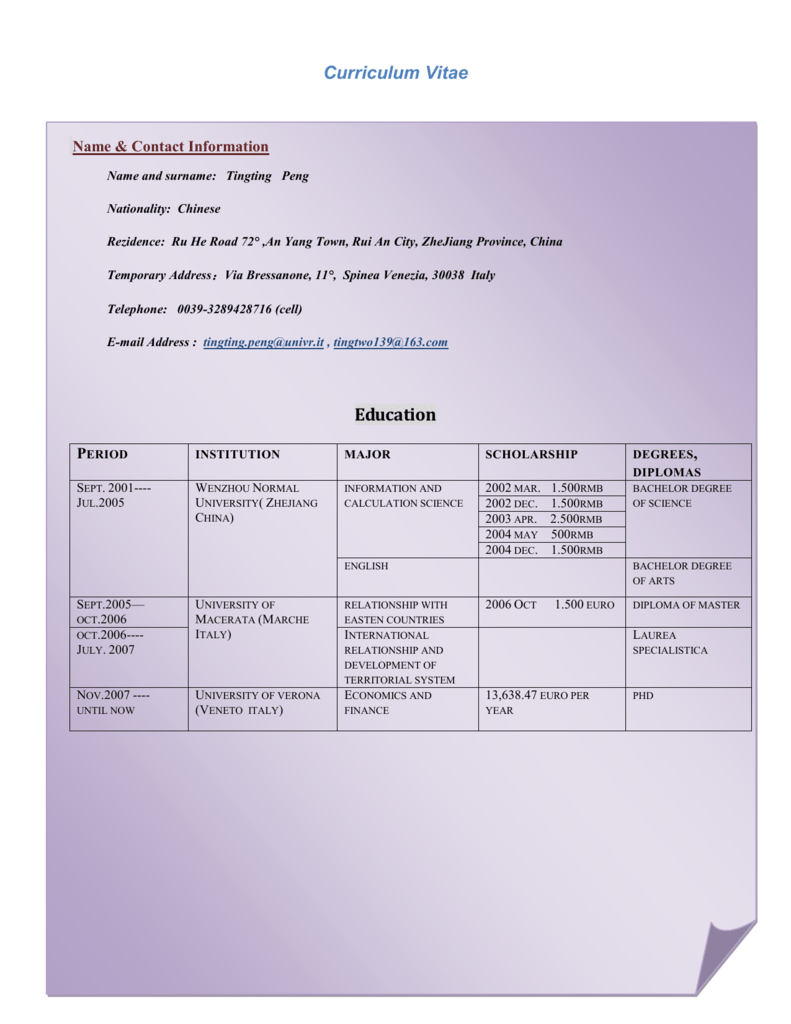 Curriculum Vitae
Name & Contact Information
Name and surname: Tingting Peng
Nationality: Chinese
Rezidence: Ru He Road 72° ,An Yang Town, Rui An City, ZheJiang Province, China
Temporary Address:Via Bressanone, 11°, Spinea Venezia, 30038 Italy
Telephone: 0039-3289428716 (cell)
E-mail Address : [email protected] , [email protected]
Education
PERIOD
INSTITUTION
MAJOR
SCHOLARSHIP
DEGREES,
DIPLOMAS
SEPT. 2001---JUL.2005
WENZHOU NORMAL
UNIVERSITY( ZHEJIANG
CHINA)
INFORMATION AND
CALCULATION SCIENCE
2002 MAR.
2002 DEC.
2003 APR.
2004 MAY
2004 DEC.
BACHELOR DEGREE
OF SCIENCE
1.500RMB
1.500RMB
2.500RMB
500RMB
1.500RMB
ENGLISH
SEPT.2005—
OCT.2006
OCT.2006---JULY. 2007
UNIVERSITY OF
MACERATA (MARCHE
ITALY)
NOV.2007 ----
UNIVERSITY OF VERONA
(VENETO ITALY)
UNTIL NOW
RELATIONSHIP WITH
EASTEN COUNTRIES
INTERNATIONAL
RELATIONSHIP AND
DEVELOPMENT OF
TERRITORIAL SYSTEM
ECONOMICS AND
FINANCE
BACHELOR DEGREE
OF ARTS
2006 OCT
1.500 EURO
DIPLOMA OF MASTER
LAUREA
SPECIALISTICA
13,638.47 EURO PER
YEAR
PHD
Related Skills
LANGUAGE
MATHER LANGUAGE: CHINESE
Foreign Language
English
Italian
Japanese
Description
Listening, speaking,
reading and writing
Listening, speaking,
reading and writing
Listening, speaking,
reading and writing
Level
Excellent
good
basic
EMPLOYMENT EXPERIENCE/RELATED EXPERIENCE



22/06/2006---22/09/2006 have Stage in Customer Service department of Nuova Ma.Na.Ro S.p.a Jesi (AN) 60035 Italy Via
S.Pertini,6
Responsible for translating all of the company's publication from Italian-English to Chinese, technical description of the
products and the service of the company, and do the business plan for the eastern countries, especially, in China.
01/03/2006---06/06/2006 have Stage in Customer Service department of IGuzzini Illuminazione S.p.a Recanati
(MC) 62019 Italy Via Mariano Guzzini,37
Responsible for making order for goods and doing some translation English-Chinese
2005 have Stage in Rui An Longshan senior school Rui An 325200 China
Responsible for teaching mathematics and also as a teacher in charge of the class
COMMUNITY INVOLVEMENT



05/08/2008---03/10/2008 have been as visiting student at the University of Cyprus.
30/06/2008---04/07/2008 have attended the ' The Third Summer School on Development Economics ' at Alba di Canazei, TrentoItaly. Lecturers: Dilip Mookherfee(Boston), Nava Ashraf(Harvard), Imran Rasul(University College, London), Dean Yang(Michigan),
Eric Verhoogen(Columbia), Claudio Zoli(Verona).
08/01/2008---11/01/2008 have attended the ' The Third Winter School on Identity and Social Cohesion ' at Alba di Canazei,
Trento-Italy. Lecturers: Alberto Bisin, Massimo Bordignon, Sergio Currarini, Michel Le Breton, Conchita D'Ambrosio, Gian Marco
Ottaviano, Jacques Silber, Amedeo Spadaro, Stefano Vanncci.