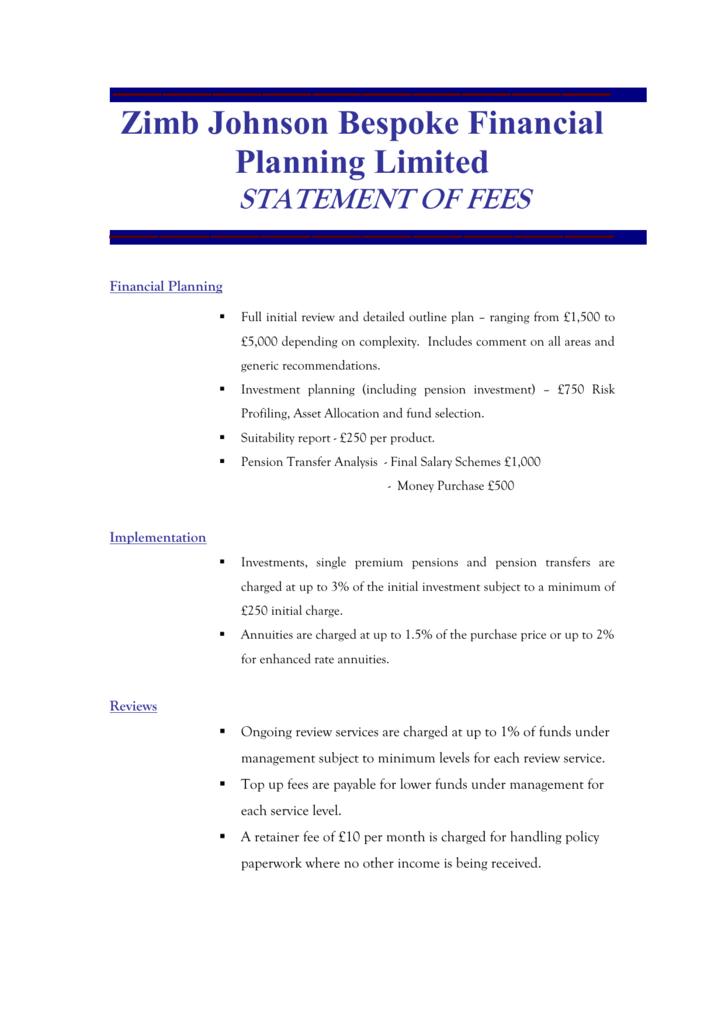 Zimb Johnson Bespoke Financial
Planning Limited
STATEMENT OF FEES
Financial Planning

Full initial review and detailed outline plan – ranging from £1,500 to
£5,000 depending on complexity. Includes comment on all areas and
generic recommendations.

Investment planning (including pension investment) – £750 Risk
Profiling, Asset Allocation and fund selection.

Suitability report - £250 per product.

Pension Transfer Analysis - Final Salary Schemes £1,000
- Money Purchase £500
Implementation

Investments, single premium pensions and pension transfers are
charged at up to 3% of the initial investment subject to a minimum of
£250 initial charge.

Annuities are charged at up to 1.5% of the purchase price or up to 2%
for enhanced rate annuities.
Reviews

Ongoing review services are charged at up to 1% of funds under
management subject to minimum levels for each review service.

Top up fees are payable for lower funds under management for
each service level.

A retainer fee of £10 per month is charged for handling policy
paperwork where no other income is being received.
Group Schemes

Set up and Presentation up to 20 staff - £1,000

Set up and Presentation up to 100 staff - £2,500

Set up and Presentation up to 200 staff £3,500

Group Risk schemes are charged at £25 per person subject to a
minimum of £500

Ongoing pension charges – bespoke depending on service
requirements

Scheme Wind Ups – Individually costed – based on £500 per person
including Section 32 transfer
General Advice
General research and obtaining quotations.

Administration - £75 ph

Paraplanning - £100 ph

Advice - £250 ph

An additional fee may be payable for complex research, calculations
and advice but we will advise you of the amount prior to undertaking
such work.
Mortgages

An initial fee of £250 for research, mortgage sourcing and general
mortgage advice, including providing illustration on the cost of
associated life cover

0.5% of the mortgage advance.
We will generally receive a
procuration fee from the mortgage lender. This will offset any fee
payable to us. For example if a lender pays us 0.25%, you will be
invoiced 0.25% totalling 0.5% fee.
All services provided are on an advisory nature. This means that we do not seek discretionary
powers but will advise you of any changes that we consider to be in your interest and to seek
your consent before acting on your behalf in each case.