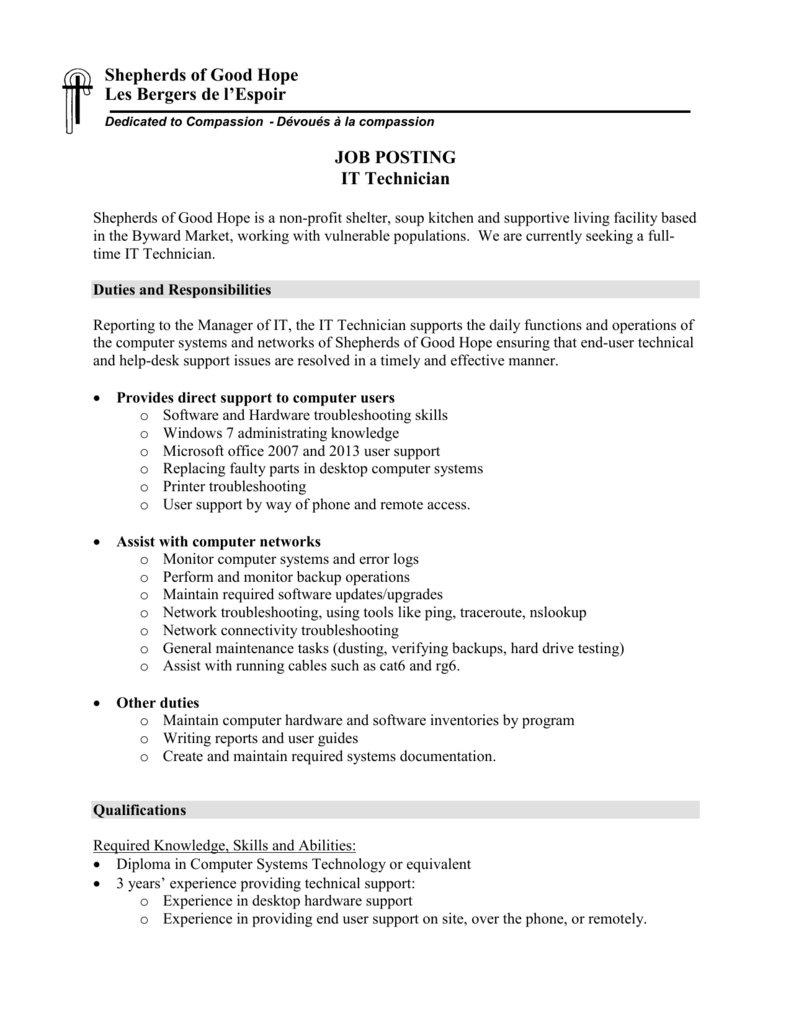 Shepherds of Good Hope
Les Bergers de l'Espoir
Dedicated to Compassion - Dévoués à la compassion
JOB POSTING
IT Technician
Shepherds of Good Hope is a non-profit shelter, soup kitchen and supportive living facility based
in the Byward Market, working with vulnerable populations. We are currently seeking a fulltime IT Technician.
Duties and Responsibilities
Reporting to the Manager of IT, the IT Technician supports the daily functions and operations of
the computer systems and networks of Shepherds of Good Hope ensuring that end-user technical
and help-desk support issues are resolved in a timely and effective manner.

Provides direct support to computer users
o Software and Hardware troubleshooting skills
o Windows 7 administrating knowledge
o Microsoft office 2007 and 2013 user support
o Replacing faulty parts in desktop computer systems
o Printer troubleshooting
o User support by way of phone and remote access.

Assist with computer networks
o Monitor computer systems and error logs
o Perform and monitor backup operations
o Maintain required software updates/upgrades
o Network troubleshooting, using tools like ping, traceroute, nslookup
o Network connectivity troubleshooting
o General maintenance tasks (dusting, verifying backups, hard drive testing)
o Assist with running cables such as cat6 and rg6.

Other duties
o Maintain computer hardware and software inventories by program
o Writing reports and user guides
o Create and maintain required systems documentation.
Qualifications
Required Knowledge, Skills and Abilities:
 Diploma in Computer Systems Technology or equivalent
 3 years' experience providing technical support:
o Experience in desktop hardware support
o Experience in providing end user support on site, over the phone, or remotely.
JOB POSTING
IT Technician
Page 2 of 2
Skills & Abilities









Interest in computers, security, networking, wiring and telephone systems
Ability to follow instructions and exercise good judgment. Ability to work autonomously
Proven organizational and administrative skills. Ability to prioritize support issues
Demonstrated problem-solving skills
Strong verbal communication skills in English, especially in communicating technical
solutions in user-friendly language
Strong documentation and organizational skills
Ability to quickly learn software applications with little or no training
Ability to lift computers and printers (even up stairs), climbing ladders and pulling wire
Interpersonal skills with an ability to communicate well in person and in writing.
Asset Qualifications





Experience with network security (for example, configuring firewalls, virtual private
networks, antiviral solutions)
Experience with Linux, freeBSD, ESXi/Vsphere Hypervisor, Telephony and VLANS
Experience with hardware and software updates
Knowledge of server 2008/2012 domain environments and active directory
Knowledge of Squid or other proxy software.
To Apply
Please send your cover letter and resume to: [email protected] by
Thursday, February 12, 2015.
We thank all applicants for their interest, however, only those selected for an interview will be
contacted.