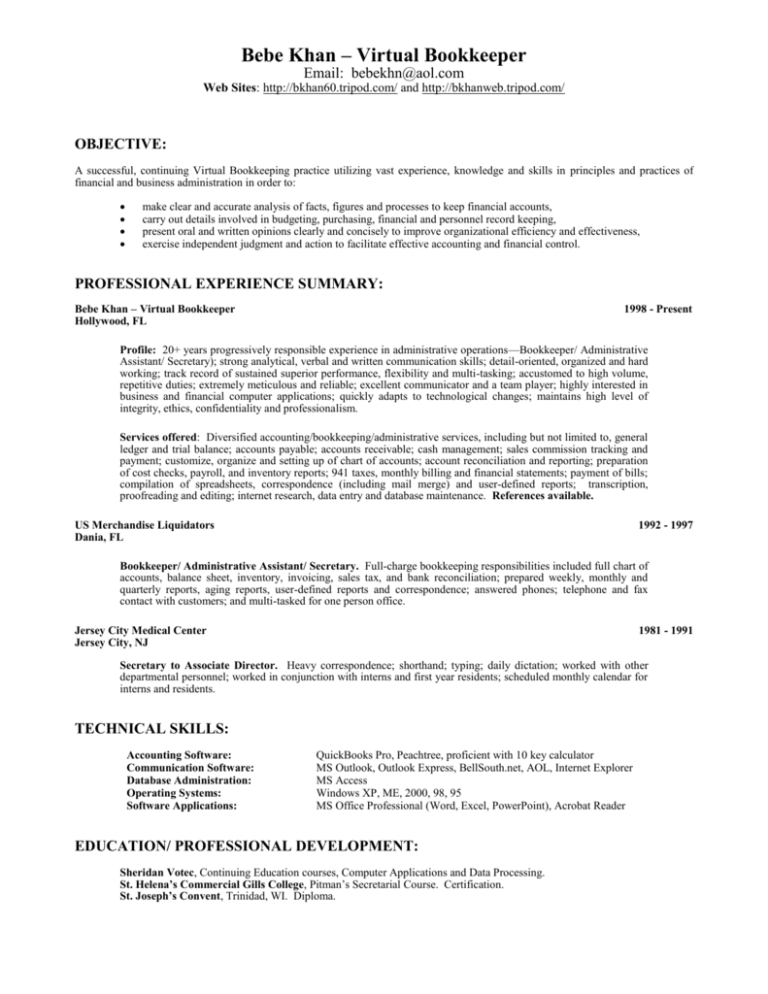 Bebe Khan – Virtual Bookkeeper
Email: bebekhn@aol.com
Web Sites: http://bkhan60.tripod.com/ and http://bkhanweb.tripod.com/
OBJECTIVE:
A successful, continuing Virtual Bookkeeping practice utilizing vast experience, knowledge and skills in principles and practices of
financial and business administration in order to:




make clear and accurate analysis of facts, figures and processes to keep financial accounts,
carry out details involved in budgeting, purchasing, financial and personnel record keeping,
present oral and written opinions clearly and concisely to improve organizational efficiency and effectiveness,
exercise independent judgment and action to facilitate effective accounting and financial control.
PROFESSIONAL EXPERIENCE SUMMARY:
Bebe Khan – Virtual Bookkeeper
Hollywood, FL
1998 - Present
Profile: 20+ years progressively responsible experience in administrative operations—Bookkeeper/ Administrative
Assistant/ Secretary); strong analytical, verbal and written communication skills; detail-oriented, organized and hard
working; track record of sustained superior performance, flexibility and multi-tasking; accustomed to high volume,
repetitive duties; extremely meticulous and reliable; excellent communicator and a team player; highly interested in
business and financial computer applications; quickly adapts to technological changes; maintains high level of
integrity, ethics, confidentiality and professionalism.
Services offered: Diversified accounting/bookkeeping/administrative services, including but not limited to, general
ledger and trial balance; accounts payable; accounts receivable; cash management; sales commission tracking and
payment; customize, organize and setting up of chart of accounts; account reconciliation and reporting; preparation
of cost checks, payroll, and inventory reports; 941 taxes, monthly billing and financial statements; payment of bills;
compilation of spreadsheets, correspondence (including mail merge) and user-defined reports; transcription,
proofreading and editing; internet research, data entry and database maintenance. References available.
US Merchandise Liquidators
Dania, FL
1992 - 1997
Bookkeeper/ Administrative Assistant/ Secretary. Full-charge bookkeeping responsibilities included full chart of
accounts, balance sheet, inventory, invoicing, sales tax, and bank reconciliation; prepared weekly, monthly and
quarterly reports, aging reports, user-defined reports and correspondence; answered phones; telephone and fax
contact with customers; and multi-tasked for one person office.
Jersey City Medical Center
Jersey City, NJ
1981 - 1991
Secretary to Associate Director. Heavy correspondence; shorthand; typing; daily dictation; worked with other
departmental personnel; worked in conjunction with interns and first year residents; scheduled monthly calendar for
interns and residents.
TECHNICAL SKILLS:
Accounting Software:
Communication Software:
Database Administration:
Operating Systems:
Software Applications:
QuickBooks Pro, Peachtree, proficient with 10 key calculator
MS Outlook, Outlook Express, BellSouth.net, AOL, Internet Explorer
MS Access
Windows XP, ME, 2000, 98, 95
MS Office Professional (Word, Excel, PowerPoint), Acrobat Reader
EDUCATION/ PROFESSIONAL DEVELOPMENT:
Sheridan Votec, Continuing Education courses, Computer Applications and Data Processing.
St. Helena's Commercial Gills College, Pitman's Secretarial Course. Certification.
St. Joseph's Convent, Trinidad, WI. Diploma.