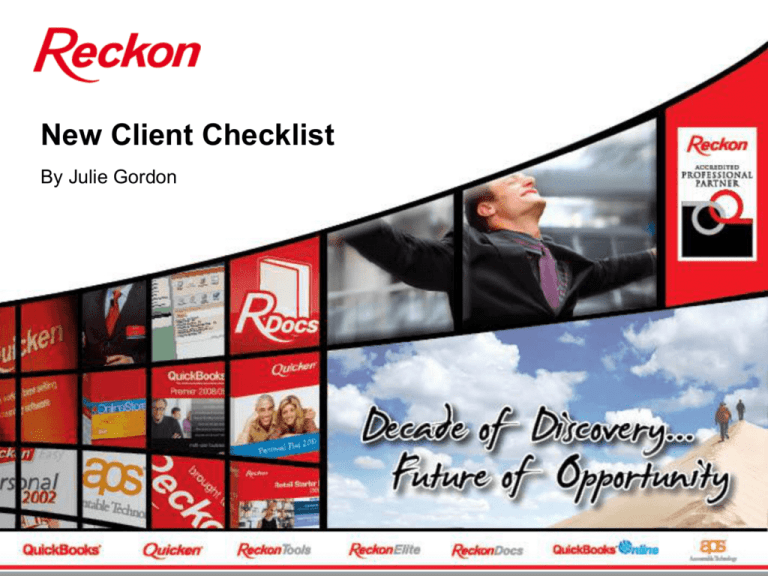 New Client Checklist
By Julie Gordon
New Prospect / Client - Where to start????
• Get in front of the client, arrange a demo even if just chat rather than
going through the software
• Find out about what software they currently use – what do they
like/dislike about it? (why are they changing)
• What is on their wish list for the new system?
• What features are a must have e.g inventory, multi currency, multi
user , job costing etc
• What hardware are they running? How is it setup?
• Don't go through every feature in QuickBooks – focus on the
features that are going make biggest impact.
What Product best fits their requirements ….
• Sometimes what we initially think will fit their needs actually is not
correct so keep asking questions if you are not 100% sure you will
cover all their requirements.
• Don't be afraid to ask for help – if you need to speak to another
trainer (specialist in an industry or product) or Reckon ask as many
questions as you need to ensure you are on the right track.
• If QuickBooks doesn't cover all requirements can the client use a
third party add on product to meet this need?
• If after spending time on it and asking others you still have doubts
with whether QuickBooks will cope with their requirements rather
than pushing the product too far – don't be afraid to walk away from
the sale!
Key Questions to ask to provide the right product
• Do they require multiple user access? (Premier & Up)
• Do they require POS? (POS)
• Do they require inventory? (Small Business & Up)
• Do they require Job Costing? (Professional & Up)
• Do they require to access QB from anywhere? (Qbi Online)
• Do they need Enhanced Security Features? (Enterprise & Online)
Start from their most specific requirements and work backwards
(generally I will get sale for a higher product by doing this)
Product Comparison Chart
• You could give them the product comparison chart
• However I prefer to ask them the questions as they
may look at the list and not fully understand what
the feature is for e.g class tracking.
• Do they qualify for upgrade or crossgrade pricing?
• Do they want to purchase subscription or full
product?
System Requirements
• For most clients I will ignore the minimum
requirements and only give them the
recommended system details to ensure
maximum performance.
• Put the system requirements in writing and
email to the client to ensure you are covered in
case of something going wrong.
• Sometimes there are changes to system
requirements after the boxes are printed so if in
doubt contact Reckon to double check.
Double check they meet recommended system
requirements
• Confirm what type of server they are running
• Confirm what operating system they are running
• If possible check with their IT person rather than
checking with the client (they quite often don't
understand the question)
• If going with online, what is their internet connection
like?
The Install Be Prepared!
If you are loading onto a server and several workstations be prepared
• If using a media kit ensure you have the IKC, customer ID and pin
before you get to site
• Check with the IT person – is there anything to watch out for, do you
need them onsite for the install?
• Take multiple copies of the 2009/10 CD so you can get multiple
workstations loading at the same time
• Download any patches required onto a USB (or two) so that you are
able to get these loaded straight away rather than downloading etc
• Load onto Server and two workstations and then check multi user
access to the file before installing onto more PCs (if you are going to
have an issue you find out sooner!)
What can we do to save time?
Sometimes we are in such a hurry to get started we don't spend
enough time planning
• What can we take from the old system e.g can we get list
information out into excel and manipulate into iif template format
• How accurate is the information we can extract? If it is really messy
e.g lots of duplicate and inactive items, names etc it may need a lot
of work to tidy up or may even not be worth pulling through
• Give the client homework - get them to work on opening balances
before you get onsite for installation/setup. e.g write off bad debts
etc before conversion.