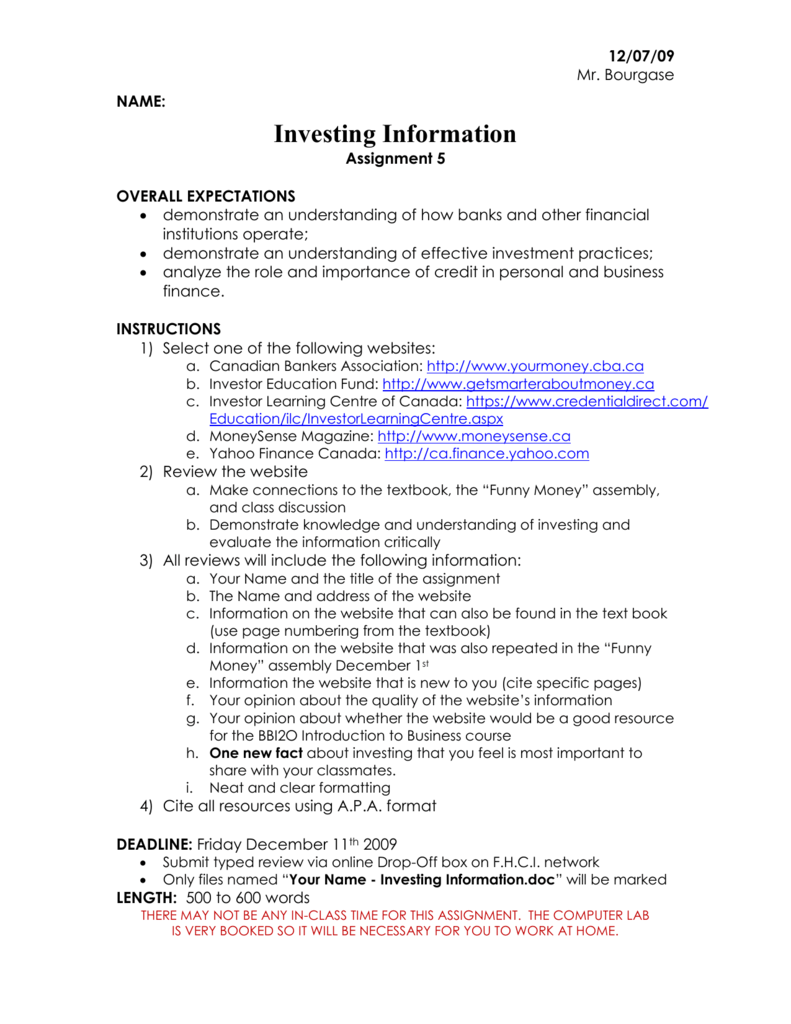 12/07/09
Mr. Bourgase
NAME:
Investing Information
Assignment 5
OVERALL EXPECTATIONS
 demonstrate an understanding of how banks and other financial
institutions operate;
 demonstrate an understanding of effective investment practices;
 analyze the role and importance of credit in personal and business
finance.
INSTRUCTIONS
1) Select one of the following websites:
a. Canadian Bankers Association: http://www.yourmoney.cba.ca
b. Investor Education Fund: http://www.getsmarteraboutmoney.ca
c. Investor Learning Centre of Canada: https://www.credentialdirect.com/
Education/ilc/InvestorLearningCentre.aspx
d. MoneySense Magazine: http://www.moneysense.ca
e. Yahoo Finance Canada: http://ca.finance.yahoo.com
2) Review the website
a. Make connections to the textbook, the "Funny Money" assembly,
and class discussion
b. Demonstrate knowledge and understanding of investing and
evaluate the information critically
3) All reviews will include the following information:
a. Your Name and the title of the assignment
b. The Name and address of the website
c. Information on the website that can also be found in the text book
(use page numbering from the textbook)
d. Information on the website that was also repeated in the "Funny
Money" assembly December 1st
e. Information the website that is new to you (cite specific pages)
f. Your opinion about the quality of the website's information
g. Your opinion about whether the website would be a good resource
for the BBI2O Introduction to Business course
h. One new fact about investing that you feel is most important to
share with your classmates.
i. Neat and clear formatting
4) Cite all resources using A.P.A. format
DEADLINE: Friday December 11th 2009


Submit typed review via online Drop-Off box on F.H.C.I. network
Only files named "Your Name - Investing Information.doc" will be marked
LENGTH: 500 to 600 words
THERE MAY NOT BE ANY IN-CLASS TIME FOR THIS ASSIGNMENT. THE COMPUTER LAB
IS VERY BOOKED SO IT WILL BE NECESSARY FOR YOU TO WORK AT HOME.