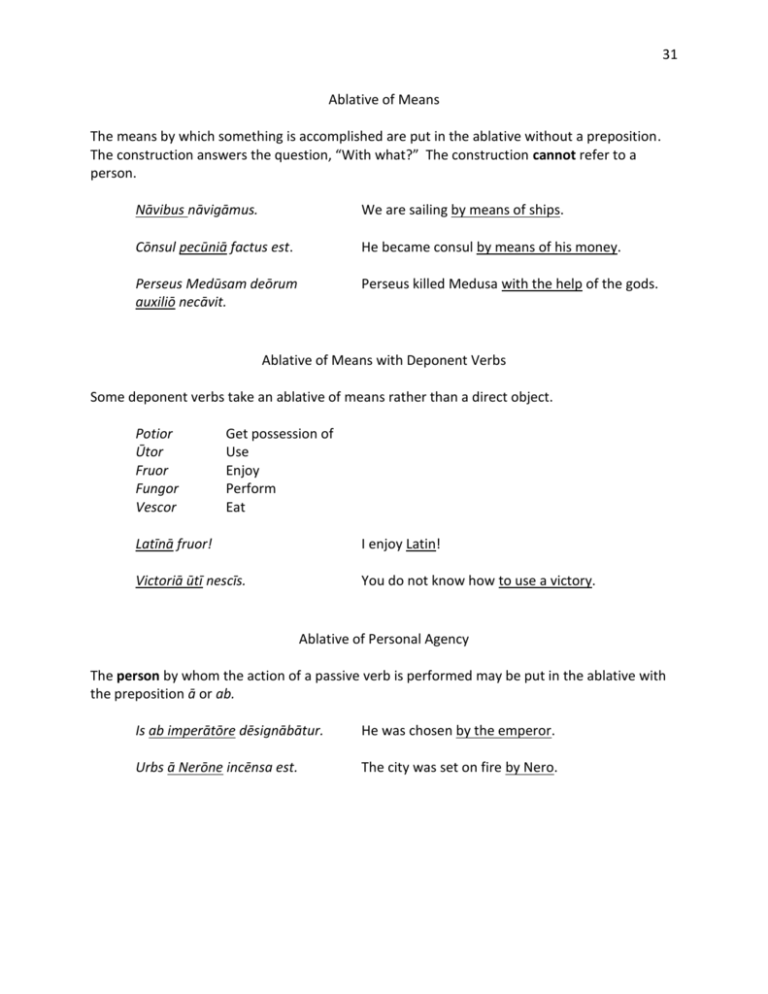 31
Ablative of Means
The means by which something is accomplished are put in the ablative without a preposition.
The construction answers the question, "With what?" The construction cannot refer to a
person.
Nāvibus nāvigāmus.
We are sailing by means of ships.
Cōnsul pecūniā factus est.
He became consul by means of his money.
Perseus Medūsam deōrum
auxiliō necāvit.
Perseus killed Medusa with the help of the gods.
Ablative of Means with Deponent Verbs
Some deponent verbs take an ablative of means rather than a direct object.
Potior
Ūtor
Fruor
Fungor
Vescor
Get possession of
Use
Enjoy
Perform
Eat
Latīnā fruor!
I enjoy Latin!
Victoriā ūtī nescīs.
You do not know how to use a victory.
Ablative of Personal Agency
The person by whom the action of a passive verb is performed may be put in the ablative with
the preposition ā or ab.
Is ab imperātōre dēsignābātur.
He was chosen by the emperor.
Urbs ā Nerōne incēnsa est.
The city was set on fire by Nero.